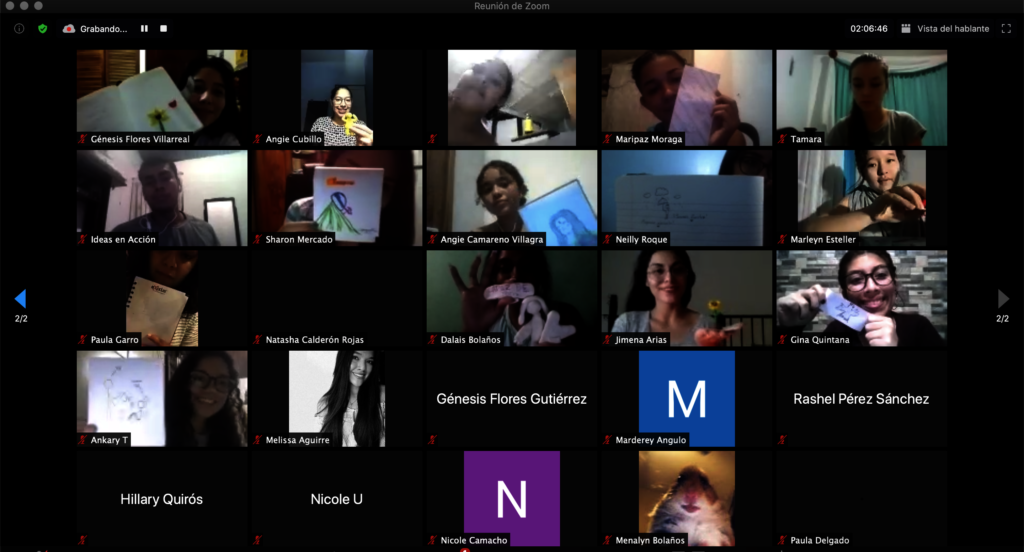 English Bellow
Mente en Acción
Actualmente estamos ejecutando la 14va edición, que dió inicio el 06 de febrero y finalizará el próximo 27 de marzo, se obtuvieron 169 aplicaciones y se seleccionaron 70 participantes de todo el país. . Esta edición es apoyada por Accenture Costa Rica, Citrix Costa Rica y contamos con el apoyo de Efecto Boomerang.
El programa tiene una duración de ocho sábados (16 sesiones de 4 horas cada una) donde aprenden sobre empoderamiento de género, de liderazgo y trabajo en equipo; así como las bases de la programación para desarrollar un prototipo de una aplicación móvil que responda a un Objetivos de Desarrollo Sostenible. Contamos con el trabajo de 25 mentores/as técnicos/as que apoyaron a las chicas a desarrollar este prototipo.
Esta ediciones se realiza 100% virtual debido al COVID-19.
Red Mente
Debido al COVID-19 hemos realizado las actividades de la Red Mente de forma virtual, comenzamos con tres días por semana de ejercicios para impulsar la salud física y mental de las chicas a través de ejercicio en un espacio sororo. Además, estamos apoyando a quienes tienen que realizar sus pasantías profesionales de secundaria con capacitaciones sobre empleabilidad y no encontramos planeando las actividades que se realizarán en el marco del Día de la Mujer.
Emprendimiento en Acción
Nace de las oportunidades de desarrollo identificadas a partir de las situaciones que enfrentan las mujeres de las Red MenTe debido a la situación por COVID-19. El programa tiene por objetivo brindar herramientas, conocimientos y apoyo en el desarrollo y mejoramiento de emprendimientos de las mujeres de la Red MenTe y sus familias. Además, a lo largo del proceso, se busca generar una comunidad y red de apoyo mutuo entre de emprendedoras, para incentivar la generación de ingresos a partir de sus emprendimientos.
Comenzó el sábado 06 de febrero y finalizará el 20 de mayo, tuvimos 43 inscripciones y se seleccionaron 34 mujeres.
Masculinidades en Acción
Creamos Espacios de conversación y escucha dirigidos a hombres de entre 15 y 30 años cercanos a las graduadas de MenTe en Acción, que busca incentivar a la reflexión de aprender y desaprender sobre las masculinidades. Tuvo una duración de 3 sesiones de 2 horas cada una donde se compartirán temas que propician la conversación en cuanto a masculinidades. 27 hombres finalizaron el programa y contamos con 4 facilitadores voluntarios.
TEDxLlorenteWomen
TEDxLlorenteWomen es un evento local organizado por Ideas en Acción bajo el formato TED una iniciativa que impulsa el intercambio de experiencias, con la participación de conferencistas que comparten valiosas historias e ideas que están generando importantes cambios desde otra perspectiva en nuestra sociedad. En este 2020 TEDxLlorenteWomen, sabíamos que era un evento necesario en este año en el cual las mujeres han sido las más afectadas debido a la pandemia.
Fue un evento virtual, asistieron más de 205 personas y contamos con speakers nacionales e internacionales.
-English
Mente en Acción
The 14th edition is ongoing at the moment. It started on February 6th and will run until March 27th. We received 169 applications and selected 70 participants from across the country. This edition is sponsored by Accenture Costa Rica, Citrix Costa Rica, and counts with the support of Efecto Boomerang.
The program consists of 16 four-hour sessions rolled out during eight Saturdays, where participants learn about gender empowerment, leadership and teamwork as well as the basics of programming in order to develop a mobile app prototype in line with the Sustainable Development Goals. Our team includes 25 technical mentors who support the participants in developing this prototype.
This edition is held 100% online due to COVID-19 restrictions.
MenTe Network (Red MenTe)
Due to the COVID-19 situation, all MenTe Network activities have been carried out virtually. We have started with exercise sessions three times a week to promote the girl's mental and physical health through exercise in a sorority filled space. We are also offering support to those who need to find internship opportunities out of highschool with training workshops on employability, and are currently planning the activities we'll be hosting to commemorate International Women's Day.
Entrepreneurship in Action
Due to the COVID-19 pandemic, members of the MenTe Network have been facing some dire situations. In these we have identified various development opportunities we decided to tackle through this program. The program aims to offer tools, knowledge and support to help these women and their families develop and improve their entrepreneurial endeavors. Throughout the process, we also aspire to create a community and support network among the entrepreneurs to boost their income through their various projects.
This program started on February 6th and will run until May 20th. We received 43 applications and selected 34 women to participate.
Masculinities in Action
We created spaces for active listening and conversation directed at men between the ages of 15 and 30 and who are close to MenTe en Acción graduates. This initiative aimed to encourage them to reflect, learn and unlearn about masculinities. We hosted three, 2-hour sessions where we proposed various topics to promote conversation. We counted with four male volunteer facilitators and 27 men completed the program.
TEDxLlorenteWomen
TEDxLlorenteWomen is a local event organized by Ideas en Acción following TED guidelines. It's an initiative that promotes exchanging experiences with the participation of speakers who share valuable stories and ideas which are generating important changes and offering another perspective. We knew this event was particularly necessary this past year (2020), when women have been the most affected by the pandemic.
It was a virtual event which counted with both national and international speakers and the participation of more than 205 people.