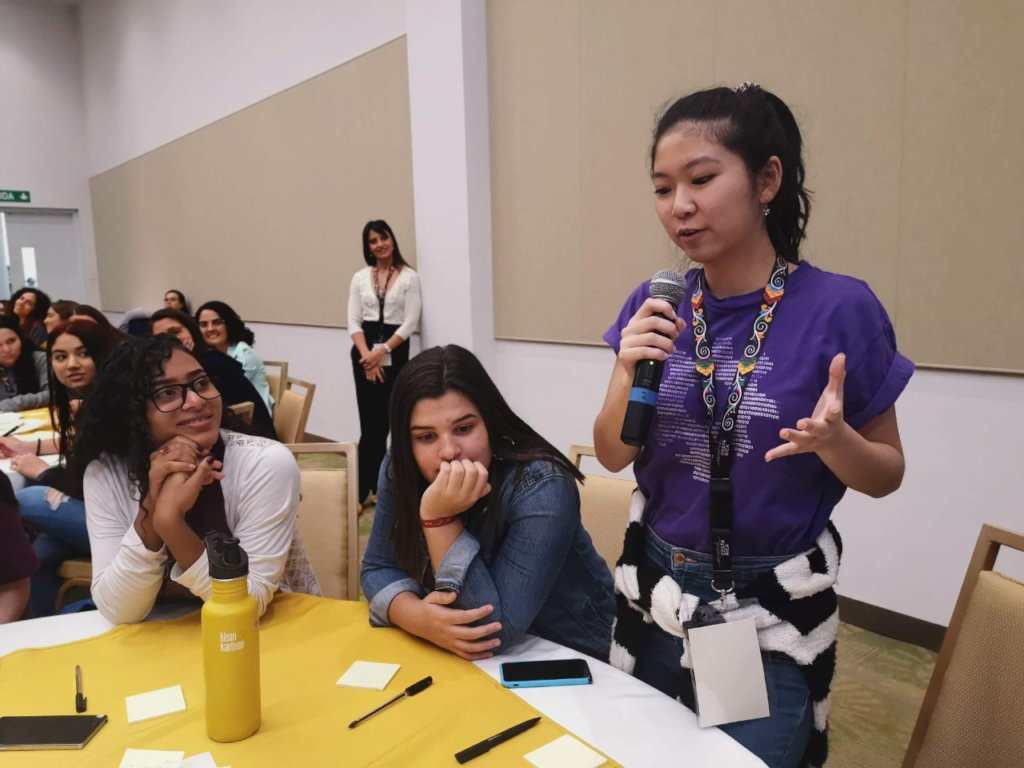 English Bellow
Mente en Acción
Finalizamos la 11va edición de MenTe en Acción el 04 de marzo y había dado inicio el 08 de febrero. Recibimos 199 aplicaciones de las cuales se seleccionaron y graduaron 50. Durante estos ocho sábados aprendieron sobre empoderamiento de género, de liderazgo y trabajo en equipo; así como las bases de la programación para desarrollar un prototipo de una aplicación móvil que responda a un Objetivos de Desarrollo Sostenible. Contamos con el trabajo de 20 mentores/as técnicos/as que apoyaron a las chicas a desarrollar este prototipo.
Esta edición fue co producida con el Parque La Libertad-CETAV, lugar donde realizamos hasta la cuarta sesión, ya que debido al COVID-19 tuvimos que finalizar de manera virtual la edición. Para esta edición contamos con el patrocinio de Intel, P&G y Accenture, y de aliados contamos con Agami Studios y Efecto Boomerang.
Por otra parte, actualmente nos encontramos en convocatoria abierta para la 12va edición de Mente en Acción que se llevará a cabo específicamente para mujeres de la provincia de Guanacaste y en modalidad virtual. Dará inicio el próximo 4 de julio y finalizará el 08 de agosto.
Red Mente
Debido al COVID-19 hemos realizado las actividades de la Red Mente de forma virtual y hemos tenido talleres de Impresión en 3D, el rol de los microorganismos en la cotidianidad, Finanzas Personales, Recomendaciones para el CV, Conversatorio de Seguridad Digital, cómo hacer jabón casero, charlas vocacionales, clases introductorias de Figma, Agilidad y Python y un taller sobre el valor de nuestras diferencias brindado por Fundameco.
Certificaciones con Rocket Girls
Dimos inicio al segundo grupo de 16 chicas para certificarse en Linux y 32 para IT Fundamentals, actualmente se están llevando a cabo.
SingularityU Costa Rica Summit
80 graduadas de Mente en Acción tuvieron la oportunidad de asistir un día a SingularityU Costa Rica Summit, evento presente en más de 30 países en todo el mundo, que une a las mentes más brillantes del país, líderes globales de innovación y tecnologías exponenciales, para ofrecer la mejor experiencia a los participantes, ofreciéndoles acceso a información privilegiada de la mano de reconocidos expertos globales, interacción con las tecnologías exponenciales y desarrollo de un network que fortalecerá su evolución profesional y la de sus empresas o instituciones.
F*ckUpnNights San José - Special Edition
El jueves 28 de mayo realizamos una edición especial de F*ckUpNights, fue virtual y los speakers hablaron sobre sus emprendimientos y cómo se han visto afectados debido al COVID-19. Contamos con la participación de 57 personas vía Zoom Meetings.
English
Mente en Acción
We finished the 11th edition of MenTe en Acción on March 04, it had started on February 08. We received 199 applications of which 50 were selected and graduated. During these eight Saturdays they learned about gender empowerment, leadership and teamwork; as well as the programming bases to develop a prototype of a mobile application that responds to Sustainable Development Goals. We have the work of 20 technical mentors who supported the girls to develop this prototype.
This edition was co-produced with Parque La Libertad-CETAV, where we held until the fourth session, since due to COVID-19 we had to virtually finish the edition. For this edition we have the sponsorship of Intel, P&G and Accenture, and from allies we have Agami Studios and Efecto Boomerang.
On the other hand, we are currently in open call for the 12th edition of Mind in Action that will be held specifically for women in the province of Guanacaste and in virtual mode. It will start on July 4 and end on August 8.
Red MenTe follow up activities
Due to COVID-19 we have carried out the activities of the Red Mente in a virtual way and we have had different workshops: 3D Printing the role of microorganisms in everyday life, Personal Finance, Recommendations for the CV, Digital Security Discussion, how to make soap home, vocational talks, introductory classes in Figma, Agility and Python and a workshop on the value of our differences provided by Fundameco.
Certification with Rocket Girls
We started the second group of 16 girls to become certified in Linux and 32 for IT Fundamentals, currently being carried out.
SingularityU Costa Rica Summit
80 girls of Red Mente have the opportunity to attend SingularityU Costa Rica Summit one day, an event present in more than 30 countries around the world, which unites the brightest minds in the country, global leaders of innovation and exponential technologies, to offer the best experience to the participants, offering them access to privileged information from the hands of recognized global experts, interaction with exponential technologies and development of a network that will strengthen their professional evolution and that of their companies or institutions.
F*ckUpnNights San José - Special Edition
On Thursday May 28 we held a special edition of F * ckUpNights, it was virtual and the speakers spoke about their ventures and how they have been affected by COVID-19. We have the participation of 57 people via Zoom Meetings.