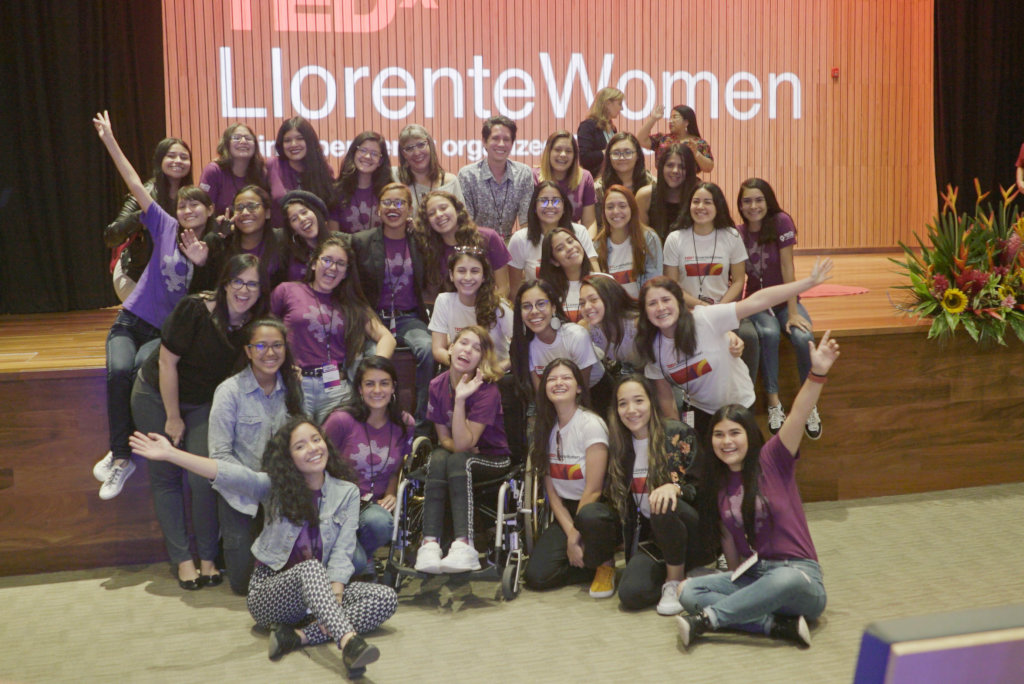 MenTe en Acción
Abrimos la convocatoria para la 11va edición de MenTe en Acción el 13 de enero, recibimos 199 aplicaciones.
La edición dio inicio el 08 de febrero con el kick off en el Innovation Center de Intel, y las sesiones regulares se llevarán a cabo en el Parque la Libertad con la participación de 50 mujeres jóvenes entres 15 y 19 años quienes durante los próximos dos meses aprenderán
Acerca empoderamiento de género, de liderazgo y trabajo en equipo; así como las bases de la programación para desarrollar un prototipo de una aplicación móvil que responda a un Objetivos de Desarrollo Sostenible.
Adicionalmente abrimos la convocatoria para mentores/as técnicos/as, tenemos en total 22, estudiantes y profesionales de diferentes carreras STEAM. El 1º de febrero la capacitación previa al programa y tuvieron un espacio para conocerse.
Edición es co producida con el Parque La Libertad-CETAV y contamos con el patrocinio de Intel, P&G y Accenture, y de aliados contamos con Agami Studios y Efecto Boomerang.
Red Mente
Certificaciones con Rocket Girls
Dimos inicio al segundo grupo de 16 chicas para certificarse en Linux y 32 para IT Fundamentals.
Asimismo, iniciamos convocatoria para que 60 chicas inicien el proceso de certificación en IT Fundamentals en el mes de mayo.
Becas TEDxLlorenteWomen 2019
30 graduadas del programa pudieron asistir al evento y aprender de diversos temas y conocer a algunas/o de los speakers.
SingularityU Costa Rica Summit
100 graduadas de Mente en Acción tendrán la oportunidad de asistir un día a SingularityU Costa Rica Summit, evento presente en más de 30 países en todo el mundo, que une a las mentes más brillantes del país, líderes globales de innovación y tecnologías exponenciales, para ofrecer la mejor experiencia a los participantes, ofreciéndoles acceso a información privilegiada de la mano de reconocidos expertos globales, interacción con las tecnologías exponenciales y desarrollo de un network que fortalecerá su evolución profesional y la de sus empresas o instituciones.
Concurso Duolingo en Acción
Se hizo este concurso específicamente para colegios técnicos, participaron 60 alumnos de diferentes centros educativos técnicos practicaron su idioma inglés desde el 18 de noviembre hasta el 31 de enero.
TEDxLlorenteWomen 2019
Fue realizado el 10 de diciembre en el Aula Magna de la Universidad de Costa Rica, tuvimos a 12 speakers nacionales e internacionales, y contamos con una audiencia de 350 personas.
-English
2020 starting strong!
Mente en Acción
We opened the call for the 11th edition of MenTe en Acción on January 13, we received 199 applications.
The edition began on February 8 with the kick off at the Intel Innovation Center, and regular sessions will be held at CETAV-Parque Libertad with the participation of 50 young women between 15 and 19 years who during the next two months will learn about gender empowerment, leadership and teamwork; as well as the bases of programming to develop a prototype of a mobile application that responds to a Sustainable Development Goals.
Additionally we open the call for technical mentors, we have a total of 22 students and professionals from different STEAM careers. On February 1 the pre-program training and had a space to meet.
Edition is co-produced with La Libertad-CETAV Park and we have the sponsorship of Intel, P&G and Accenture, and of allies we have Agami Studios and Efecto Boomerang.
Red MenTe follow up activities
Fundamentals of Technology Information Certification
We started the second group of 16 girls to become certified in Linux and 32 for IT Fundamentals.
Likewise, we initiated a call for 60 girls to begin the process of certification in IT Fundamentals in the month of May.
TEDxLlorenteWomen 2019 Scholarships
30 graduates of the program attended the event and learned about various topics and met some of the speakers.
SingularityU Costa Rica Summit
100 graduates of Mind in Action will have the opportunity to attend SingularityU Costa Rica Summit one day, an event present in more than 30 countries around the world, which unites the brightest minds in the country, global leaders of innovation and exponential technologies, to offer the best experience to the participants, offering them access to privileged information from the hands of recognized global experts, interaction with exponential technologies and development of a network that will strengthen their professional evolution and that of their companies or institutions.
Duolingo in Action Contest
This contest was made specifically for technical colleges. 60 students from different technical educational centers participated in their English language from November 18 to January 31.
TEDxLlorenteWomen 2019
It was held on December 10 at the Aula Magna of the University of Costa Rica, we had 12 national and international speakers, and we had an audience of 350 people.