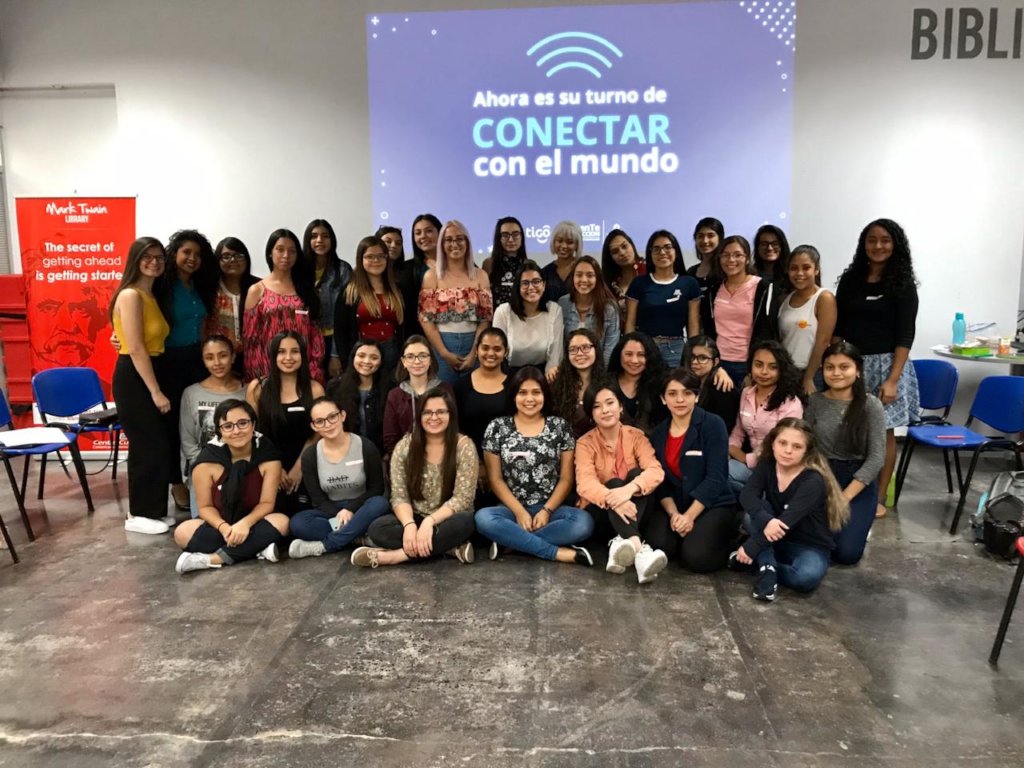 English Below
Red MenTe
Certificación Fundamentos de Tecnologías de Información
Gracias a nuestra alianza con Rocket Girls, logramos que 17 beneficiarias del programa MenTe en Acción obtuvieron una beca para realizar la certificación Linux de CompTIA, iniciaron en julio y terminarán en el mes de diciembre. En total, este año se certificaron 33 en Fundamentos de Tecnologías de Información y 17 se estarán certificando en Linux el próximo mes.
Actividades de seguimiento de la Red MenTe
Hemos realizado tres Facebook Lives con el objetivo de que más mujeres conozcan sobre la experiencias e historias, de otras mujeres en áreas STEAM, lo que nos permite llegar a más mujeres y no solo beneficiarias del programa.
Jornadas de Educación Inclusiva
Dedicado a promover la inclusión educativa de personas jóvenes con discapacidad. Aprendieron jugando sobre la empatía y la inclusión, además de promover la innovación.
Future Me, Future Skills
Capacitación de liderazgo Future me - Future skills de la Coalición Costarricense de Iniciativas de Desarrollo (CINDE), fue impartida por Hilary Weber, experta de Sillicon Valley e inversionista en startsups liderados por mujeres, además pudieron compartir con muchas otras mujeres.
MeetUp + Conference
En Accenture Costa Rica las chicas tuvieron la oportunidad de asistir a una conferencia sobre la Accesibilidad web: Transformación Digital ó Transformación Digital Social.
Inspira IT
P&G las chicas pudieron aprender sobre cómo impactar a las marcas más grandes del mundo aprovechando tus habilidades en tecnologías de la información
Clases de Inglés
Valeska, graduada de la primera Edición impartió cuatro clases de inglés para las chicas de la Red Mente como parte de su trabajo comuncal.
Becas TEDxZapote 2019
43 chicas fueron becadas para poder asistir al TEDxZapote 2019, donde pudieron conocer sobre Aprendizaje Continuo.
MenTe en Acción
El pasado 17 de agosto dimos inicio a la 10ma edición, la cuál también llevaremos a cabo en el Parque La Libertad, San José y realizamos la graduación el 19 de octubre en Texas Tech University, San José. Esta vez participaron por la beca 257 mujeres entre 15 y 19 años, de las cuales 55 fueron seleccionadas.
En esta edición se trabajó mediante la asignación de un Objetivo de desarrollo Sostenible por grupo, y mediante un proceso de Ideación y Design Thinking diseñan su prototipo de aplicación móvil funcional, que realizan con el apoyo de las/os mentaras/es técnicos/as. Este prototipo lo presentan ante sus familiares, amigos y jurado durante la ceremonia de graduación para la décima edición se realizará el 05 de octubre.
Conectadas
Iniciamos un nuevo programa, Conectadas tiene por objetivo proveer mayor acceso de herramientas tecnológicas a la mujer, de desmitificar el miedo que por falta de información a veces las mujeres pueden tener con respecto a la tecnología y de enseñar a una navegación de forma segura, previniendo el acoso digital. En el 2019 impactaremos 1000 mujeres.
F*ckUp Nights San José
F*ckUp Nights San José vol, VII y VIII lo llevamos a cabo en EL Steinvorth San José y Selina San José el 08 de agosto y el 07 de noviembre respectivamente. En ambos contamos con la expositores que nos contaron sobre sus emprendimientos y la importancia de permitirnos ser vulnerables para construir nuevas oportunidades, dar espacio a la creatividad y la innovación. Contamos con la participación de 100 invitados/as en el mes de agosto y 50 en el mes de noviembre.
Duolingo en Acción Inclusivo
En conjunto con la empresa Accenture el 16 de agosto dimos inicio por tercera vez al curso de inglés para personas con discapacidad, esta vez bajo el nombre Inglés sin Barreras, dimos inicio con 25 participantes. Este curso se realizó viernes y sábados durante dos meses y medio, y utilizando la herramienta Duolingo for Schools para poder brindar un seguimiento a los/as estudiantes lo largo de la semana.
-English
Red Mente
Fundamentals of Technology Information Certification
Thanks to our alliance with Rocket Girls, we achieved that 17 beneficiaries of the MenTe en Acción program obtained a scholarship to perform CompTIA's Linux certification, started in July and will end in December. In total, this year 33 were certified in Fundamentals of Information Technology and 17 will be certified in Linux next month.
Red MenTe follow up activities
We have made five Facebook Lives with the objective that more women know about the experiences and stories of other women in STEAM areas, which allows us to reach more women and not only beneficiaries of the program.
Days of Inclusive Education-Fundameco
Dedicated to promoting the educational inclusion of young people with disabilities. They learned by playing on empathy and inclusion, in addition to promoting innovation
Future Me, Future Skills
This workshops of the Costa Rican Coalition for Development Initiatives (CINDE) was taught by Hilary Weber, expert of Silicon Valley and investor in startups lead by women, and also they met and shared knowledge with many other women.
MeetUp + Conference
In Accenture Costa Rica the girls had the opportunity to attend a conference about Web Accessibility: Digital Transformation or Social Digital Transformation.
Inspira IT
In P&G the girls were able to learn about how to impact the biggest brands in the world by taking advantage of their technology skills.
English classes
Valeska, graduated from the first edition of Mente en Acción, taught four English classes for the girls of the Red Mente as part of her community work.
TEDxZapote 2019
43 girls were awarded scholarships to attend the TEDxZapote 2019, where they could learn about Continuous Learning.
MenTe en Acción
On August 17, we started the 10th edition at Parque La Libertad, San José, and the graduation was on October 19 at Texas Tech University, San José. This time 257 women between 15 and 19 years participated for the scholarship, of which 55 were selected.
Conectadas
We started a new program, Conectadas aims to provide greater access to technological tools for women, to demystify the fear that due to lack of information sometimes women may have regarding technology and to teach navigation safely, preventing digital harassment. In 2019 we will impact 1000 women.
F*ckUp NIghts San José
F*ckUp Nights San José vol, VII and VIII was carry it out at EL Steinvorth San José and Selina San José on August 8 and November 7 respectively. In both we have speakers who told us about their ventures and the importance of allowing us to be vulnerable to build new opportunities, give space to creativity and innovation. We have the participation of 100 guests in August and 50 in November.