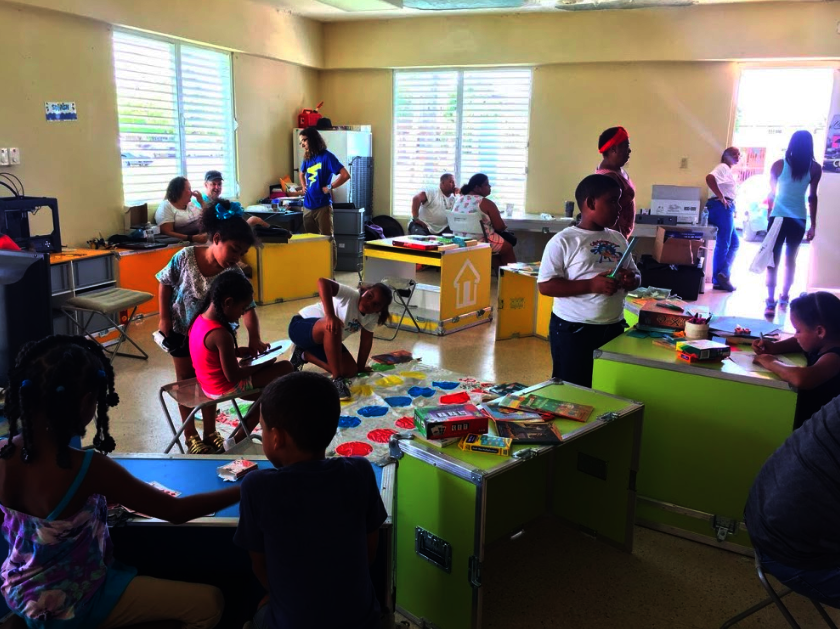 Following Hurricanes Irma and Maria, Puerto Rico experienced monumental devastation to life, property, livelihood, and cultural heritage. Once immediate disaster response efforts ended, communities were forced to grapple with the harsh realities of long-term recovery. As concerns about access to food, water and shelter subsided, residents increasingly worried about the impact that limited public services, namely the closure of 283 schools, would have on their daily lives.
Last summer, your generosity gave Libraries Without Borders the opportunity to bring the Ideas Box to the island. With this dynamic tool, we were able to run a pilot program in two communities, Loíza and La Perla.
Building upon the success of that pilot, LWB launched "Empréndete: Loíza" earlier this year. This series of community-building events aimed to encourage innovation, entrepreneurship, design thinking and the creative arts. On May 25th, we officially kicked off the series with a two-day make-a-thon in Loíza, the first event of its kind to take place in Puerto Rico! The weekend ended with a competition to design the best prototype for promoting positive social change in Loíza. The winning team, Proyecto 187, will use photography as a means to diffuse violence in their community. By capturing images of daily life in Loíza, teens will have the opportunity to share their perspectives on the world. We plan to work with the creative minds behind this project to get it off the ground in the fall!
Given the success of our pilot program, we're turning our efforts towards transforming the Ideas Box into a multipurpose community center in Loíza. In this space, community members will have consistent access to programming and technology centered around the arts, culture, entrepreneurship, and STEM. With your continued support, we'll be able to ensure that this program becomes a fixture of the community in Loíza.
Links: