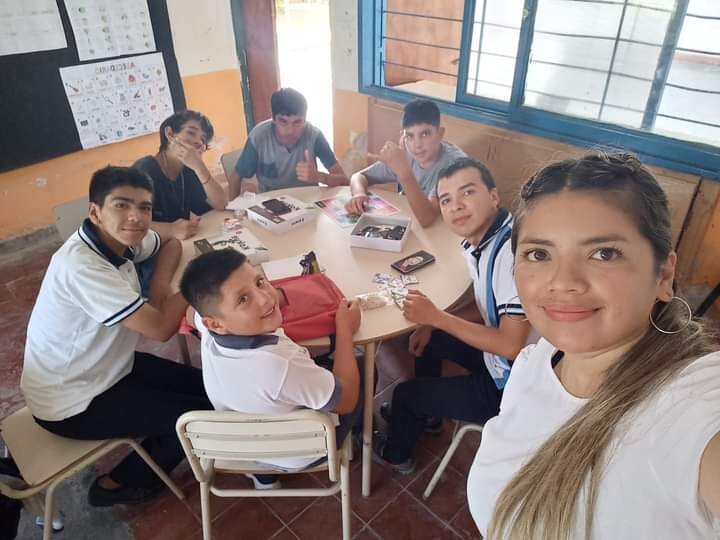 We accompany a school for children and young people with special needs, providing technical assistance, tools, and supplies to contribute to food sovereignty in communities in situations of social vulnerability.
The accompaniment process developed by ACDI in the La Madrid community also included the participation of educational institutions. One of the most significant experiences was the territorial accompaniment of the Alcira del Blanco Ergueta Special School, which has 4 educational levels (maternal level, kindergarten, primary level, secondary level).
During the morning shift, the secondary level operates, which has workshops for occupational guidance, one of which is the Orchard workshop. In this workshop, the students worked in the classrooms to incorporate knowledge about how to sow, the characteristics of each crop, the care they must have, how to harvest, etc. To do this, the teacher in charge relied on the tools designed by ACDI: KOKUE APP and KOKUE BOARD GAME. Thanks to these two tools, they learned techniques in a playful and didactic way, which they later implemented in their school orchard, such as plant association and crop rotation.
Both the game and the app are fundamental tools in the learning process of these young people, as many of the students still cannot read and write, so the design based on images and the app's sections helped a lot with the interpretation of information on the principles and foundations of agroecology. In this regard, Pamela Dorao, territorial promoter of ACDI in La Madrid, comments: "The impact that Kokue has had on these young people with special needs is important. The impact is seen in the productivity of the orchard, but thanks to how the young people learned in the classroom, both with the Kokue App and the Kokue game. The app is very intuitive and has so many images that those who cannot read can still learn. They have made significant progress, as they resumed the production of the orchard with the impetus of Kokue and the accompaniment of ACDI."
The harvests that the students have achieved so far have been onion, chard, carrot, cabbage, among others, and they were 100% destined to supply the school cafeteria that provides daily lunch to 50 children.
Thanks to all who make this work of contributing to the food sovereignty of the most vulnerable communities possible!