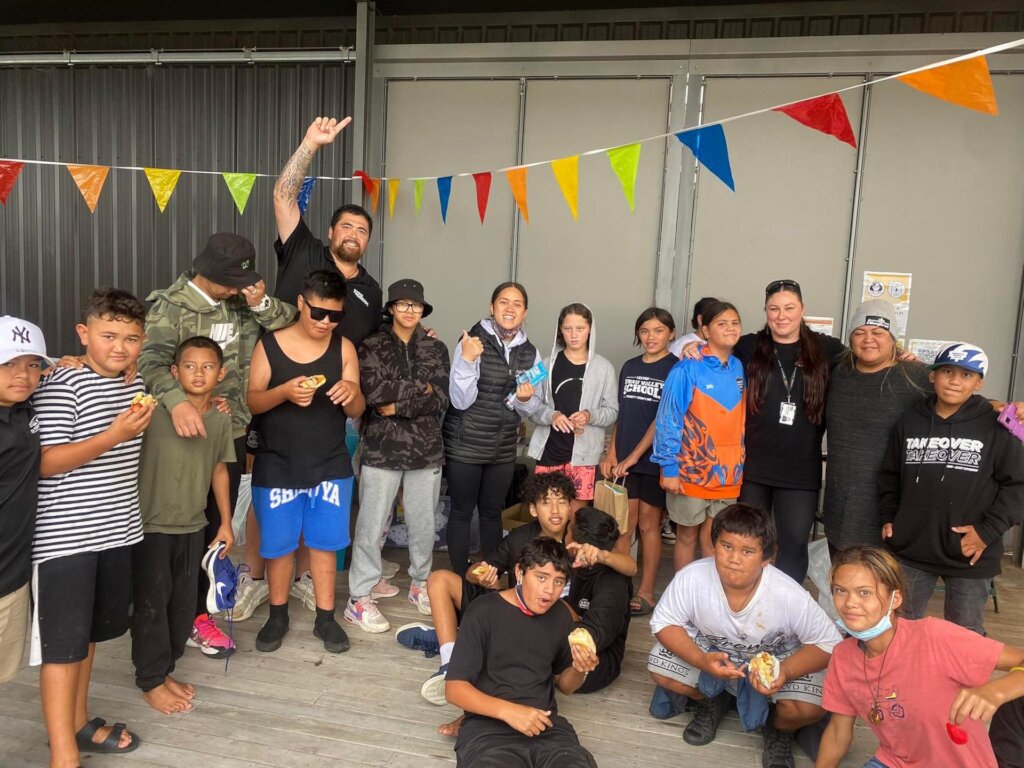 Kia ora Dear Supporters,
Challenges
The CEO Letter in this year's Annual Report outlines the issues our communities in Whangarei – and many others – face every day. You've all been reading the headlines about the effects of increasing inequality in NZ, exacerbated by the Covid pandemic. Housing insecurity, job insecurity, food insecurity … the pressures on our families are immense.
The articles in the Annual Report illustrate the ongoing mahi from our Navigators, which include helping to arrange emergency housing, delivering kai, ensuring the Dreamers are transported to school, etc. Our major focus is on the strengths and capabilities of the 1,000+ tamariki and rangatahi in our programme, encouraging them to continue striving towards their dreams, but sometimes that takes a back seat to just surviving.
Great News
Even in the midst of these challenges, we're thrilled to report that a new I Have a Dream project will be starting up in Upper Hutt. It was especially pleasing that the Electorate MP for Remutaka attended the Launch Event on Tues 3rd May – Chris Hipkins, who is the Minister for Education.
We're so happy that Karen Wellington, the Principal at Te Kura o Hau Karetu and Ron Vink, founder of 4 A Better Trust, are leading this initiative. The event generated excellent news coverage:
Breakfast TV show interviewed Piripi Burt (one of our Navigators) and Jade Nicholas, a Mt Roskill Dreamer -
The Dominion Post ran an article the next day
It's also exciting that I Have a Dream was one of 18 collective projects profiled in a recent report from the NZ Productivity Commission, titled "Together alone: Joined-up social services". NOTE: the report contains a ton of useful information for our team, especially as we begin to expand our footprint, but is probably too much to expect you to read … . However, if you can read the Overarching themes and lessons, pages 1 – 7, you will see why we are excited about being profiled. It's the kind of external validation that will help us when speaking with Government and interested communities.
Nga mihi,
Scott Gilmour
Chairperson, Board of Trustees
I Have A Dream Charitable Trust
Special notes to our generous donors
The Audited Annual Accounts illustrate that we continued to benefit from the incredible commitment and generosity of our donors. Prior years have seen one large donor give us a large sum of money, which has made year-to-year comparisons harder, but we continued to be able to put aside some money for growth and contingencies.
Our system automatically generates receipts for many donors. For others, such as those on regular Direct Deposit donations, we have mailed out the Year-end Tax Donation Receipts. If you are missing a receipt, please email Lesley here
If you'd like to receive a hard copy of the Annual Report in the mail, please let me know. I personally prefer to read such things non-electronically, and a hard copy has the added benefit of being left on your kitchen table or in your office reception area, which helps spread the word of our kaupapa far and wide. We can also supply additional copies if you'd like to pass them to friends and colleagues.
Dreamer School Holiday Programme
Every January I Have a Dream (IHAD) provides a free school holiday programme for tamariki and rangitahi from their partner schools
Under the guidance of IHAD's passionate and dedicated Navigators, Year 7 and 8 Dreamers get together for a week of whanaungatanga, ako and rangitira – and they love it!
First up this year was three days on the Mountains to Sea programme where they got hands-on environmental education. The programme is designed to empower tamariki to explore and strengthen their connection through experiences in forests, rivers and the ocean.
The final two days were spent at the IHAD house in the grounds of Tikipunga High School. This is especially valuable for the Year 7's as they are able to get used to their new learning environment before the start of the school year. They also met their other High School IHAD Navigators who made them feel awesomely welcome through shared experiences, helping develop a really important connection before school started for the year.
Year 7 Navigator Rose Welsh says it was a really special time. "We have children from Tikipunga Primary, Totara Grove, Otangarei Primary and Tikipunga high come together and they really make a connection which helps make the transition into high school easier for them.
"It is great to have the high school Navigators make a real effort to come to the house because it makes it more collaborative at high school," says Rose.
High school Navigator Daisy Rogers believes having a mixed holiday programme with Years 9 to 13 is a really good formula. "What is special is that we offer a safe space and place in the school holidays for around 40 Dreamers and expose them to activities and new people. The holiday programme is an amazing opportunity to develop relationships with other students, volunteers and external people in the community.
"The activities can really flick the switch on their light bulbs. For example, students completing a four hour hike they didn't believe they could do and having a go at surfing. It is about building resilience and determination through teamwork and communication – making the Dreamers realise they can achieve anything. It's an awesome opportunity to practice leadership skills," adds Daisy.
Please check out our website for more examples of the wonderful after-school programme activities we run with our Dreamers (Click here)
Exciting new initiative at Te Kura o Otangarei
We are delighted that Rob Stanley joined the IHAD Team in January 2022. Rob is part of our dedicated team based at Te Kura o Otangarei and works part time with us, complementing his part time role at the kura also. One of the exciting initiatives that Rob is working on is the development of programming to support tamariki who are not attending kura or participating in alternative education. There are significant needs in this space and IHAD, in collaboration with the kura, are very well placed to have great positive impact in it.
Bad Jobs
Rebecca Macfie is that rare journalist who combines deep understanding of both business and politics with a strong social lens. The most recent example was this excellent article from the Feb '22 issue of North & South magazine, describing the huge growth in part-time and contract employment. As she eloquently describes and illustrates with numerous examples, these jobs are extremely precarious, making it hard for a person to make commitments like buying a house, raising a family, etc. They are also hugely damaging to the worker's health and their family life, with their irregular hours, changing shift work and additional stresses. They lack normal workplace benefits such as regular breaks, sick leave, protection from unjust dismissal, etc. Perhaps most unfair, they pay less than full-time roles, although often doing exactly the same work.
She wrote another insightful article for North & South recently on Housing Inequality. These issues, along with access to Health Care, decent Education for your kids, etc., are inter-related. Worse, they often reinforce each other, resulting in the blight of inter-generational poverty that NZ has experienced for many decades.
The report we refer to above from the Productivity Commission is one of many we have seen from various Government Departments and non-profits researching the situation. All of these well-researched studies show us what is wrong. Loosening the bonds between businesses, workers, community and Government can lead to huge increases in corporate profitability (and the returns to capital), but they are destroying our social fabric