Background during and after the implementation of the project;
After conducting a field survey in the Bourj Hammoud area, the problems were identified and categorized as materialistic, social and psychological.
Materialistic problems: Before the explosion, the living and economic situation in Lebanon, in general and specifically, in Bourj Hammoud area already was not that good, and then the explosion occurred and caused the situation to deteriorate more. The losses were embodied by the destruction of homes, shops and private companies in addition to the inability of getting the basic needs for living (securing foodstuff ...) that were discovered through field and home visits by social workers in the Bourj Hammoud area, and this situation in turn has led to the emergence of many problems that fall under the social problems
Social problems: As a result of the materialistic losses that occurred in the region, the level of unemployment increased after the destruction of the work and livelihoods of the citizens, and thus led to the emergence of high cases below the poverty line.
In addition to the emergence of various cases of bullying, and violence that manifested in different forms between members of the society in general and the families specifically.
Psychological problems: all the factors that were previously mentioned, material and social problems, especially the explosion, which had a major role in the emergence of psychological problems and disorders for a large segment of the population of Burj Hammoud, which are manifested by the symptoms of several disorders like depression, post-traumatic stress disorder and panic attacks ... Where it appeared on individuals of different ages, whether they were children, adults, or elderly, it affected everyone who was near to the explosion.
Naba'a Achievements; During the last period, The most highlighted achievements during the last period;
We at Naba'a are doing all we can to help all affected communities during this extraordinary crisis. Our assistance efforts go to all: Lebanese, refugees and others who were affected without distinction. The devastating impact of the explosion is compounding the challenges currently faced by Lebanese and refugees and adding even more difficulties as families were struggling to survive with the economic crisis that was exacerbated by the impact of COVID-19.
3240 parents and caregivers motivated to be engaged in their children learning and well-being.
The psychosocial support sessions focused on groups, as they were formed by referring service applicants who were visited in their homes, and the groups were divided into:
The women's groups, which included 75 women, were divided into 5 groups, 10 women within the each group. in these groups it also included 23 men. The following conducted activities were art therapy, psychological drama, psychological and social support activities, and parental therapy. Among 50 women 57 were referred for follow-up by a psychologist as part of individual psychological support sessions for each beneficiary.
The division of the groups of children's sessions were according to age (6-14):
-Art therapy sessions for children aged 6 to 10 years
- Psychosocial support "sessions for children "She deals or "I deal with awareness sessions for girls and boys from 11 to 14 years old
- Psychosocial support sessions for all age groups
100 children were targeted, divided into groups according to social and psychological needs. The psychologist referred 30 new children for individual follow-up.
It is worthy to note that, two child friendly psychosocial spaces were established at two UNRWA clinics (one in Ein El Helweh and one in Wadi El Zeni), where 2350 children whom their families access UNRWA clinics participated and joined the activities in these spaces.
Case Study;
Beneficiary profile
Code: R1
Date of birth: 2003
Nationality: Syrian
Sex: Female
Referred by: Social Worker
Reason for referral: self-harm, isolation, psychological stress
Risk level: High
Social status; Divorced
Notes: The beneficiary is currently married to someone else and has no children.
Economic and living situation of the beneficiary
Work: Unemployed Unstable Stable
Type of work: Stitching
Is he/she receiving financial assistance? No
Family income: good average low bad
Nature of the residence: Landlord Rent hosted tent
Number of rooms: 2
Does anyone else live in the house with the family: The beneficiary and her husband live with her parents and her siblings
Additional Observations on the Living Situation of the Case:
The living and economic situation of the beneficiary is terrible as the family of 8 members live in a house consisting of only 2 rooms which lacks the basic home furnishings.
Summary of the background/history of the beneficiary and the problems suffered from:
After observing the beneficiary's situation through her participation in awareness sessions, she began talking openly about her situation among the Psycho Social Support group members (group of girls aged 14-20), where she talked about the consequences of early marriage that she faced and suffered from, as she was forcibly ordered by her father to marry a man when she was 15 years old. This early marriage shortly led to family problems and complications including constant insults to her by the husband's parents, leading her to divorce few months after her marriage.
Moreover, after her divorce, she received insults from her own family who considers divorce as a shame and a social defect, where the mother told her, "You are just a divorced girl and so you are with us to serve us."
All that has been addressed and said to her had led to the emergence of high-risk psychological symptoms.
Psychological and Social Symptoms Observed:
- Community isolation (spends days without communicating or meeting with a family or friend)
- Feelings of permanent sadness (most of the time)
- Constant crying
- Fear of facing people
- Loss of self-confidence and loss of trust in people
- Sleep disorders (insomnia)
- Eating disorders (anorexia)
- Nail biting
- Hair cutting (self-torture for revenge)
- Harming her body by cutting off her wrists and arms
Data Collection Method:
Data is collected through the psycho-social support sessions and awareness sessions given, as well as follow-up via the telephone and home visit.
Intervention and follow-up Methods:
Intervention was conducted in the following ways:
Awareness sessions (early marriage, gender-based violence, gender versus sex)
Psychosocial support sessions (SHE DEAL), how to deal with risks
Art therapy sessions (your strengths and weaknesses, fears and sources of strength, your position in society, expression of emotions)
Referral to the psychologist for follow-up
Recommendations:
- Follow-up meetings with the psychologist through individual sessions on a weekly basis
- Continue participating in the sessions that she had begun as a recommendation by the social worker and at the request of the beneficiary herself (awareness sessions, art therapy sessions, social psychological support sessions).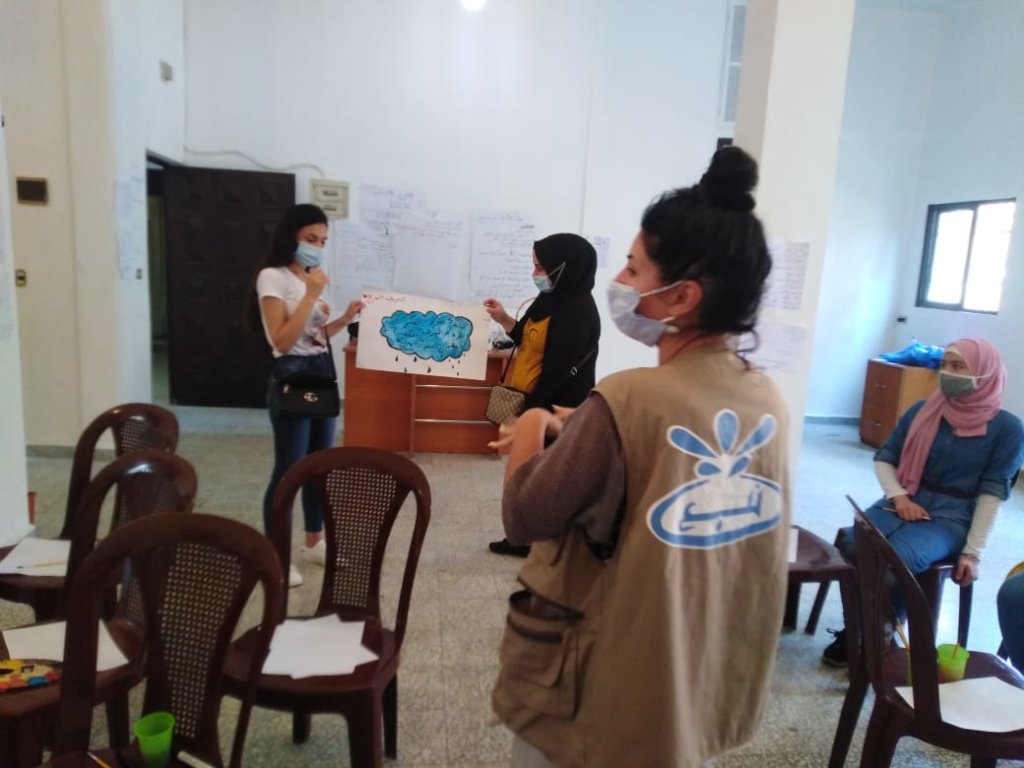 Links: