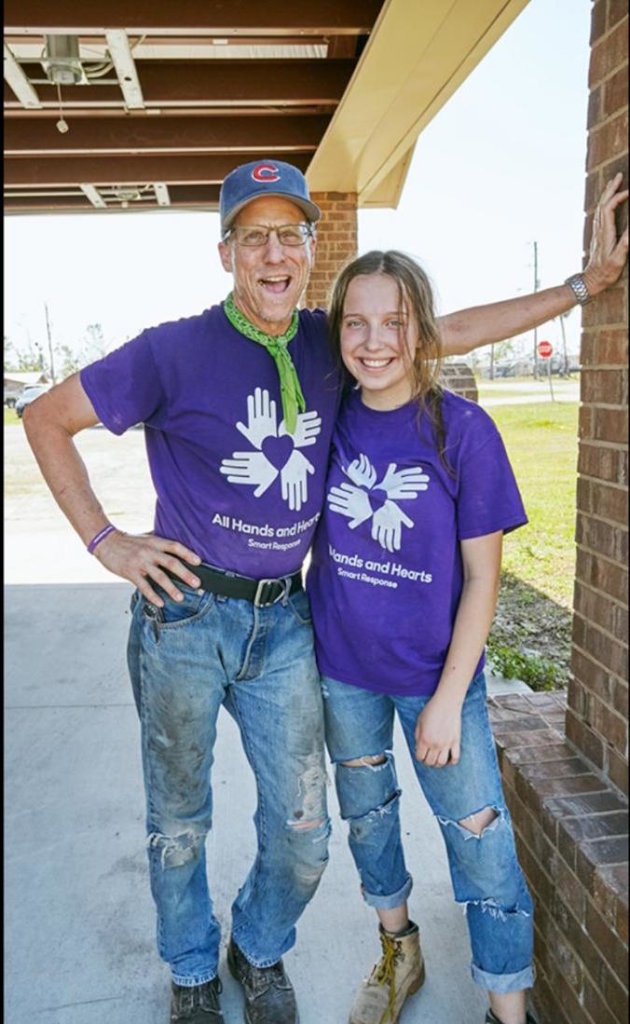 Despite designation as a Category 5 storm, the 60 lives claimed in the chaos, and the destruction of homes and critical infrastructure, Hurricane Michael faded quickly out of the headlines last hurricane season. Nevertheless, thanks to the donations of over 1,600 generous individuals, GlobalGiving and its nonprofit partners are continuing to support communities on the road to recovery long after the short-lived media attention.
Our local nonprofit partners remain dedicated to moving the recovery process forward despite challenges. The situation in the post-hurricane Florida panhandle remains dire; people are living out of their cars, there is a population exodus out of small towns, and school enrollments are facing steep drop offs.
Nine months after the hurricane, your donation continues to rebuild homes, schools, community structures, and lives.
July Recovery Partner Spotlight: All Hands All Hearts Volunteers
AHAH volunteers have been racking up thousands of hours in clearing monumental amounts of debris, clearing dangerous mold, and rebuilding more than 169 damaged homes and community structures. AHAH's ongoing efforts have touched 701 people's lives!
Despite the heat and humidity, the organization is currently working hard to ensure that the Boys and Girls Club of Panama City, which offered teens homework support, sports, and computer literacy programs before the storm, is fully repaired and ready for the start of the school year.
Although nine months have passed since the disaster struck, volunteer organizations like AHAH still play a critical role in Hurricane Michael's recovery work. The benefits of this persistent, on the ground support include free time for parents to be able to take their kids to school, and peace of mind in knowing there are people dedicated to rebuilding a home that is safe and livable once again .
"Our staff and volunteers are committed to supporting recovery for the long haul."
Also helping affected communities to rebuild after the hurricane, is Habitat for Humanity. To date, Habitat has performed 4,806 interventions. This includes damage assessments, debris removal, clean up assistance, and emergency repairs. Local Habitat teams have been helping families find temporary housing, organizing home assessments, and guiding people through the complicated insurance claims and FEMA application process.
The commitment to holistic recovery shows through Habitat's interactions with the affected communities:
"Habitat helped Bay County resident Cleedie May and her family navigate the complex terrain of insurance and contract work. When it was clear there would be gaps between costs and insurance payment, Habitat fixed the walls, windows, roof and flooring despite the funding challenge. Cleedie Mae expressed her gratitude many times over and said "what a blessing" Habitat has been for her family."
By June 2020, Habitat's goal is to build 13 new homes, conduct 57 repairs, and complete 46 rehabs through fortified construction methods.
Your generosity and support of this fund has translated into real tangible progress. Thank you for standing with the people of Panhandle. We will continue to share stories from the field as Florida communities recover.
With continued gratitude,
Andrea + the GlobalGiving Team