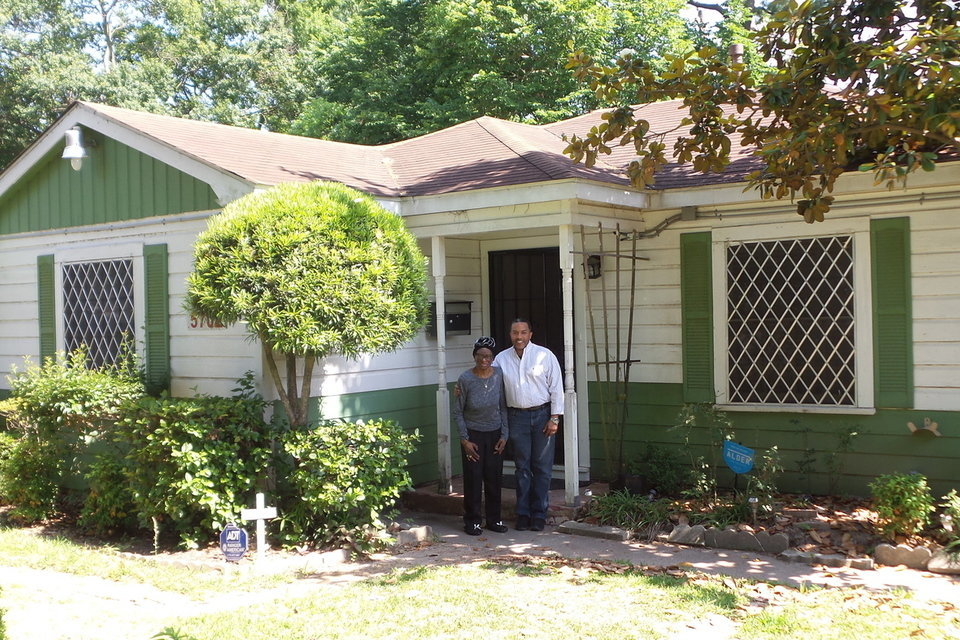 In the two years since Hurricane Harvey made landfall, GlobalGivers like you have raised more than $5 million to help residents across Texas rebuild and recover. We're pleased to share this update on how your generosity is helping others rebuild homes, implement disaster preparedness strategies, and strengthen resilience in communities across Texas.
Long-term rebuilding and reconstruction
Counties along the Upper Gulf Bend bore the brunt of Harvey's winds. With support from GlobalGiving, Coastal Bend Disaster Recovery Group is providing new homes for eight low-income families whose livelihoods were destroyed in the wake of Harvey.
Victoria County Long Term Recovery Group continues to make progress relocating homeowners whose everyday lives were turned upside-down during Harvey to a nearby community positioned above active flood zones. The "Hope Meadows" project currently has 15 approved new homeowners. Thanks to their efforts, displaced families in the communities of Bloomington, Placedo, and Dacosta finally have the opportunity to feel secure in their new homes.
With the help of local volunteer groups and partners, Rockport Hands of Hope has installed storm covers on more than 100 homes throughout Austwell and Tivoli. By reinforcing homes that are at high risk of being damaged by hurricane force winds, their efforts ensure that families are better equipped to face future disasters.
All Hands and Hearts teams in Coastal Bend have also been hard at work in the Texas summer heat, completing an unprecedented twenty-four homes during a five month period.
Resilience building
GlobalGiving recognizes that reconstruction is just one part of the recovery process. Our partners at Attack Poverty and Urban Harvest have incorporated wellness programming into their disaster recovery work to help communities recover from their losses.
In response to the gap in providing emotional support services for disaster survivors, Attack Poverty's Disaster Recovery team has started an Emotional and Spiritual Support Program which focuses on providing in-home counseling to residents for more than 30 families. By approaching each home repair assessment through an emotional support lens and training construction coordinators in mental health support, Attack Poverty ensures that individuals are able to recover from both physical and emotional hardships that Hurricane Harvey caused.
With the support of GlobalGiving, Urban Harvest hired a Community Engagement Director to more directly serve four Houston-area food deserts experiencing heightened challenges in the aftermath of Hurricane Harvey. By connecting food access, productive greenspace, economic opportunity, and community development, the new director empowers each community to recover with dignity and build resiliency in their neighborhood.
Preparedness and mitigation
Texas' propensity toward hurricanes, floods and other disasters means preparing for these events is a priority. Our partner Harvey Home Connect has expanded its "recovery matchmaking" services used after Harvey to connect homeowners in need with groups working in the area (specifically finding groups that could work within the parameters of the request for service) to be ready to activate in future disasters. With support from GlobalGiving, HHC is building out backend infrastructure to improve their ability to respond and has already expanded to less served counties, including Brazoria and Galveston. The success of these improvements was evident in HHC's effective, rapid response in the wake of Imelda.
In collaboration with emergency management experts, the Houston Arts Alliance has designed a program that prepares the arts and culture community for future disasters and teaches artists how to recover their assets in the wake of a flood or another crisis. HAA is also collaborating on mitigation and engineering projects within Houston's historic theatre district that would reduce risk for this part of the city, Houston's heart of art and culture, from flooding. HAA is emerging as a national leader in disaster preparation for the artist community. Since partnering with GlobalGiving, HAA has been invited to join VOADs (Voluntary Organizations Active in Disasters), multiple long-term recovery groups, and at the request of the Smithsonian Institution, will be speaking at the Heritage Emergency and Response Training in December 2019 in Washington, DC.
Houston Advanced Research Center is an independent research hub providing analysis on environmental issues for people seeking scientific answers. With support from GlobalGiving, HARC is providing technical research and data that informs the City of Houston's Climate Action Plan, due out in December 2019. HARC also works with climate scientists on climate risk indicators, together producing first-time data for areas of the region that will support Houston's resilience plan. This data will be broadly available, and HARC is developing story maps for different regions that illustrate climate risk factors and social impact risks to tell different stories. HARC is engaging partners from Texas, Louisiana and Arkansas on this story mapping project, intended to benefit local communities and demonstrate the real risks associated with climate change and rising heat index.
As residents continue rebuilding their communities, we are immensely grateful for your generous support for each of these programs. Thank you for your decision to fund community-led disaster response efforts after Hurricane Harvey with your cash donation—the smart way to give after a disaster.
With gratitude,
Kelly + the GlobalGiving Team