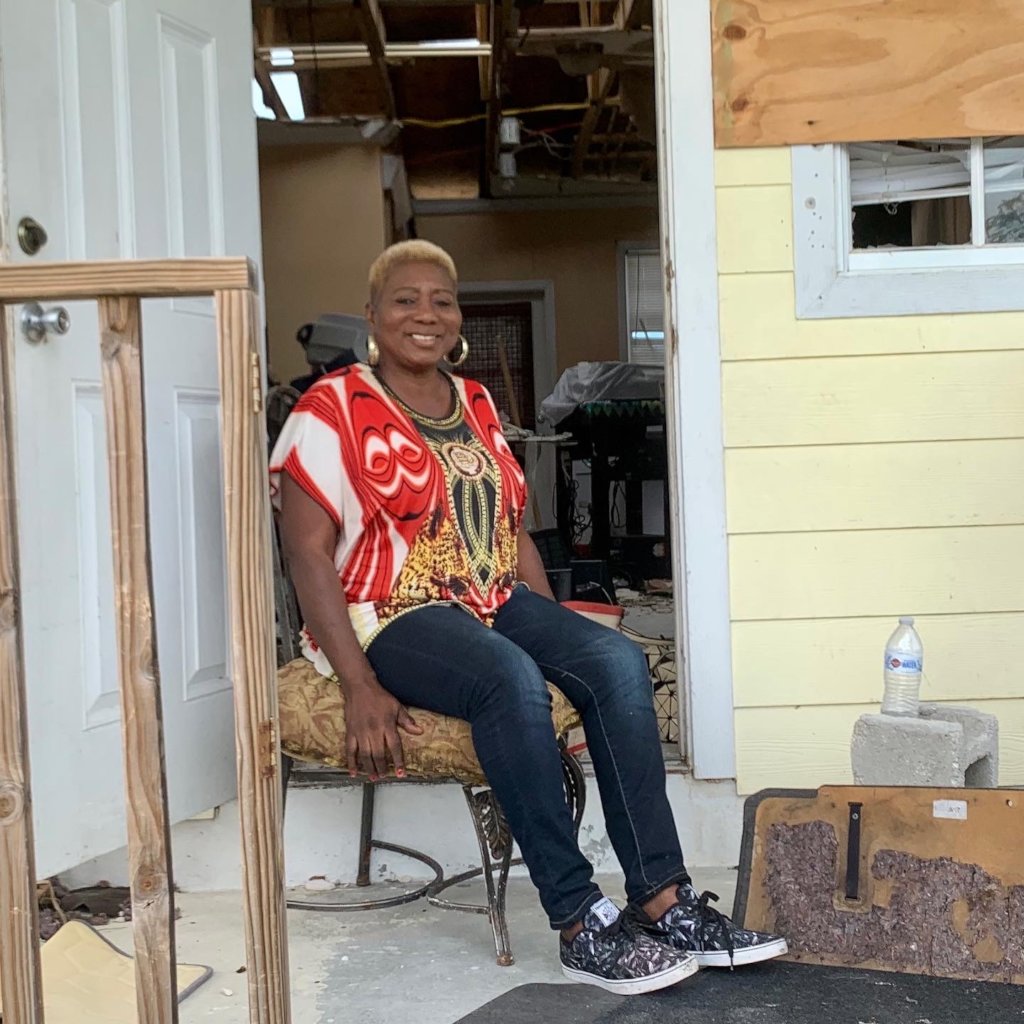 On Abaco, Grand Bahama Island, and other out islands, many people still haven't returned home and regained their livelihoods, four months after Hurricane Dorian. I had the opportunity to speak with some of them—and learn more about how your donations are being put to work—on a weeklong trip to Nassau, Abaco, and Grand Bahama in January. Here are three observations I'd like to share with you:
1. The people of The Bahamas are truly awesome. And resilient.
There's a lot of talk about resilience these days. And resilience comes in many forms. One form is embodied in a couple of the folks I met during my time on Abaco and Grand Bahama.
As I drove up to a "muck and gut" site, Pleasant, who has recently returned to Abaco from Nassau, sat and watched the contents of her home be piled up in her front yard. Furniture, clothing, kitchen products, and photographs. All had been ruined by the storm surge that reached double-digit depth. Pleasant lost her husband of 36 years when he was swept away. She never recovered his body. But as I sat and heard her stories of the storm, she sat right up in her observation perch and smiled, assuring us that she was never leaving Abaco. She would "do whatever I need to do" to get her family resituated on this cul de sac by the sea.
In preparation for Hurricane Dorian, Neville, a resident of Grand Bahama Island, took his disabled wife, Blossom, from their home along the ocean in High Rock to higher ground in Freeport. For hours, as the water rose to shoulder height in the shelter, he couldn't locate her and feared that he had lost her. Yet someone had brought his wife to safety on the second floor. A man of unfailing faith, he is repairing his home, caring for Blossom in a borrowed house, and continuing to be a "loyal and humble servant."
2. The international nonprofit community is critical to recovery.
International organizations that work closely with local community leaders are critically important in the first phases of disaster recovery.
I had the chance to visit with several of these organizations, which have been long-time GlobalGiving partners. As always, they are doing amazing work.
International Medical Corps

established a temporary clinic in High Rock on Grand Bahama to replace the one destroyed by Dorian. I visited with Dr. Dennis, the local doctor in charge of the clinic. He is hopeful that a permanent clinic will be constructed in the coming months.

All Hands & Hearts

is working to repair the only school on Abaco that serves kids who are differently-abled, managing a dozen home cleanups/repairs and volunteers supporting other nonprofits.

World Central Kitchen

is still providing thousands of meals a day, all delivered by local community members who now have a source of income as well.
3. There is a significant need for increased social sector capacity in the eastern Caribbean.
Unlike on other Caribbean islands, and in many places around the globe, there is no local community foundation or similar "anchor" organization for the nonprofit sector. But Bahamian nonprofits—which help amplify the voices of the people they serve—are critical to ongoing recovery efforts. There is a clear need for more leadership engagement and governance structures on the islands. This will help the Bahamian social sector take on a stronger, more powerful role in long-term recovery and resilience building.
In the coming months, we will be using some of the contributions you made to assist with this capacity building. A pending grant, for example, will support the convening led by the Organization for Responsible Governance, a Bahamian nonprofit which seeks to "empower civil society and the people to take a greater stake in the governance of the country through generating dialogue and education."
It is a privilege to lead the GlobalGiving team responsible for stewarding your funds. I hope this update gives you a sense of our work.
Pleasant and Neville are just two of the inspiring Bahamians I had the chance to meet during my trip. I can't wait to return to see their homes restored completely. Pleasant promises a true Bahamian meal. I'll be there.
With sincere gratitude,
Donna Callejon + the GlobalGiving Team