Project Report

| Nov 25, 2019
Hope After Hurricane Dorian: A Conversation With Lucas Metropulos
By Donna Callejon | Director of GlobalGiving Disaster Recovery Network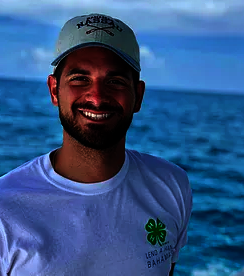 We recently caught up with Lucas Metropulos, founder of Lend a Hand Bahamas and Marine Education Initiative, formerly known as Fishing for Families in Need, our partners working on relief and recovery after Hurricane Dorian. Here's what he shared:
Q. What do you wish more people knew about how your community was impacted by this storm?
The devastation of Hurricane Dorian quickly dominated the news cycle around the world. Bahamian nonprofits and other NGOs began receiving thousands of gifts to support relief efforts; however, the Bahamas relief effort is slowly moving to the background. There is still a need for immediate relief items, but also longer term needs that will plague the Bahamas—primarily the islands of Grand Bahama and Abaco—for years to come. It is my hope that supporters from abroad will continue to contribute to relief and rebuild efforts.
I also would like to stress and encourage everyone to still be traveling to the Bahamas. Many individuals have canceled their plans to go to Nassau and other islands thinking that all of islands of the Bahamas were impacted by this storm, while it was predominantly only two islands. One of the best ways people can support the Bahamas right now is to take a trip to Nassau, Exuma, Bimini, Eleuthera, and other unaffected beautiful islands.
Q. What makes you most proud about how Lend a Hand Bahamas and other local organizations are responding to Hurricane Dorian?
As a Bahamian nonprofit organization committed to community development in the Bahamas, we were working here before Hurricane Dorian and will be here long after. This has been our first time on a larger scale assisting with hurricane relief, and we have been working tirelessly to ensure that our support is transparent and reaches those who need it most as quickly as possible. There are many Bahamian organizations that have come forward in the wake of this disaster whether it was their expertise or not. These organizations have risen to the occasion and worked together to increase impact in affected areas and to support evacuees. I am especially proud of our team for their thoughtful approach and willingness to adapt our efforts. I have personally witnessed the impact our efforts have had on evacuees families in Nassau and in Grand Bahama and Abaco.
Q. What are the greatest unmet, longer-term needs in your community?
We've received large deliveries of food and immediate relief supplies, but there is still a need for these items as the rebuilding and recovery process will long-term. Debris removal and building materials are of high necessity right now as well. In addition, there continues to be a strong need for mental health professionals, and opportunities for victims to receive counseling due to this immense trauma. Our organization, Lend a Hand Bahamas, is also taking a deeper focus on the need to enhance and sustain educational opportunities for children displaced as a result of the hurricane. We are encouraging donors to support our educational after-school programs for evacuee children launching soon in Nassau and larger educational initiatives to help support the influx of evacuee children in Nassau.
Q. The storm put many folks in incredibly tough situations. What keeps you hopeful?
This is not the first devastating hurricane to make landfall in the Bahamas, but it has certainly been the strongest. The destruction is truly immense in Grand Bahama and Abaco. Thousands have been displaced, careers extinguished, lives lost, and the environment damaged. We have seen instance after instance of Bahamians coming together to offer relief and support. Bahamians are a resilient people who value community, and when one or two of their family islands are impacted, the whole of the islands come together to support each other. I have personally witnessed this over the past 12+ years of being involved in the Bahamas. Many of the families we have supported have a very positive attitude and are returning home to rebuild and work together to improve their situations. They are extremely thankful to others for support and are committed to not letting the devastation of Hurricane Dorian change their positive attitudes and desire to push on.