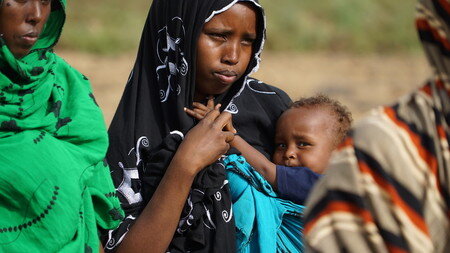 In more and more countries around the world, people and especially children are suffering from acute malnutrition and malnutrition. For this reason, the international children's aid organization World Vision has declared the highest global disaster warning level for the second time in its history, thereby activating the international partnership to campaign for extensive aid measures.

Combat hunger crises in the long term
World Vision, one of the alliance organizations of Aktion Deutschland Hilft, calls on the international community to provide funds for the affected countries immediately and quickly. "The world can no longer stand by and watch as millions of children fall ill or die because they don't have enough or nutritious food," said Fiona Uellendahl, World Vision expert on nutrition and climate change.
"In addition, funds must be made available flexibly and over the long term, not just in crisis mode, in order to really eliminate malnutrition." Forty-five million people in 43 countries are currently suffering from acute malnutrition and could die in the coming weeks and months.

 
Plan is to help 11 million people
Many children under the age of 5 are particularly affected. World Vision,on of our alliance organizations, is expanding its relief efforts and aims to reach at least 11.5 million people through its disaster relief efforts.
Andrew Morley, President and CEO of World Vision International, says: "Millions of children are suffering from this terrible hunger crisis caused by a deadly combination of conflict, climate change and COVID-19."
24 countries most at risk of famine
Rising costs for fuel, fertilizer and wheat, for example, caused by shortages and sanctions as well as export bans as a result of the war in Ukraine, are exacerbating the hunger crisis. In many countries, the number of people at risk of starvation is increasing.
World Vision, one of our alliance organizations, focuses its relief efforts on 24 countries where the situation is worst, including Afghanistan, Ethiopia, Burkina Faso, Mali, Kenya, Niger, Somalia and South Sudan. Other countries in Southern Africa and South Asia Pacific are currently being monitored and may be added to the list.
In addition to the aggravated food situation, many countries, including Lebanon and Haiti, are also affected by economic problems and increasing violence.
  
Emergency aid program for Kenya
During a trip to Kenya, Morley expressed shock at people's reports. "I spoke to a young mother who kept checking on her severely malnourished children at night to make sure they were alive. The hunger crisis is affecting all areas of life."
World Vision's current emergency aid programs are already reaching several million people in East Africa. For example, around 2,100 households in northern Kenya and central Somalia that were particularly badly affected are receiving flexible financial aid through a joint project by World Vision Germany and Aktion Deutschland Hilft.

East Africa: Sustainable precautions
The project also specifically strengthens the empowerment and knowledge of women, as they have the most active role in combating malnutrition, and promotes local engagement against exploitation, child labor and gender-based violence, which are increasing as a result of the crisis.
Together with the German Development Ministry and other partners, World Vision is also working to make regions in East Africa that have received little support more resilient to food crises, for example through climate-smart agricultural practices, regenerative afforestation and more sustainable pasture management, better communication with the government and access to financial services.
Donations against hunger still needed
The children's aid organization World Vision, one of our alliance organziations, has been active for many years in both long-term development cooperation and disaster relief in the countries of the South and employs a large number of people who have extensive specialist knowledge in various areas.
As the largest partner of the World Food Program, World Vision is able to help quickly and extensively. However, further help is urgently needed.

World Vision belongs to the alliance Aktion Deutschland Hilft.