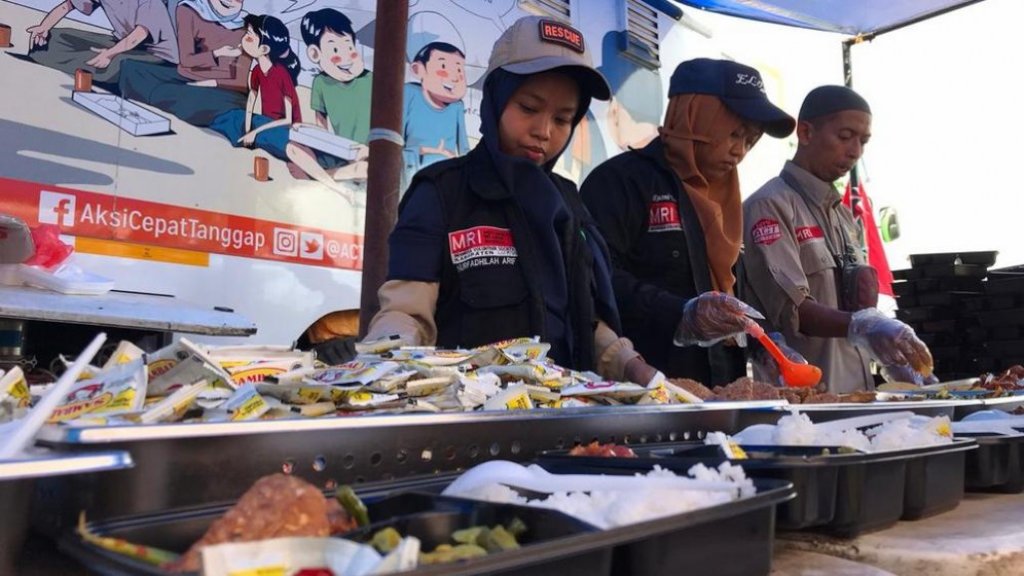 Dear
Our respected donors across the globe.


It has been challenging year for everyone across the globe, and we wish the spread of Covid-19 could be end as soon as possible.

ACT Foundation as humanitarian assistance in Indonesia must not stop the mission to act on helping for vulnerable families in all over Indonesian provinces.

It was the flood in North Luwu, since August 3, ACT has deployed one of its Humanity Food Truck. As of September 9, a total of 20,400 meal packages have been distributed to the flood victims as volunteers on duty.
Humanity Food Truck Coordinator Ryan Andriana reported on Wednesday (9/9) that the Humanity Food Truck is capable of serving up to a thousand meal packages per day. "We produce the meal packages in North Luwu based on the amount of the flood victims, the local residents, and the volunteers. Each meal package consists of rice, side dishes and vegetables," said Ryan.
Last Monday (9/7), the Humanity Food Truck distributed meal packages in Baliase Village, Masamba District, North Luwu. A total of 600 meal packages were distributed to the camps of Kampal, Masamba, Baliase, Lombok, Mappadeceng, Lontang, Pontaden, Fire Brigade, Inkor and Baebunta Market. The meal packages were funded by the generosity of the community.
Ryan added, ACT's Humanity Food Trucks are always ready to be deployed to distribute meal packages. With a team of volunteers and complete cooking equipment, Humanity Food Truck can serve up to a maximum of two thousand servings a day. "All parties can participate to give charity through Humanity Food Truck by donating through the Indonesia Dermawan website," said Ryan.
To date, ACT has four units of Humanity Food Trucks, three units are available at the Wakaf Distribution Center, Bogor, while one unit is currently in North Luwu and will be stationed at ACT South Sulawesi Branch Office in Makassar.
Many of the locals' houses are still trapped in mud that was left after the flood in July. At that time, the locals' houses were buried, leaving only their roofs visible. Many of the locals' properties were unable to be salvaged.
Aksi Cepat Tanggap (ACT) team reported, many of the locals are still staying in the evacuation sites. They have been staying in tents for two months. They still depend on assistance for food. Most of them thanks to GlobalGiving donors who always support Indonesian community at any circumstances.

Indeed, have a great holiday and happy new year!