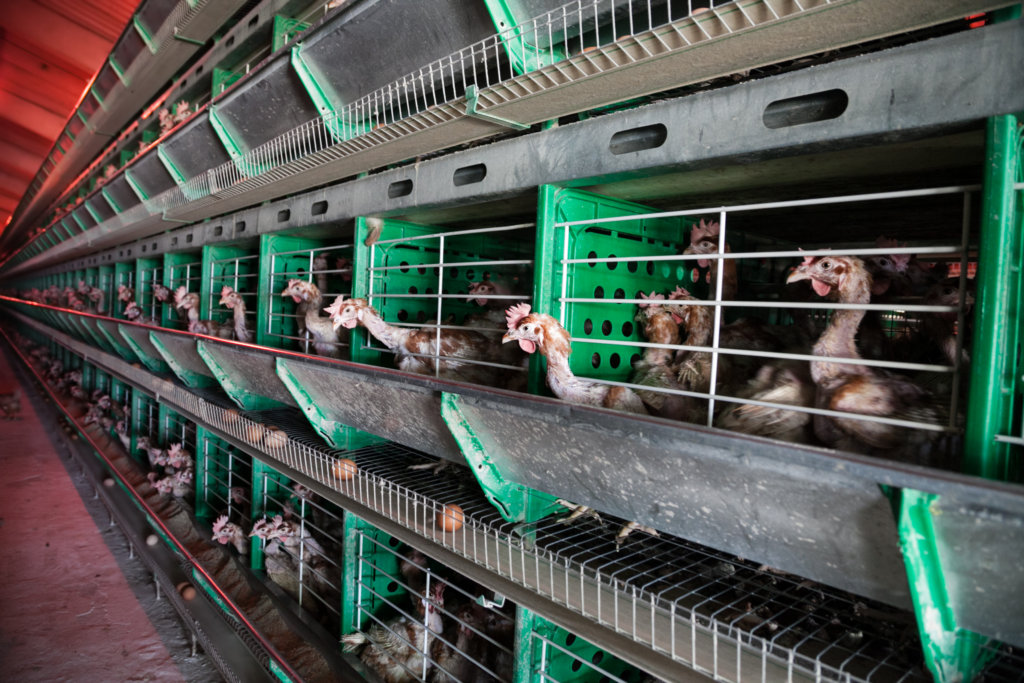 Imagine living in a room so crowded that you can't stretch your arms out fully, where you walk on a wire floor that cuts your feet and causes you pain. Imagine sharing that room with 6 people and never leaving it until you are hauled away to be slaughtered, breaking your bones in the process because they are now so brittle. This is what we allow to happen in the name of producing eggs for us. Currently 90% of egg-laying hens in Canada live in these cruel, barren battery cages.
I've seen the conditions these helpless hens have to live in. They experience chronic pain from injuries to their feet due to standing on wire floors, fractures to their bones which are weak due to lack of movement, and severe frustration because they cannot express natural behaviours that are important to their well-being. All of this during a shortened lifespan of just one year, after which they are considered "spent" because both their production and the quality of the eggshell declines. It's a miserable life! The welfare of hens is sacrificed to provide us with eggs.
I know you will agree with me that there are better ways to raise chickens so the quality of life is higher and they get a chance to express natural behaviours like perching, nesting and dust bathing.
Your donation will ensure five simple things for farm animals:
Access to fresh water and a diet that maintains their health
Appropriate shelter and a comfortable resting area
Prevention and rapid diagnoses of injuries and disease
Sufficient space and proper facilities so they can express natural behaviours and the company of their own kind and;
Conditions and treatment that avoid mental suffering.
The Canadian Federation of Humane Societies (CFHS) is a founding member of the National Farm Animal Care Council (NFACC) and we are the only organization that negotiates directly with farmers. We are able to fight for best practices in animal welfare and bring forward the concerns of the Canadian Public directly to the industry so they are heard. CFHS is the only animal welfare organization sitting on NFACC's laying hen code development committee. We need your financial support in order to stay at the table and push to end the use of battery cages and makes sure that the new cage-free systems are as humane as they sound.
In February, you may have seen the announcement from the Egg Farmers of Canada, an organization representing 90% of commercial egg producers in Canada saying that their members would stop using inhumane battery cages by 2036. They positioned this as a good news announcement. Discontinuing use of these cages is positive, but why would they need 20 years to make this happen? Myself and my colleagues challenged this decision and because of your support we have been able to get the date moved up by 5 years and a commitment that starting next year new farms cannot install battery cages. While not at the ideal yet, this means that 129 million fewer hens will experience the stress and frustration associated with battery cages and we will continue to push for a faster phase out.
We are almost at the end of the process that will see the new Code of Practice for egg laying hens released. We fought hard to ensure that the draft Code of Practice has the most rigorous and stringent standards for cage-free housing systems put in place in North America, standards on par with the European Union and which far surpass current U.S. standards. It has taken two years of negotiations to get to this point, and now that the public comment period is over, we know that we still have more work to do reviewing the input from Canadians and ensuring that any changes made to the Code of Practice only improve these animal welfare gains.
Unregulated, cage-free housing can be just as crowded and oppressive as barren battery cages, with no enrichment for the hens and much more aggression and stress.
Once this code is adopted, it will bring in brand-new cage free standards and will ensure that when you see the words "cage free", it actually means that the welfare of hens is being protected.
The new standards in this draft code will ensure that cage-free is as progressive as it sounds. It will mean an end to the chronic pain and suffering for chickens, a real end!
Despite the progress we've made, we recognize that these changes need to happen sooner. These cramped cages prevent hens from walking or even spreading their wings for their entire lives. That is unacceptable for even one more day.
This is why I am making a special appeal to you today! The time we spend at the table with the National Farm Animal Care Council works, we've proven that. But there's more to do and with your help we can keep pressing for better practices, better conditions and more ambitious timeframes.
Your donations and your support have already made a difference for dairy cows and pigs – now we need your help for the chickens.
Canada lags shamefully behind many other countries when it comes to animal welfare, and CFHS is pushing hard for improvements at the national level. Our collective voice is being heard and, because of your support, we are building momentum.
CFHS continues to lead the charge on three additional Codes of Practice for farmed animals, which are currently in development. We can only stay at the table and continue to speak up for farm animals with your monetary donation to support this vital work.
As CEO of the Federation, I am proud of how much we are accomplishing together. I want to include a special thank you to you because you see that making change happen is not a short-term goal and that it will take all of us working over a number of years to make a difference.
The Canadian Federation of Humane Societies (CFHS) turns 60 next year and we are proud to be Canada's organization representing SPCAs and Humane Societies in your local communities, some of the oldest and most trusted organizations in our country. We are part of a movement which takes its responsibility seriously to ensure our Canada is humane.
Thank you for your past support and could I ask that you consider making a further donation TODAY and provide hope for hens and all animals, join me in being a strong national voice for animals!
Links: