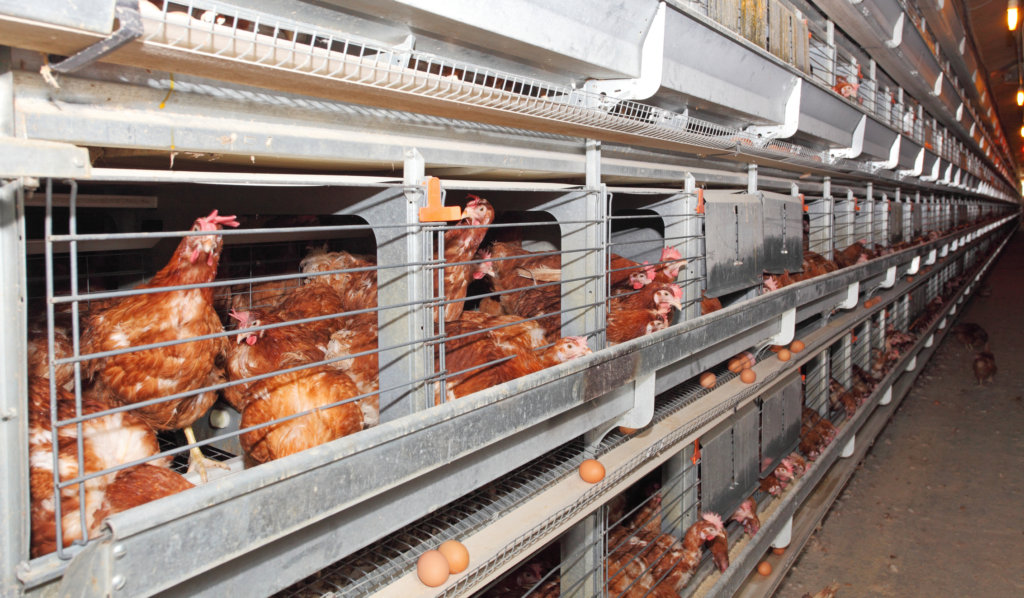 The Canadian Federation of Humane Societies (CFHS) is back at the negotiating table for farm animals. This time we're sitting down with poultry farmers and fighting to bring about cage-free farming for laying hens across Canada to eliminate intensive confinement. CFHS is the only animal welfare organization at the table doing this work and your support keeps us there. You keep us working to make the lives of egg laying hens better. We are currently at a critical time in the negotiating process. We're coming close to the time when the Code of Practice will be released and we are fighting for the more than 20 million egg-laying hens in Canada,of which 90% are confined in small in humane cages, called battery cages. Four to six hens are grouped in each of these cages with less than the space of an 8 ½ x 11 piece of paper per bird. The cages are then stacked on top of each other. Egg farmers like them because they allow a large number of hens to be kept in efficient and orderly conditions, allowing for high productivity and keeping the birds away from their feces. This results in low costs to the farmer and low prices for the consumer, but in the end, the welfare of the hens is sacrificed and they suffer in a number of ways.
Hens kept in conventional battery cages are physically uncomfortable. They often experience chronic pain associated with injuries to their feet caused by standing on the wire floor of the cages and studies show that hens in battery cages have weak bones, due in part to lack of movement. They are therefore more susceptible to bone fractures during catching and during transport.
These hens also experience severe frustration due to their confinement because the cages are far too small to allow the hens to make natural movements they are strongly motivated to perform, including grooming, wing flapping, perching and nest building.
To decrease injuries caused by cannibalism, bullying and feather and vent pecking, beak trimming is routinely performed on flocks for the commercial production because they are in such close quarters. This is a painful procedure that involves removing a portion of the beak using either a blade (hot or cold) or a laser and is performed within the first week of life.
Due in part to the lack of exercise caged hens can engage in, their bones are weak and brittle making them susceptible to painful fractures of the wings and legs as they are pulled from the cages at the end of their laying cycle. Studies show that 20 per cent of caged hens suffer broken bones after being removed from cages for transport.
After just one year of laying eggs, a hen's egg production declines, as does the quality of the egg shell and contents, and the hen is considered "spent". On most farms in Canada, one-year-old hens are taken to slaughter. As such, a hen's life span on-farm is much shorter than her natural life expectancy of 5 – 11 years.
We must improve this situation and continue to advocate for the humane treatment of egg laying hens. They shouldn't have to suffer to provide us with eggs and meat. Thank you for your support and please help us stay at the table and hold industry accountable for treating egg laying hens humanely.
Links: