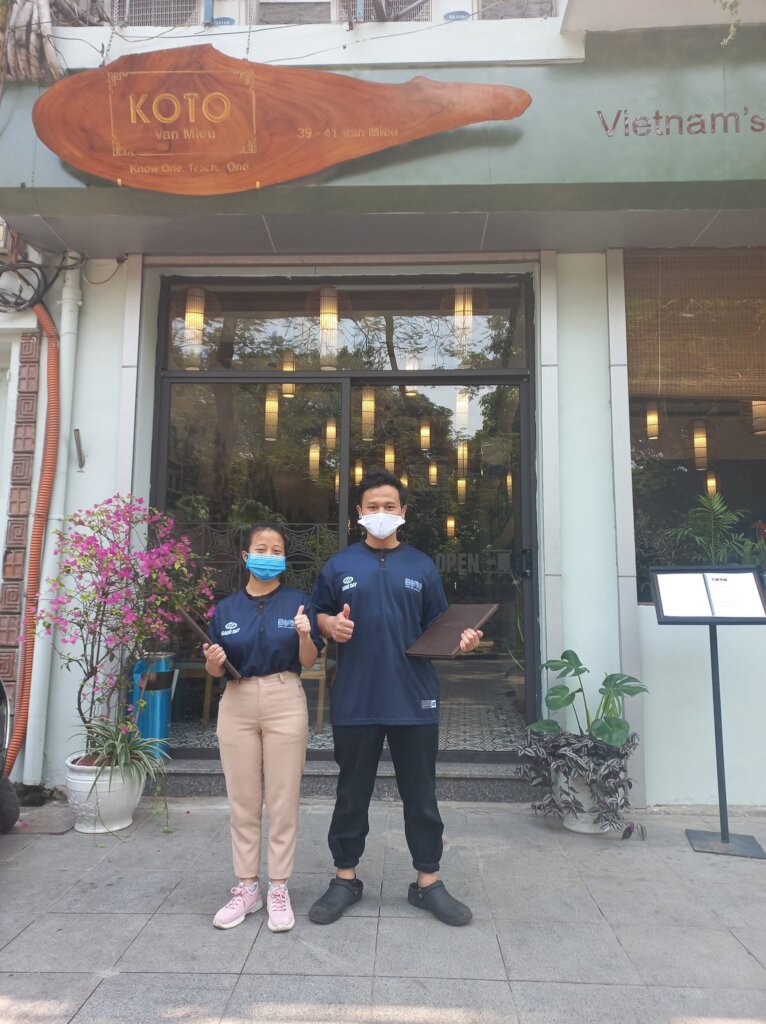 Local not-for-profit social enterprise KOTO (Know One, Teach One) reopened its flagship restaurant in Dong Da, KOTO Van Mieu in the beginning of April 2022.
KOTO Founder Jimmy Pham was also eager to reopen a smaller, more refined restaurant at the popular location which is where so many trainees got their start.
"It's been a long journey but the support from the local and international community has made it all possible. We're excited to have brought our mission and impact back to where it all began," he said.
After 21 years of operating beside Hanoi's Temple of Literature, KOTO's first restaurant at 59 Van Mieu closed in August 2020 as the tourist clientele disappeared due to COVID-19. Though disappointing, this also created an opportunity and 'KOTO Villa' in Tay Ho was born. In addition to high quality dishes, the restaurant has expanded into catering services further propelling the skillset of KOTO graduates. The restaurant in Tay Ho, will continue to remain in operation largely targeting the expat community.
"I never received the chance to work at KOTO Van Mieu but it's where all my brothers and sisters have worked so I am very excited! Also, I want to practice speaking English to people who come to visit Vietnam". -Lan Anh, Class 37
KOTO Van Mieu is once again located next to the Temple of Literature and features traditional Vietnamese set menus with long-term serving Head Chef Phong and Sous Chef Hau running the establishment and staffed exclusively by KOTO's best trainees.
On 13 April, KOTO trainees Class 34 & 36 successfully passed their final assessment at five star resort in Dai Lai. They managed to run a dinner which hosted nearly 50 guests including managers at professional hotels and famous chefs in Vietnam. By their teamwork spirit and advanced skills, the trainees were appreciated by the guests as well as KOTO trainers. Congratulations to our talented trainees who have taken their all efforts to run the event despite the challenges caused by the covid19. Class 34 and 36 were trainees who went with KOTO during the most difficult time. They witnessed the closure of KOTO Van Mieu restaurant in 2020, the moving of KOTO training center in 2021 and had to disrupt their internships during a 4 months lockdown in Vietnam.
We would like to say thank you to them for their patience, for their understanding and for never giving up. After everything, what they receive is the recognition of all KOTO staff as well as other participants, the opportunity to have job placement at professional hotels and restaurants, and the belief in their future.
And as annual, KOTO will have a graduation ceremony to celebrate our trainees ending their two year course at KOTO. The ceremony will be held this June with the participation of our supporters, partners, trainees and their family. It has been 2 years since we organized our last graduation ceremony as a result of Covid19 so this year we look forward to bringing a memorable event to all of our "family" and friends.
Thanks to GlobalGiving and our sponsors for helping us to get over the most difficult time. Everything seems to be better these days and we hope that good news will come to all of you also.