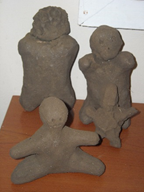 Not long ago, 5-year-old Thoko came to the Chisomo drop-in center with some startling news: "Me and Moses were crossing the road and a big car hit him and the man took him to the hospital!"
The Chisomo nurse and social worker rushed to the hospital to track down 10-year-old Moses. They found him alone and semi-conscious in the public hospital, still wearing his blood-stained clothes from the accident.
In a counseling session just the week before, the social worker had asked Moses to draw a map of his village and where his house was located (versus having a street address!). He had told her that he has a mother and some young siblings in a very poor village.
The social worker returned to the center, found the map and quickly worked to track down his family. Luckily Moses' map was very accurate and the social worker was able to locate the family in their thatched hut, living in very deprived circumstances.
The social worker told Moses' mother what had happened and accompanied her to the hospital. By the end of the day, Moses was conscious and recognized his mother. She was overwhelmed, not having seen her young son for the last few months since he left home for the street.
Thankfully, Moses has now recovered and has decided he wants to return home. The social workers are now also counseling his mother and working with her to see how they can help her boost her income from selling a few sweet potatoes each day, so she can better care for her children and get them to school.
We believe that all things can work together for good – even a serious accident – to reunite a family and get one more child off the street.
The children Chisomo work with need physical, emotional and spiritual healing. The staff team is dedicated to ensuring that children like Moses get home, back to school and get a new life with hope and a future. Thank you for your support that enables us to help children like Moses.
Links: