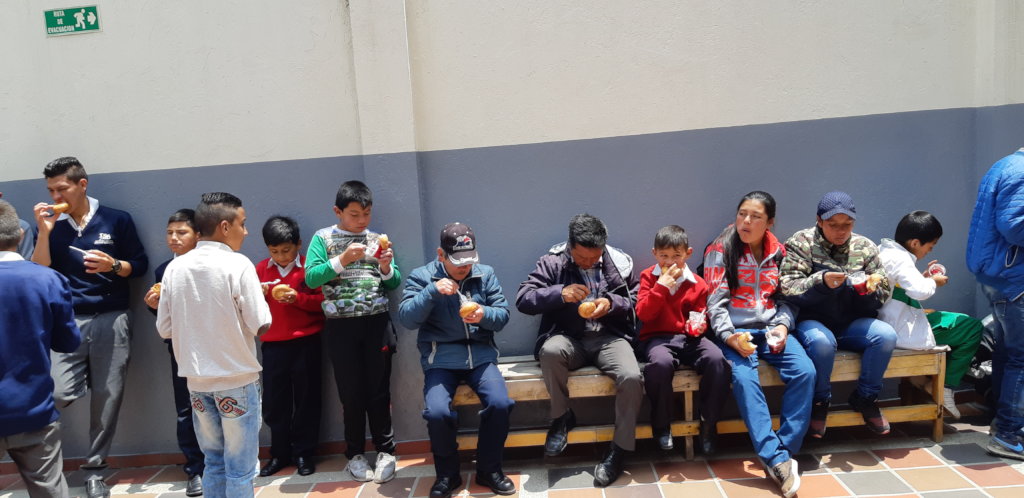 In Colombia, from the 3rd of January 2020 till the 1st of November 2021, there have been 5.000.677 confirmed cases of COVID-19 with 127.258 deaths, reported to WHO. As of 29 October 2021, a total of 46.222.565 vaccine doses have been administered.
Thankfully none of our children has been affected by Covid-19, it seems that almost all of them caught a cold but recovered quickly and none of their relatives had to go to the hospital because of the pandemic. The economic situation and security in the country is worsening: the price of goods, from food to public services and building materials are doubling compared to the prices of one year ago. With the enactment of the Sustainable Solidarity Law, that lowered the minimum threshold over which citizens are obligated to pay taxes, 42.5% of the population went under the threshold of poverty and 14% under extreme poverty.
The pandemic led to the aggravation of cohabitation and relationship problems, a mom was abandoned by the father of her daughters and found herself pregnant not knowing how to provide for them. Lots of adolescents end up in criminal groups because of long wanted independence, a girl was trying to escape a promiscuous and dangerous family environment. In addition, lots of homes need renovation work.
Regular furniture of food packs has definitely contributed to helping families. The Somascan house located in Tunja (about 130 km North of Bogotá) had been closed for some months during the pandemic and when it was opened again it needed some renovation work. Aleimar took charge of painting the walls of the school rooms, the laboratories of electricians, carpentry, cooking space, bathrooms and the walls of the inner yards for €1.200. Somascan Fathers were able to offer shelter in their structure to 40 male students that otherwise would have chosen the streets, abandoned school and lost protection since in Colombia students go to school every other day. In this structure, when they're out of school they are able to learn carpentry, mechanics and electrical work, they are helped with their homework for school and they are granted one meal a day which corresponds to the minimum required consumption, often it's the only meal they have.
We are always grateful for the help you show us! From July till October we collected 300 USD Dollars! Please keep helping us granting shelter, food and an education to these amazing boys!