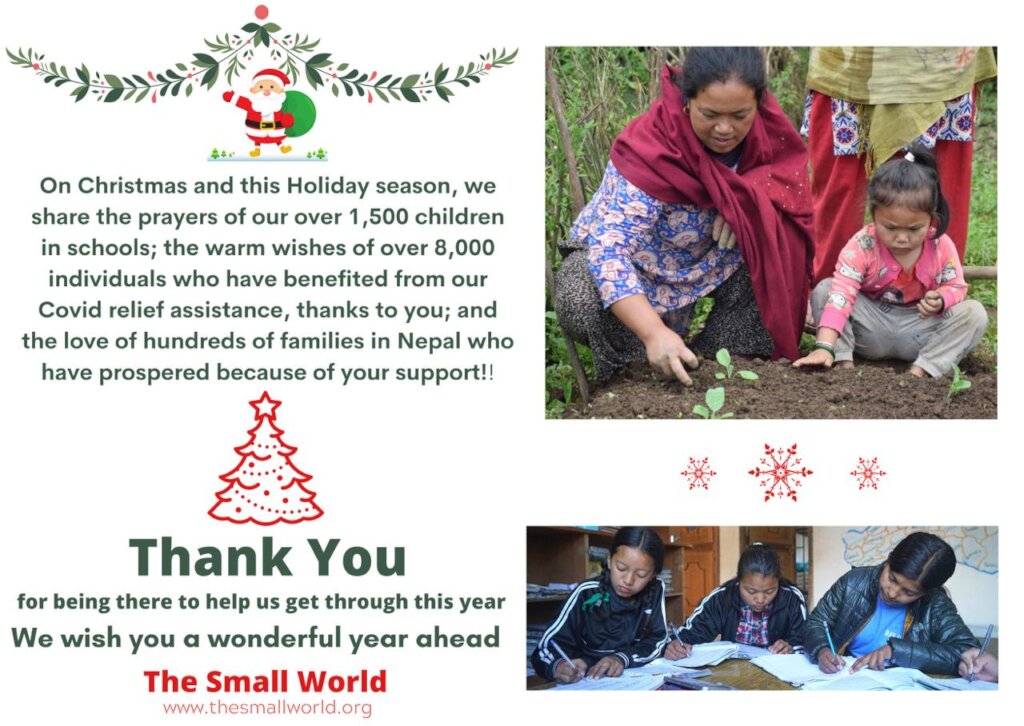 Dear Friends and Supporters ,
We hope you're doing well and staying safe.
We sincerely hope that despite this challenging year, you were able to experience joy and make amazing memories, and wish you a Merry Christmas and Happy Holiday!
In the wake of Covid-19 in Nepal, every aspect of human life has been significantly disrupted, especially for children in regards to their education and safety. Like any developing country, orphans and vulnerable children in Nepal have been at the highest risk during the pandemic, facing not only hunger but also trafficking and abuse as they remained out of school.
Therefore, our goal to protect them by providing relief foods, safe places to live, and the gift of education made our work at The Small World more important than ever. We have rescued and our relief support has benefited over 1,000 children during the pandemic.
Due to their remote locations, children faced a huge learning crisis during this pandemic. Particularly in geographically challenged regions like Solukhumbhu, it's nearly impossible for students to take online classes since basic infrastructures like electricity & internet have never been introduced.
The Arhaus Children's Home has provided not only food and a safe, loving environment to over 80 marginalized students, but also much needed organized daily classes inside the home. With every school in the region closed, our Senior girls from the Solukhumbhu Girls' dorm have been homeschooling students in the home while also maintaining safety rules. This has not only ensured continued education but has also established a strong family bond between the senior and junior students.
As the government prepared to open physical schools, many students, especially from marginalized families who suffered from this pandemic, have needed support with Back-to-School preparedness, so The Small World has distributed school bags, stationeries, face masks, and sanitizers to over 1,500 students in the Solukhumbhu area.

We couldn't have done this without the help of our incredible partner organizations and really appreciate their support. Next year, we aspire to continue on our mission and spread smiles across even more faces, with the aim of reaching 2000 more students by mid-2022!
Please consider telling your friends and family about our project—you can https://www.globalgiving.org/projects/a-year-end-gift-to-change-the-lives-of-children/ on social media, or just bring us up in conversation. Sharing with your community why you chose to support our organization will help us increase the work we can do in our community.


Karma Sherpa
Executive Director & Co-Founder
*The Small World*
Email: karma@thesmallworld.org