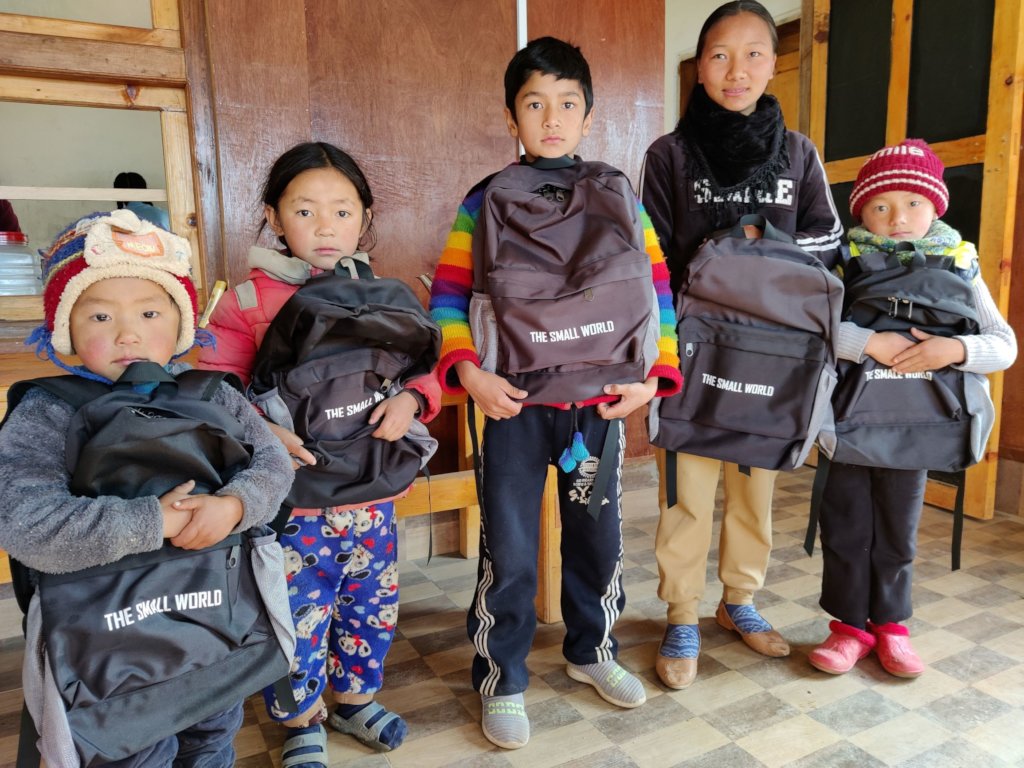 Dear Friends and Supporters, Namaste !
we hope despite the situation you all are in good health. Here in Nepal like anywhere in the world after very difficult one year we are again trapped by 2nd wave of Covid and things are shutting down once again, people are scared this will be a lot tougher this time.
We pray and hope that things will get better sooner than later and will have the courage to overcome this Pandemic. Our hopes are bigger than the current situation and we will together recover this.
The Small World has been dedicated for years to providing education to children and is convinced of its significance in breaking the cycle of poverty in Nepal.
Today, with the world still suffering from a global pandemic and forced lockdowns, tourism, a major source of income for Nepal, has been virtually nonexistent. With a dearth of tourists and no more burgeoning throngs of trekkers, porters and many others whose livelihoods depend on the tourism sector have been out of work for over a year.
Above and beyond the existing challenges for at risk children whose education and holistic wellbeing we have been supporting, the Covid-19 , lockdown and lost jobs situation has created a new classification of at-risk children, about 35 to 40% in rural areas, who had been attending school but have dropped out due to this loss of family income.
It's an urgent matter, and we have developed this new program to help before the loss of education creates a crippling situation of further loss. We have seen evidence in the past that more serious future problems for their family and community will most likely manifest unless their education is restored.
Appealing for Himalayan Children's Education:
The Small World has been blessed for years with the volunteer work of many extraordinary international students who have learned firsthand about the challenges we face in Nepal and the importance of education for its children.
We welcome you as well as any other interested high school and university students and volunteers to join this project and participate as Ambassadors for Education. As advocates, they will have free rein to take the initiative and create new avenues to share our information with the world which can also include blogs and established social media – it's up to them.
All ambassadors or supporters will meet remotely with us to share ideas, inspiration, receive updated information from Nepal, connect with community, and lead as change makers by working locally and impacting globally.
In these meetings, we will also discuss sustainable solutions and work together with the children's families and local community members to help them come up with ideas for work so they can fund support on their own when this program ends.
OUR SOLUTION
• Our urgent hope is to provide 350 children with an education sponsorship program for just one year.
• $1.00 USD a day for one year & yearly $ 350 for a child will cover the school tuitions, uniforms, books, school bag, a set of clothing, and counseling for children and their families.
IMPACT
Support for these children during this global emergency will prevent them from becoming a permanent school dropout and save them from at risk situations like child labor and trafficking as well as girls being forced into becoming child brides.
Together, you and your sponsored child will start a special relationship that changes both your lives. Because of you, your sponsored child will have what every child deserves - a future.
You can join us to "Educate a Child to Educate the World" by donating or by being ambassdor of this project to share and create awareness among in your family, community and network in your own words because they know you and they understand your language better than anyone else .
Namaste ! and Thank you very much !
Karma and Sonam Sherpa
www.thesmallworld.org