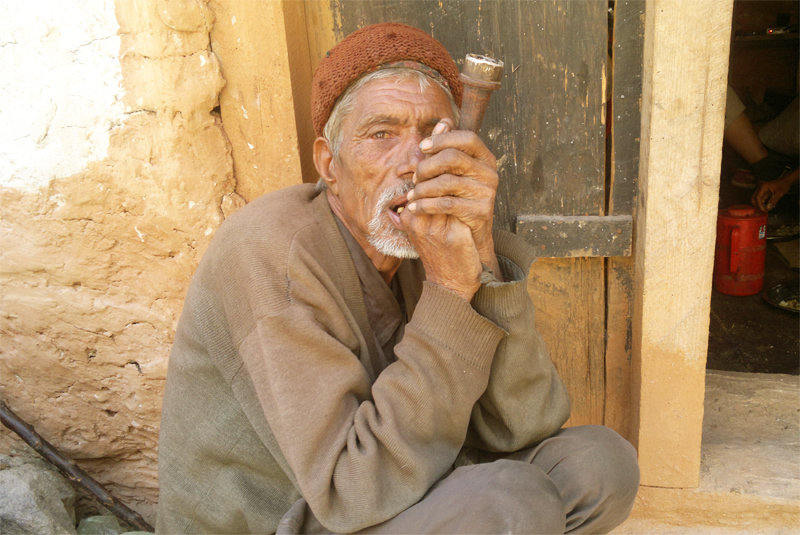 Dear Friends, Namaste!
Maila is a steep and hilly village like many other hill villages in Nepal. In Maila, most of the livelihood and household activities are strongly linked up with traditions of hundreds of years. We would like to introduce a boy from Maila village who suffered from all aspects of interlinked tradition and geographical snags.
"I am Subash B.K., a parentless boy aged 15. My father died when I was 5, and mother left the home. I live with my grandparents who are almost in their sixties; suffering from lung disease, blindness and physical disabilities."
Subash B.K. is a boy from the Dalit (lower caste according to Hinduism) community. He became parentless in his childhood. His grandparents took care of him when he was child.
"My grandparents took care of me when I was a small child. My grandpa enrolled me in a local school when I was 8. By the time, my grandparents got older and they were physically too frail to work in the fields. Then, I had to take care of my grandparents. I dropped out from school after second grade."
Subash's grandparents got older and both of them are suffering from lung disease, blindness and physical disabilities. In Maila village, most of the old generation people smoke home-made tobacco. Tobacco is directly connected with the social traditions of Maila village. They produce tobacco in their own field. They also use tobacco as a special gift for relatives and friends. Smoking tobacco is the main cause of lung disease in this village.
Subash adds;
"Instead of my grandparents, I started to work farming the fields. I had to take care of the cattle. Every day, I used to take cattle to the grazing field and collect firewood to cook food at home. Also, I had to collect fodder and grass for the cattle from steep and rocky hills."
Subash had a big responsibility to take care of his grandparents, all the household chores, farming fields and cattle. He says;
"One day, as usual, I took cattle to the grazing field. Some other people from my village also came with their cattle. While I was in the jungle, I saw a tree with dried branches and thought it would be good to cut the dried branches for firewood. I climbed on the tree and started to cut the dried branches. Suddenly, I fell down on the ground from high up on the tree. I had not noticed that the branch on which I was standing was dried and brittle because of rain water."
Subash fell down from the tree while cutting firewood. Many people fall from trees and from the steep hills and die while collecting firewood, fodder and grass in the hilly regions of Nepal.
"I did not know what happened after that, but when I woke up from the coma I found myself in Maila Sub-Health Post surrounded by villagers and health staff. Villagers said that they had found me unconscious on the ground and they took me to the Health Post and also informed my grandparents. I had a deep pain in my body, I found both my hands and legs were bandaged. Tears dropped down from my eyes because of pain and anxiety. I saw PHASE staff sister and CMA – Community Medicine Assistant - sitting next to me. They gave me an injection, I felt a lot of relief after that. They examined my fractured hands and legs. They said both of my legs and hands were critically damaged; skin and muscles are torn by the cracked bone. They advised me to go to Nepalgunj (a big city of western Nepal) for hospital treatment."
Subash's hands and legs were all broken in several places. He was in need of treatment by an orthopaedic specialist. Sub Health Posts such as Maila are the smallest unit of primary health service where complicated cases cannot be treated. PHASE and government staff informed Subash and his grandparents about the likely complications of his fracture injuries and suggested to take him to the well equipped hospital.
Subash adds;
"We have very little agriculture land with no other source of income. I am only 15 years and my grandparents were old age. My grandparents were helpless themselves and so was I. We could not manage money for my treatment. I requested health staffs for my treatment in Maila Sub-Health Post as much as possible. PHASE sister came to my house and dressed my fracture wounds. Both health staffs put splints on all of my fractured limbs and gave me some medicines."
Subash could not go to a well equipped hospital in the city because of financial problems. There are no funds either with the government or with PHASE as an NGO to finance this kind of treatment, which might cost as much as running a primary health care centre for a whole year. Subash had a long period of bed rest in his home and PHASE staff tried to treat him as much as possible. His neighbours helped him a lot for looking after his grandparents and managing the house and his cattle.
"PHASE sister regularly came to my house for follow up. She encouraged me in many ways. I would like to thank my neighbours who took me up to the health post. I would also like to thank PHASE sister for her encouragement and treatment. After a long rest, I could move myself here and there with great difficulty. My wounds are fully recovered now but fractured leg and hand could not form into its natural place. My leg and hand are not in a natural shape so I can not move myself straight."
Because of an accident caused by his hard and unsafe working conditions, Subash suffered a major injury which might well have caused his death if he hadn't had first aid from PHASE staff. Because there is no operational hospital nearby and no transport facilities to the far off regional hospital, and because his family couldn't afford expensive hospital treatment or a long absence of everyone from the farm, he now faces a life with avoidable disabilities. In many remote villages like Maila people cannot get the right treatment at the right time due to geographical and financial difficulties. Many people like Subash face accidents and became disabled due to lack of access to health services. PHASE specialises in providing primary health care services, but this case is an example where more is needed.
PHASE is currently raising funds to open a project in nearby Kolti Primary Care Centre (PCC), which is a higher level of health institution with X-ray and lab facilities and a few in patient beds. This PCC has not been operational for many years – if it had been staffed and running well at the time of Subash's accident, he might have been able to get there and be treated for his injuries and he could have avoided ongoing disability.
With our ongoing support, we will be able to further improve the health services to this very disadvantaged region so that people in Maila village can access the treatment they need. By opening a health project in Kolti, we hope to be able to prevent sad stories like Subash's in future.