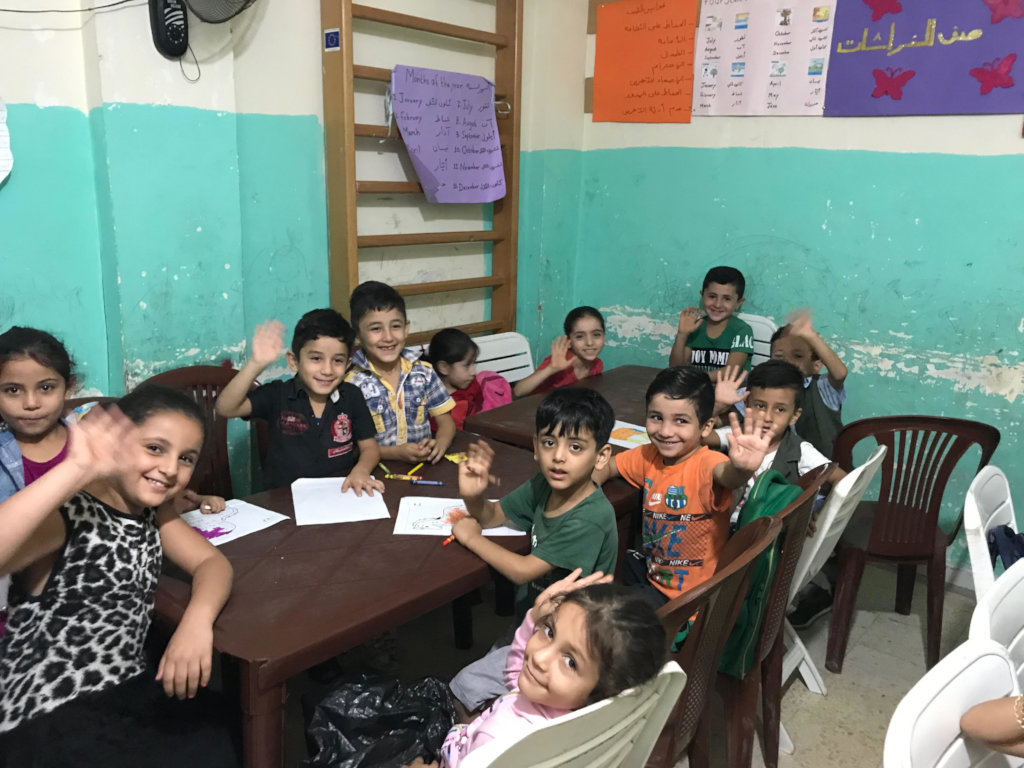 Thank you for your support! We are in the middle of a winter relief campaign providing gas for heaters, warm clothing, and food and hygiene products for Syrian refugee families in three refugee camps in Lebanon. For now, we wanted to share this moving account from MECA staff member Patrick O'Neill after he visited our projects for Syrian refugees in Lebanon:
"Shortly after completing my first year at the Middle East Children's Alliance, I was presented the opportunity to see firsthand some of the work the MECA supports in Lebanon. Having visited Lebanon before, I was excited to get reacquainted with the chaotic and charming wonder that is Beirut. One of Beirut's most notable characteristics is that even though the Lebanese Civil War officially ended almost thirty years ago, its remnants can still be seen throughout the city. Forty-year-old bullet holes still garnish concrete walls and buildings bombed out in the 1970's still stand tall but empty. These haunting blemishes on the cityscape are steadfast reminders of the devastating forces of colonialism, sectarianism, and occupation. Among Beirut's diverse neighborhoods stands one that perfectly encapsulates this – Shatila Refugee Camp.
Established in 1949, Shatila occupies an area of about one kilometer squared (0.3 mi2) and is home to an estimated 22,000 people. There, our humble delegation of three met Suha Yassir of the Palestinian Women's Humanitarian Organization (PWHO). Suha graciously guided my friend Dalal, my colleague Tracy, and myself through the dark narrow alleyways that wind through Shatila and neighboring camp Mar Elias. As we walked, she recounted what took place there in 1982. The Massacre of Sabra and Shatila lasted about 40 hours and some estimates put the dead in the thousands. Suha led us to an unassuming indoor memorial where the names of the fallen are preserved in stone; photographs of their faces line the walls. We paid our respects, said a prayer, and continued our walk.
A short time later, we arrived at small windowless schoolhouse occupying the bottom floor of a rundown building where we were greeted by sixty students aged five through eleven. The school is operated by PWHO with funding provided by MECA. We sat and spoke with the teachers who explained the essential nature of the project. Most refugee children are not allowed to attend public schools in Lebanon and to make things more difficult their parents are also prohibited from securing any long-term employment in most industries.
In the months and weeks before my visit, the Lebanese Ministry of Labor carried out a major crack down on organizations and companies employing Syrian and Palestinian refugees. One organization I met with later in the week, Ninurta, was actually shut down after the ministry had fined them again and again for giving Syrian women wages and benefits that were considered "too high".
Because of this, many parents spend their days searching for odd jobs and are left with little time to focus on their children's education and development. The staff also attributed the high occurrence of drug addiction and domestic abuse to excessive unemployment. For many children this school represents a small but crucial opportunity. It provides not only an education, but also a safe, stable, and positive environment outside the family home. In addition to the services the school provides for children, the space is also home to a project aimed at counseling adolescent and adult women on positive parenting, domestic violence, and sexual health.
After leaving Shatila, we hopped into a taxi and made our way to another of Beirut's camps – Burj Al Barajneh. "Burj", as it is known locally, is home to an estimated 50,000 refugees. Suha cautioned us to stay close and it soon became very clear why. The dark, dreary, and dense labyrinth-like concrete alleys were even more dizzying than in Shatila. In Burj the pathways are much narrower and running through the center of each is a steady stream of water. Blocking any view of the sky above is a terrifying mess of entangled wires and dripping hoses carrying electricity and water into the depths of the camp. Suha explained to us that accidental death by electrocution is a very common occurrence in the camps especially in the rainy winter months. We stayed close to her as she navigated the passageways and we eventually arrived at the PWHO offices. There my friend Dalal Al Sindi, founder of the Art Therapy Centre Bahrain, conducted an art therapy workshop with the PWHO's staff.
The following day, our journey took us east of Beirut and into the Beqaa Valley. The Beqaa Valley's proximity to the Lebanon/Syria border makes it the first stop for many refugees fleeing conflicts in the east. Many refugees enter Lebanon via the Damascus Highway. Other are forced to navigate the treacherous Eastern Mountains which serve as Lebanon and Syria's natural border. Driving, we could see temporary camps occupying small plots in many of the valley's farms. The average encampment houses about 15 families in shanty-like tents and a single commode shared by all. Later, we stopped to visit a camp that had been rebuilt with emergency funding from MECA after rain flooded the area and washed away much of the encampment last winter.
We met the Ali Taha, Executive Director of the Al Jalil Association, and his colleague Nihab. They were to take us to visit two branches of the Children of Al Jalil Center. The first center was located in Taalbaya and the second in Baalbek's Camp Wavel. The centers act as oases for children in seemingly hopeless environments. They serve as inclusive multifunctional centers for children aged five to fifteen and provide services related to education, sports, psychosocial development, and vocational training. The brightly colored classrooms are decorated with art projects and posters that send positive and uplifting messages to the children. Outside during sports hour, children can be seen playing and laughing.
In the Taalbaya center, Dalal conducted an Art Therapy workshop with 12-15 year-old students. She encouraged them to open up through art and gave them the option to express either their fears or their dreams for the future. About half of the students chose to express their fears and it was revealing of the psychological trauma they had experienced so early in life. Many students drew military vehicles and planes dropping bombs on their homes; others drew their loved ones who had died in the war. The drawings really reinforced the idea that this kind of center is extremely crucial in healing the deeply set wounds created by war. In the work of those students who chose to express their dreams, one could see that crucial glimmer of hope shining through. Some drew themselves as soccer champions; others as doctors or veterinarians.
MECA believes that every child deserves to live in dignity and fulfill their dreams. Centers like those operated by the PWHO and Al Jalil Association serve as spaces where these dreams can be developed and that is why MECA and its community are proud to support these crucial programs."