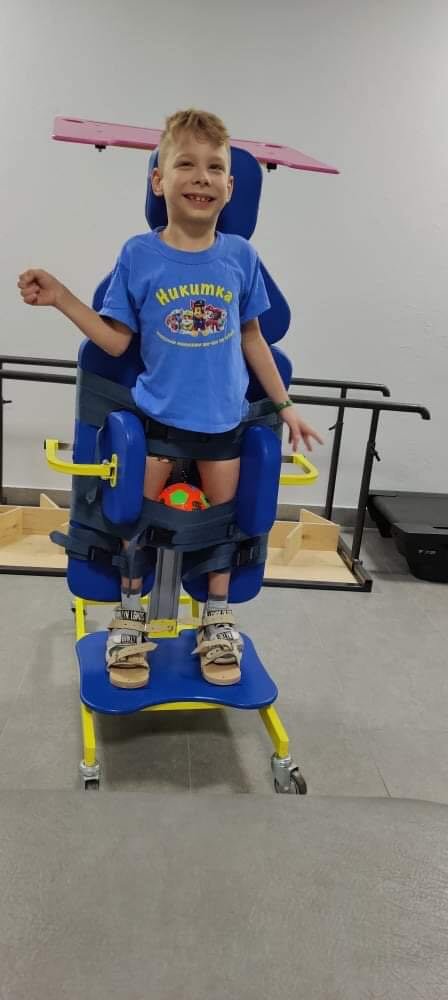 Dear Friends,
We are excited to announce that with your help, we raised US$476.29 for Nikita, a Ukrainian boy who has cerebral palsy. Despite missing our fundraising target, all funds raised will benefit Nikita's health.
Nakita's story is one filled with challenges, and we thank you for your support. Nikita and his twin brother were born prematurely at 27 weeks, which led to many complications. Sadly, Nikita's twin brother died at the age of 2. The family is now only Nikita and his mother, Angela. Angela has worked tirelessly to help Nikita fight for his health. Her goal was to raise US$46,245 for his operation. Despite not being able to raise the funds for Nikita to receive surgery in the US to treat spastic cerebral palsy, this story has a silver lining.
Nikita's cerebral palsy severely impairs his mobility and causes him pain. Physical rehabilitation can help ease pain and other symptoms of cerebral palsy. Bright Kids has paid US$355 (9,300 hryvnia) towards Nikita's rehabilitation treatment at a Ukrainian medical center that specializes in helping people with disabilities. The treatment commenced on October 25th and will continue until November 5th.
Regular treatments offer Nikita a chance to live a healthier and happier life with less pain. We cannot thank you enough for giving Nikita this chance. Your kindness has made a big difference in Nikita's and Angela's lives.
With the support of our donors, Bright Kids can help Ukrainian children with disabilities and their mums so that they have a chance for a brighter future. Bright Kids has launched another project we are particularly proud of, helping women to achieve their goals: Creating Opportunities for Disadvantaged Moms https://www.globalgiving.org/projects/creating-opportunities-for-disadvantaged-moms/.
Children with disabilities require around-the-clock care, so their mothers often do not have the same opportunities to realize their goals or professional achievements. The miserly government funding given to support their children is not nearly enough to cover the costs of essential treatments, much less daily necessities. So, mothers of children with disabilities need to work. However, starting a new venture, purchasing professional equipment, tools, or raw materials, or starting a course to learn new skills all costs money.
We believe in equal opportunities. Therefore, this project aims to support mothers in launching businesses or learning new skills so that they can earn an income, support their families and develop their self-confidence.
If you want to support our women with a donation, you could do so by following the link: https://www.globalgiving.org/projects/creating-opportunities-for-disadvantaged-moms/.
Your generous donation will give these women the encouragement they need to launch their careers!
Your trust is paramount to our operations, which is why we operate with transparency and integrity. If you have any questions, please don't hesitate to contact us!
We are always happy to make new friends and invite you to join us in supporting Ukrainian children with disabilities, as well as their families. You can find more information and check out our projects on our website.
Every life matters. Your help counts.
Yours sincerely,
Natalie Blinder
Founder of Bright Kids Charity
Links:
Attachments: