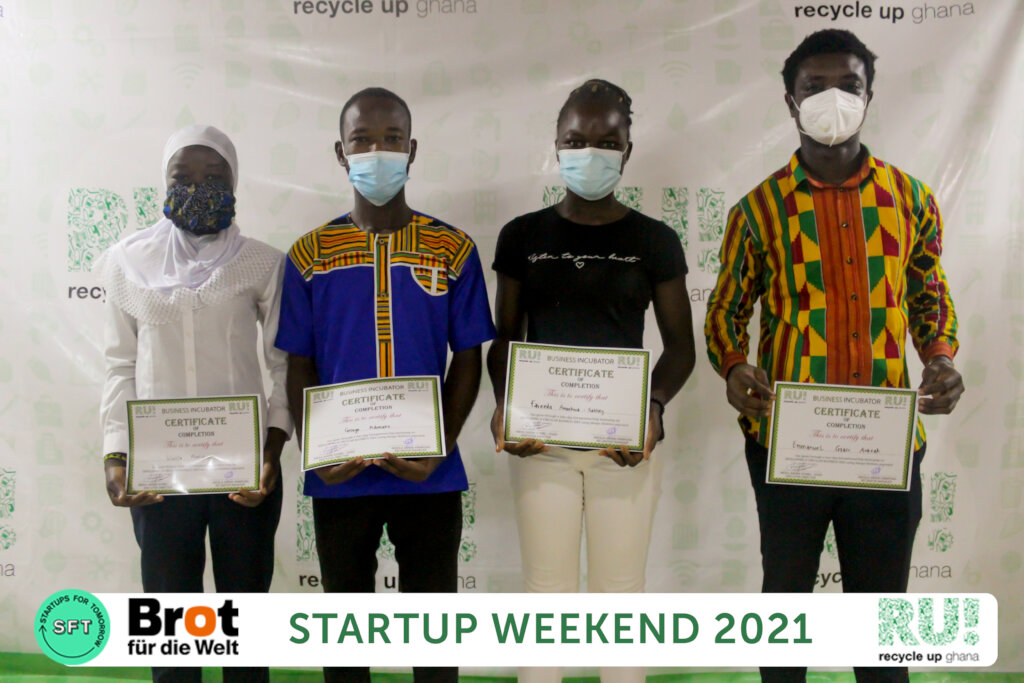 We want to use this opportunity to personally thank you for your kind and wholehearted contribution once again. Your support allows us to create local solutions to the waste problem in Ghana and we would like to share with you what happened in our Incubator program during the last months.
The Recycle Up! Ghana startup weekend was a three day event, during which groups of young enthusiastic entrepreneurs, idea phase startups and budding innovative entrepreneurs went through structuring ,idea refinement, problem solution fit, and pitching of circular ideas. The opening of the application commenced on the 4th october 2021 and ended on the 3rd of november with a total application of 59. After scrutinization of the application, 33 participants were shortlisted.
Applicants reported on Thursday 4th november,2021 at 4:00pm at the hub of which 30 applicants were present. On Friday the 5th of November , the weekend commenced. Participants arrived at the premises at 6:45am by bus after they lodged in the previous night for early reporting . Breakfast was served and the program began. It was inaugurated by Mrs Angela Anane Frimpong, the business incubation manager. (Recycle up ! Ghana).
They were then ushered into the the training session which comprised of
Customer empathy map held by Salim Abubakar ( Program officer)
Problem solution held by Abdul Raheem Shaibu Issah ( Executive Director )
Lean model canvas held by Mrs Angela Anane Frimpong (Business incubation manager).
Pitching and pitch deck held by Obinkyere Acquah (Program officer/ Business incubation Coordinator)
After an intensive training, it was now time for the pitch deck.
Judges were set and the rules of the game were set for the participants to adhere to it. 13 business teams took part in the pitching. The top 3 businesses emerged atop and gained an automatic qualification to be part of the cohort 3 incubation program.
The first business was awarded with a seed fund of GH 2,000.00.
There was an official launch for the next Recycle Up! Ghana incubation programme with an application deadline of 24th November,2021, this will be an intense 6 month training session on business development for eco-friendly green businesses.