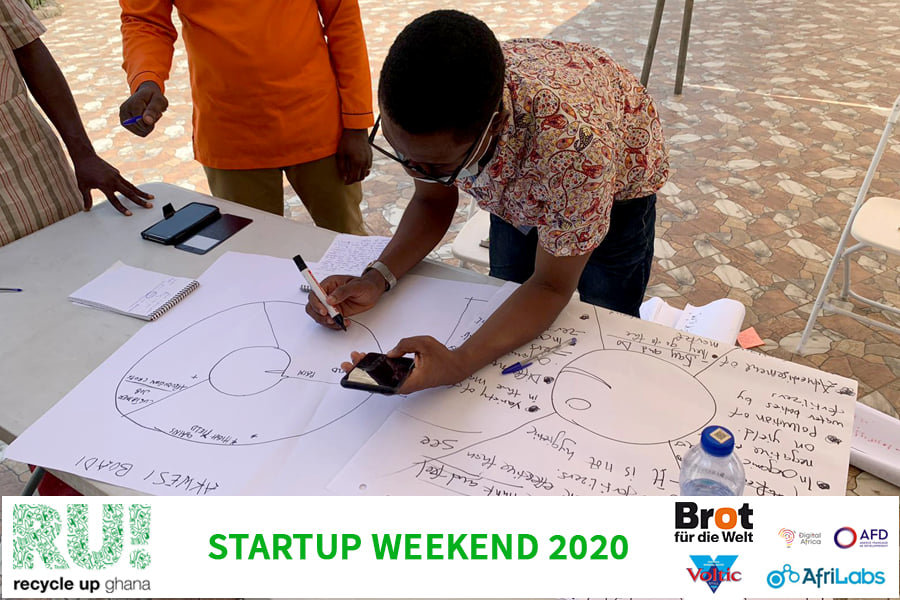 Once again, many thanks for your kind and wholehearted contribution supporting us to create local solutions to the waste problem in Ghana. We are proud of our impact and thankful for you making it possible. Therefore, we would like to share with you the current status of our incubator program:
In November 2020 we organized a two-day Start-up weekend programme to bring together young people who have the motivation to start a business and facilitate them through an innovation process to develop a business idea. The Start-up weekend had 20 young entrepreneurs participating to develop 10 businesses that promote circular economy. At the Start-up Weekend, entrepreneurs were taken through introduction to the Sustainable Development Goals (SDGs) and Circular Economy and various innovation processes like problem framing, problem-solution fit, empathy mapping, value proposition canvas, Business Model canvas and pitching.
The ideas developed were; VERT POWER: Producing bio-digesters to convert kitchen waste to gas for cooking, VARA WUDIU: Converting dry grasses to animal feed, WASTER: Using old refrigerators to make chicken incubators for poultry production, ECOPLAST: Collection and segregation of wastes, MATSAMNA: Using organic wastes for compost making, AGRIVAL: Using coconut husks to produce Charcoal briquette, SUPREME BIO: Producing biogas from organic wastes, ILYMA KREATION: Using textile wastes to produce door mat, UPG: Wastes segregation and ORGAFIT: Uses of food waste to produce compost as an organic fertilizer to farmers which is of no harm to aquatic life in-case runoff happens.
The weekend was culminated by a pitching event which was opened to the general public to attend. There is no need to worry if you missed the event, a recording is available to watch on our Facebook page @recycleup. And if you'd like to receive updates more regularly, you can also find us on instagram @recycleupgh, twitter @RecycleUpGhana or LinkedIn.
Our next cohort begins soon stay tuned!