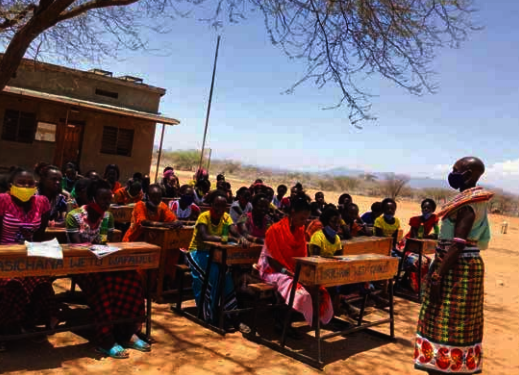 With your and MADRE's VIVA Girls initiative's support, our longtime partner, Indigenous Information Network, provided trainings for more than 3,500 girls across Kenya. The young women learned about their rights and how to combat issues such as gender-based violence and the climate crisis.
Led by intergenerational grassroots activists, the trainings were rooted in advancing education on the intersection of climate change and girls' sexual and reproductive health – uplifting solutions to prevent harmful practices including early marriage, Female Genital Mutilation, teenage pregnancy, and peer pressure. The workshops provided opportunities for collective teamwork to gain confidence and know their rights and work alongside peers through friendship and acts of encouragement.
One of the girls, Makena, who participated in a training in Kacheliba, Kenya, shared, "girls are facing a challenge of staying at home during the rainy seasons so as to prepare their household's land for greater yields. Their parents tell them to either choose to stay days without food or go to school, and this forces them to stay home for them to care for their families' needs first."
The trainings and community gatherings provided a safe space for girls to work together and uplift one another to speak on issues related to gender abuse and equality. Towards the end of each session, the girls felt motivated and ready to continue educating other girls in their communities and beyond.
Thank you for making this life-changing opportunity possible across rural communities in Kenya where girls are being encouraged to continue their education and have brighter futures free from gender-based violence.