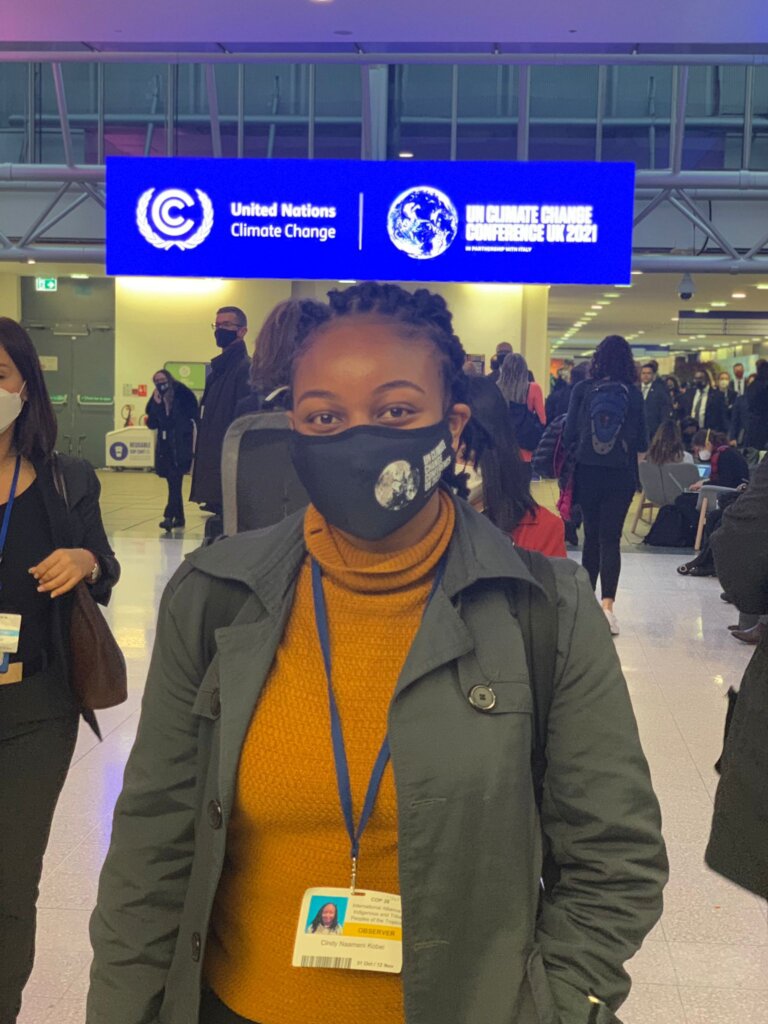 This past November, MADRE was pleased to accompany an intergenerational delegation of our Kenyan partners from the Indigenous Information Network (IIN) to participate in the 26th Annual United Nations Climate Change Conference of the Parties (COP26) in Glasgow, United Kingdom.
The COP26 conference provided an exciting opportunity for MADRE to support IIN's Executive Director, Lucy, and two Indigenous youth activists who receive mentorship from IIN, Faith of the Olorukoti Resource and Knowledge Center and Cindy of the Ogiek Youth Council, to advocate on their communities' behalf at the international level, including an audience comprised of 120 world leaders and over 40,000 participants. Through this delegation, MADRE's partners uplifted the voices of Indigenous Peoples to ensure they are included in the movement for climate action as a matter of justice. Together, Lucy, Cindy, and Faith urged policymakers to center locally-rooted and gender-responsive climate solutions that meaningfully integrate and address the demands of Indigenous women and girls.
For example, MADRE is excited to share that Cindy was selected to give a High-level Statement to the COP26 Chair on behalf of Indigenous Peoples. She stated, "I am happy to be part of the COP26 session because it is an opportunity to remind parties that the participation of women, girls, and young people is at the center of climate action."
With Lucy's continued mentorship, Cindy's and Faith's advocacy at COP26 provided participants and decision-makers with vital, and often missing, insight into the perspectives and self-identified priorities of Indigenous girls and young women who are disproportionately impacted by climate breakdown. In doing so, they created a powerful feedback loop between grassroots youth activists' demands and global policymaking, demonstrating how Indigenous girls and young women can be seen as active contributors to climate justice policies.
Thank you for making these invaluable experiences and opportunities possible for Indigenous leaders like Lucy, Cindy and Faith! We greatly appreciate your support.