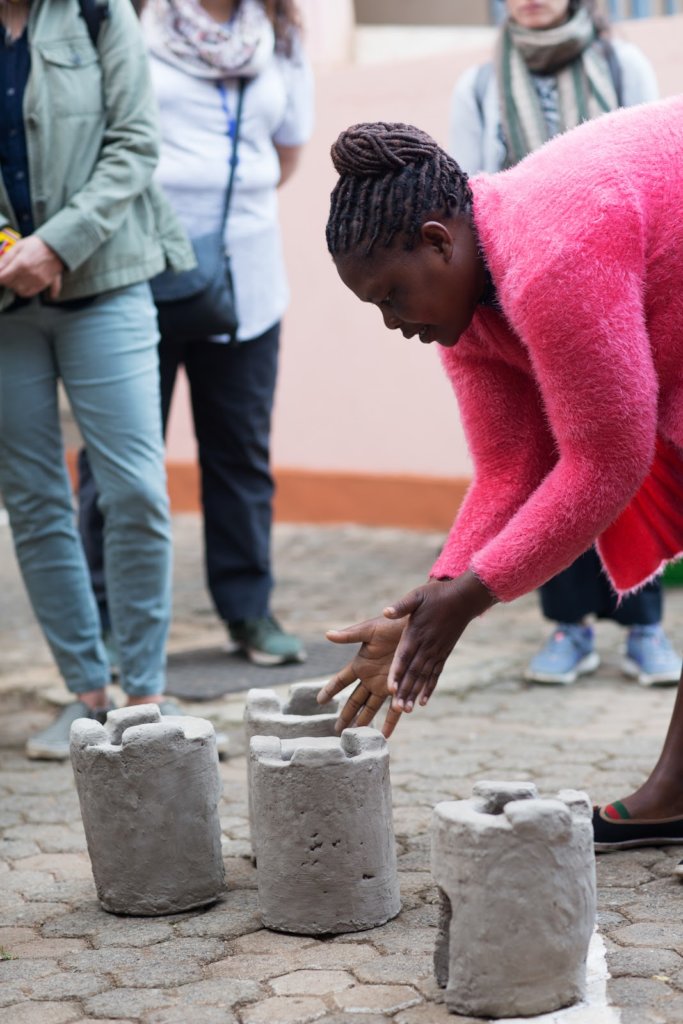 Land and water equal life to the Indigenous Peoples of Kenya, and without it, the community struggles to thrive. Luckily there are women climate defenders like Naiyan who protect their local communities. Naiyan has creatively and effectively used alternative ways to preserve the environment. She implements the use of a jiko stove, which uses 80% less firewood than traditional stoves, to allow Indigenous women to help their families cook meals and stay warm, while saving resources.
Thanks to your support, Naiyan has helped distribute 100 jiko stoves. At an exchange between Indigenous women who live in remote communities, Naiyan demonstrated how to make the stoves, and gave some away to women who attended. Now these women have stoves that are more environmentally friendly. What's more, they're taking what they learned from the demonstration and teaching others in their communities how to make these stoves. By sharing her knowledge across communities, Naiyan is taking her leadership to the next level.
Deforestation is a major challenge Naiyan and her community face. Forest cover is one of the easiest ways to adapt and mitigate climate change impacts. Naiyan believes that trees need to be planted to create an environment conducive to rainfall so that they never experience drought in their village again. In organizing with local women, she has helped plant over 100,000 seedlings since 2009! Tree nurseries protect clean water, help reforest the land and protect biodiversity. The planting of trees allows women to harvest products including pawpaw, mangoes, oranges and medicinal plants, which they can use to feed and care for their families and sell for additional income. Naiyan's work is making all this and more possible.
Along with Indigenous women from nearby villages, Naiyan started an initiative called SEED SISTERS to exchange seeds for vegetables, beans, medicinal plants, flowers and trees that are more resistant to a dry environment. As a result, an Indigenous group from Transmara decided to send food from their next harvest to women in West Pokot who were suffering a severe drought in their community. After the exchange, a group of Maasai women, who had visited West Pokot and learned about a poultry project, launched their own poultry initiative to generate income for basic needs and send their children to school. Naiyan has not only shown leadership in the SEED SISTERS initiative but has also been a constant source of inspiration for peer rural women to support each other.
Due to climate change, grazing land and water for cattle are scarce. Because Indigenous women had to transition from raising cattle and find a new way to support their families, raising chickens is a life-sustaining alternative. They're easier to raise and provide eggs to feed families and sell at markets. And with more income, women can help their daughters stay in school longer and wait until they are older to marry. Naiyan has been crucial in teaching women how to care for chickens and brainstorming how they can use this opportunity to create a steady revenue source.
Together with MADRE, our local partner IIN and you, Naiyan is propelling grassroots women's solutions to climate breakdown and developing sustainable ways of living. From jiko stoves to planting seeds to supporting women's participation in sustainable climate efforts, Naiyan is leading the way. Courageous and creative, she has dedicated her life's work to the greater good of rural communities in Kenya. Thank you for making this life-changing work possible! And make sure you don't miss our next report to find out how Naiyan brings her work to the international level!
Photo credits: First photo, Poppy Miyonga; Second and third photos, MADRE