Project Report

| Nov 10, 2021
Camera Traps in Bukit Batikap Protection Forest
A huge thank you to everyone who has given so generously to support our exciting camera trap project and we are delighted to post an update especially for you.
Establishing our camera trap project only days before the global pandemic emerged, we have been incredibly fortunate that the dedicated BOS Foundation Post-Release Monitoring team in the Bukit Batikap Protection Forest (Batikap), has been able to safely continue to monitor the camera traps and retrieve ongoing data on the orangutans and so many other amazing wildlife species.
As one of our closest living relatives, orangutans are susceptible to all of the same diseases as humans and that includes COVID-19. Camera traps allow us to monitor the progress of the reintroduced orangutans, whilst reducing the risk of disease transmission between humans and orangutans. What better way to continue to study reintroduced orangutans during a global health crisis than by using non-invasive technology!
We have had quite a few visitors to our camera traps including Cindy and her baby Stellar. Cindy was reintroduced into Batikap in November 2013, together with her 6-year old son, Cilik, and 1 year old dependent daughter, Riwut. Cindy is an outstanding mother and once Riwut began to find her independence, Cindy welcomed her third child Stellar in Batikap during January 2019! As you can see from the photos, there is no end to Cindy's patience and although these aren't the clearest camera trap images we've recorded, we couldn't resist sharing these photos of Stellar balancing on Cindy's head! We are very happy to report that mother and daughter continue to flourish in the forest and we hope to catch up with them again soon.
In the meantime, the data we are gathering from the camera traps on other species found in Batikap is outstanding. Many of these species are incredibly elusive and as a human observer in the forest you would rarely, if ever, have the chance to see them. We are delighted to share some of these images with you including this adorable young sun bear foraging, a young male sambar deer and this cheeky pig-tailed macaque selfie!
We excitedly await new data to arrive and look forward to updating you soon.
Thank you for your support!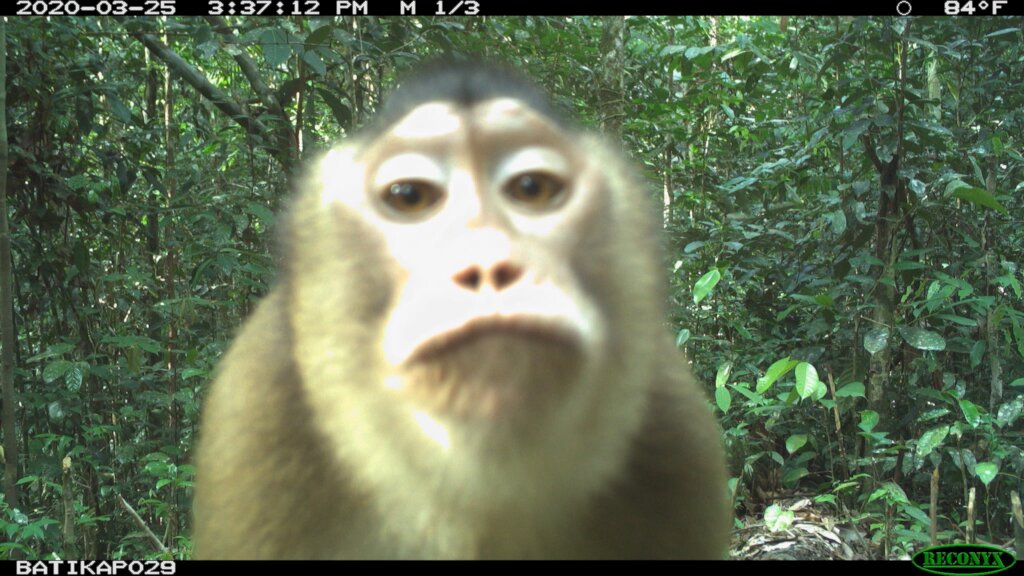 Links: