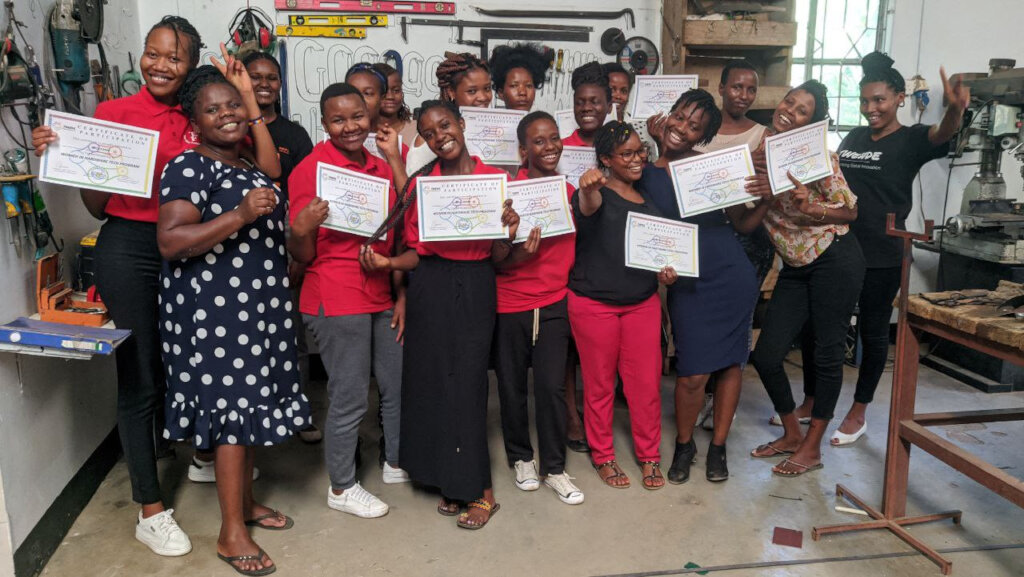 Time continues to fly and we have reached the end of the second quarter of 2022. What has Twende achieved in the past few months?
Our first Creative Capacity Building (CCB) course, at our second innovation hub which is in the village of Orkolili in the Kilimanjaro region, was successfully held in March. The following week saw another first – an all-female CCB course back in our main hub. One of their creations was a saucepan cleaning device. Would a male-dominated group ever identify that as a challenge worthy of some creative thinking? The ladies know best! In this report, you will get some highlights from our programs.
Creative Capacity Building in our satellite centre in Orkolili, Kilimanjaro
Since the launch of our Orkolili satellite centre last year, a number of programs were conducted there including Build-It workshops and STEM programs.
In March, we had the pleasure of running a 5-day Creative Capacity Building workshop with the students and the outcomes were mind-blowing.
The technologies made were bricks lift, vegetable cutter, maize planter and eggs incubator.
During their presentation, they shared how the Creative Capacity Building model could be implemented in other areas like studies, entrepreneurship and life in general.
This was one memorable workshop and we will be back there soon.
Women in STEM
Twende celebrated Women's History Month 2022 in style. From the 21st - to the 25th of March, we hosted 12 outstanding ladies in our first-ever female-only Creative Capacity Building (CCB) workshop in which we introduced them to e design cycle and they came up with great ideas that were turned into prototypes.
The prototypes were addressing different social pains they face in their communities. The 4 prototypes developed include a garlic peeler, rice harvester, saucepan washer and a compost turner.
As highlighted above, it was a celebration because this is our first-of-a-kind female-only CCB, it involved participants from 3 partner organizations and the participants had the enthusiasm and agility to make workable prototypes.
We also celebrate our partnership with the Girls Foundation of Tanzania who we've been working with for over 5 years, Okoa New Generation for the second year and Jifundishe for the first time.
We are grateful to everyone who made this program come to life.
Build-It Workshops
This time around we have been able to work with 65 primary school students from different schools and backgrounds through Build-it workshops which are meant to equip them with knowledge and skills to build different useful devices. We have also built strong partnerships with various schools that have sent their pupils into the program with special requests based on the science topics they have covered at school.
Some of the created devices include compasses, flutes, and electric sensors.
Other ongoing programs like the Jamii Incubation Tech program will be shared in detail in the next report so stay tuned!!
Thank you for your continued support.
The reason we do what we do and more is through your continuous support. We are changing the lives of Tanzanians, one Innovation at a time and we can not thank you enough for your support. It is through your contribution that we are getting closer to our vision of more local technological solutions to local challenges.
Warmest Regards,
Nzira and the Twende team