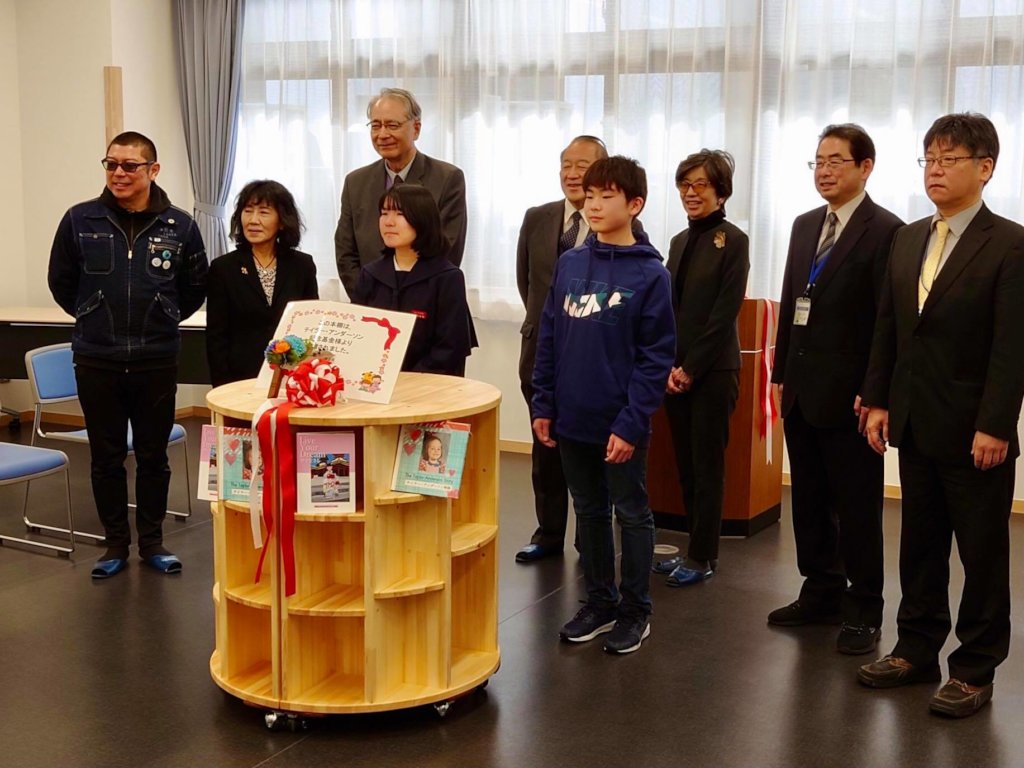 Dedication of Onagawa ES and MS Taylor Bunko -
TAMF Board Members Ambassador and Mrs. Fujisaki and Mr. and Mrs. Takanarita dedicated the 21st Taylor Anderson Reading Corner at Onagawa Elementary and Middle Schools which was reported by NHK Sendai. You can hear Endo-san, Fujisaki-san and a student in this story. Thank you to the Fujiskai's and Takanarita's for going to Ishinomaki for this dedication and to Endo-san for crafting another beautiful Taylor Bunko! Arigato Gozaimasu! In addition to the bookshelves, book coupons were given so the school may choose books for the Bunko. If you'd like to see the NHK Sendai story it can be downloaded from Icloud at https://share.icloud.com/photos/0DZYwNbbP8uKk6rkdpyDV1rSQ.
Dedication of Ohara ES Taylor Bunko -
TAMF Board Members Mr. and Mrs. Fujisaki and Mr. and Mrs. Takanarita dedicated the 22nd Taylor Anderson Reading Corner built by Mr. Endo at Ohara Elementary School in Ishinomaki. Endo-san once again used his creativity to build a unique set of bookshelves tailored to Ohara Elementary School's needs. Two new books were included in the bunko which will be given to the other 21 bunkos as well. "Live Your Dream" contains essays from those involved in TAMF activities over the last ten years. The "Taylor Anderson Story" is a Japanese-English picture book written by Taylor's mother and translated by a Taylor's friend, Chiba-san telling the story of Taylor's life so students will learn about why they have a Taylor Bunko in their school. Arigato Gozaimasu to all involved! The school blog documented the new Taylor Bunko in the link below. As always, book coupons were part of the donation so that Ohara ES may choose books for the Bunko.
Thank you to Ishinomaki Mayor Kameyama
Mayor Kameyama has been the mayor of Ishinomaki these many years since the disaster. The Ishinomaki Hibi Shimbun on March 25th printed the article that Ambassador and Mrs. Fujisaki of TAMF visited Mayor Kameyama and gifted two books "Live Your Dream" written by TAMF and "The Taylor Anderson Story" by Jeanne Anderson. They met the mayor on March 8th after the presentation ceremony of Taylor Bunko to Ohara Elementary School in Ishinomaki.
Ten Year TAMF Commemorative Book "Live Your Dream" Published
Japan Forward wrote about the activities of TAMF and our newly published ten year commemorative book, "Live Your Dream".
Thank you to NHK World for remembering Taylor and fellow Jet Monty Dickson in the link below. It includes the story of Taylor's student and TAMF 2019 high school exchange chaperone Takahashi-san and one of the high school students from the 2019 exchange, Hirayama-san. It's part of their ten years ten stories series which is so well done.
TAMF support of Ishinomaki Young Student Journalists
An article about TAMF support of Ishinomaki kid journalists in Japan Forward. Thank you Arielle Busetto for traveling to Ishinomaki and reporting about their newspaper.
Japan Forward Ishinomaki Children Journalists
Also, Congratulations to the young journalists for winning the Yoshikawa Prize!
https://www.kodansha.co.jp/.../20210302_YoshikawaPrize.pdf
Kokoro Smile Recognized for Helping Children affected by the Disaster
Japan Forward also wrote about Kokoro Smile, an organization that TAMF has supported that helps children regain their smile!
https://japan-forward.com/how-one-npo-brings-back-smiles-for-kids-who-survived-the-3-11-earthquake-and-tsunami/
GlobalGiving AirBNB Community Fund Grant
We were honored to hear from GlobalGiving that TAMF is receiving a grant from the GlobalGiving #AirbnbCommunityFund. Thank you to Airbnb and the Airbnb Host community for supporting important community-led organizations.
Thank you for your support which helps us continue programs like these to help Ishinomaki families, schools and students affected by the disaster to continue to recover, learn and expand their horizons! Please follow us on Facebook/Tamfjp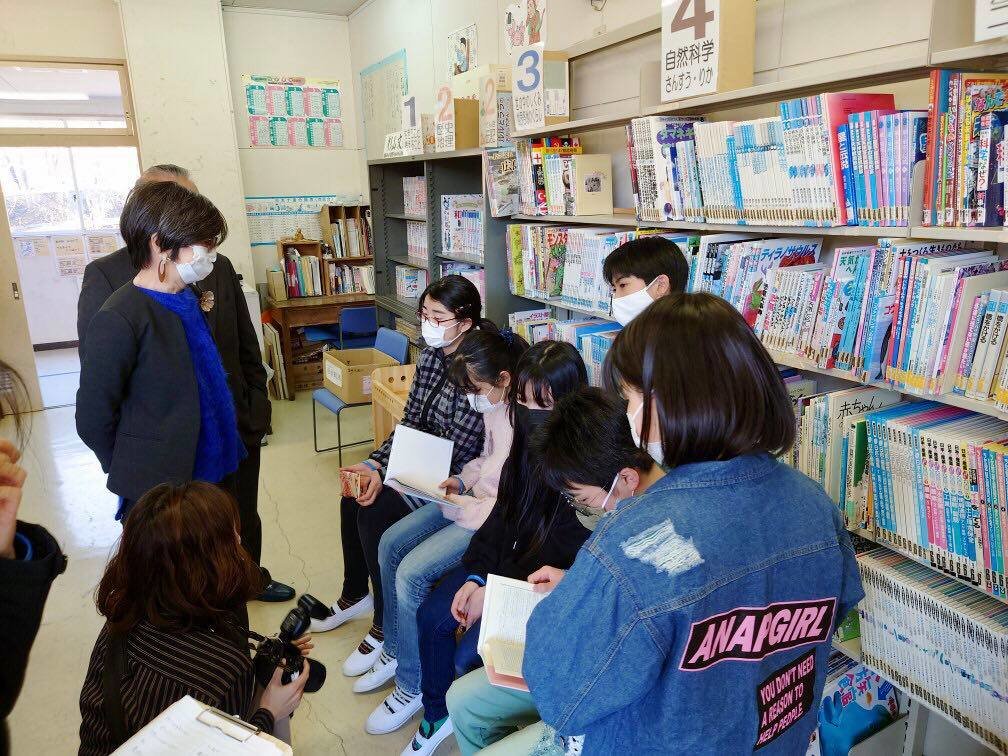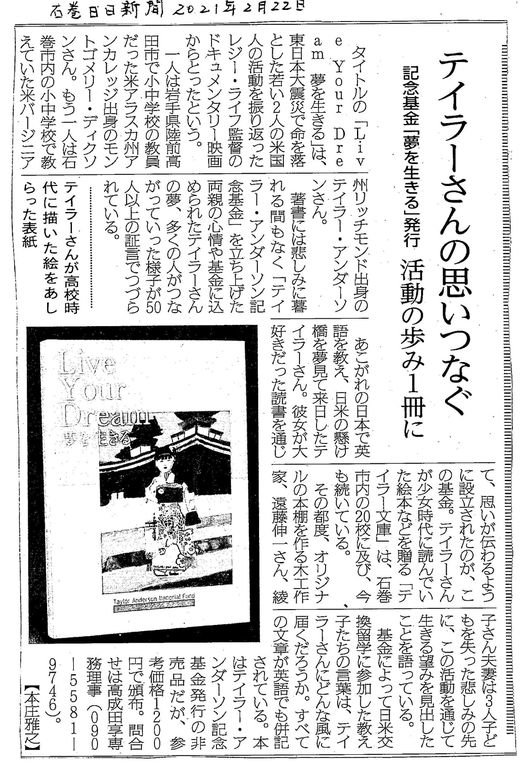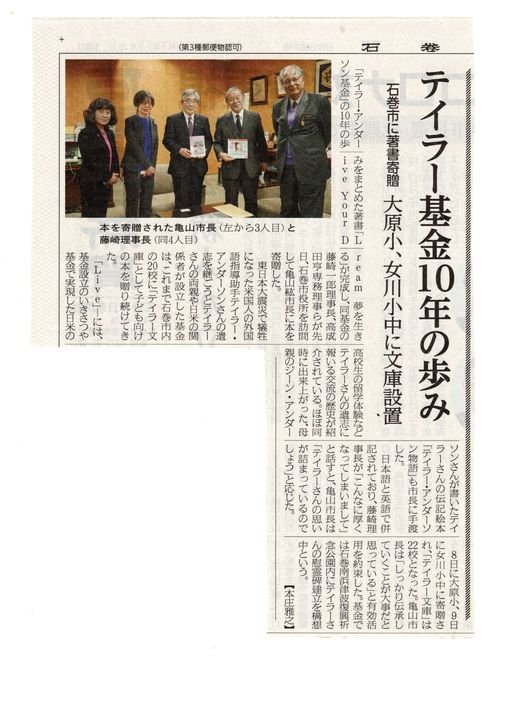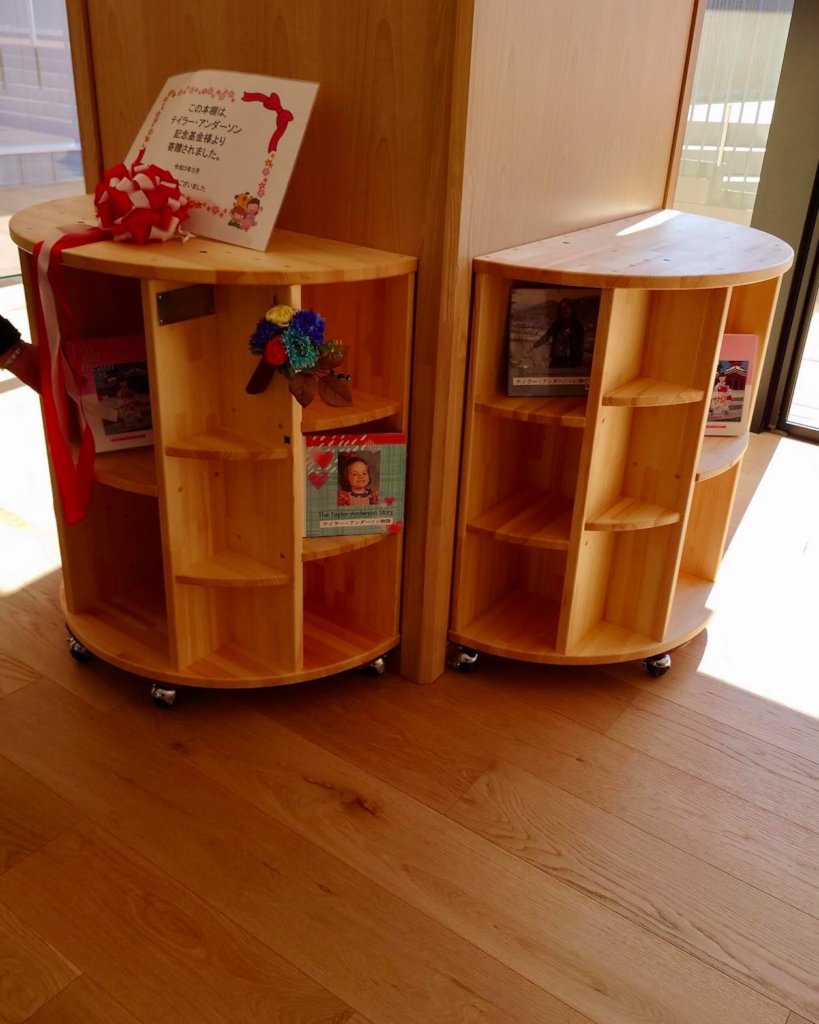 Links: