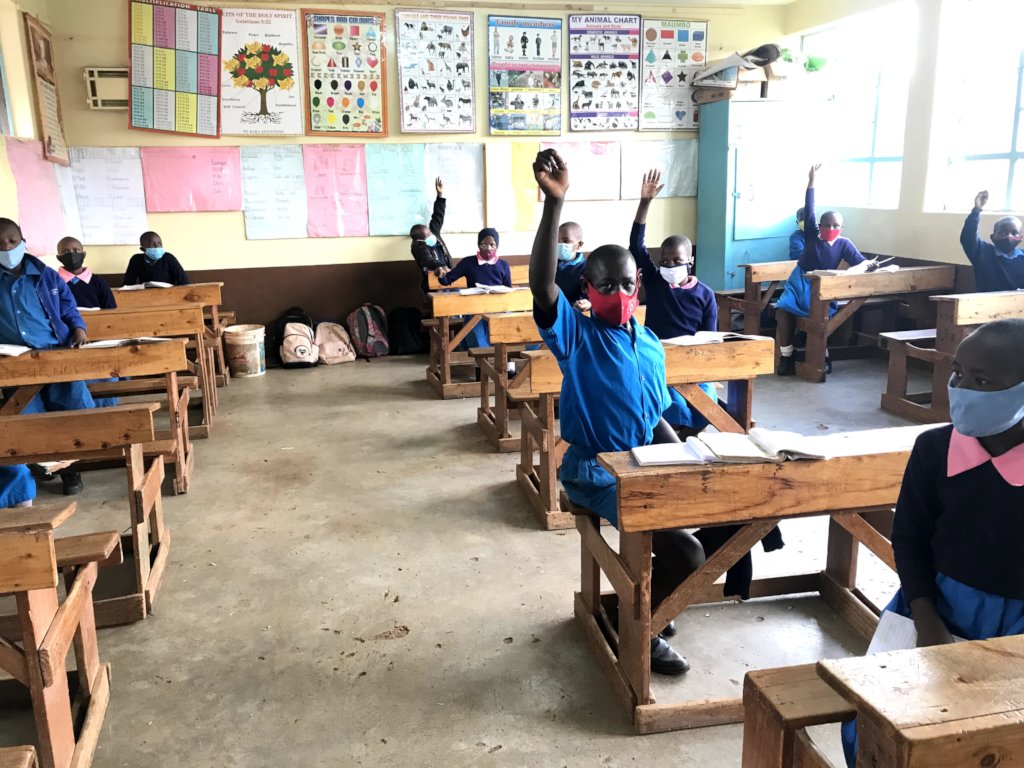 Receive greetings from St Martins School Kibagare.
We are appreciative of your support to date and thanks to this support we have been able to reopen the school, albeit with a small student population in line with social distance requirements set out by the ministry of health and education here in Kenya.
We opened the school on the 12th of October 2020, this far the students have been in school for 3 weeks. The students who have been allowed back in school for in-person learning are those in grade 4, standard/grade 8 ( primary school graduates to transition to high school ), and Form 4's ( Secondary school students in their final year. We have a total of 204 students, 26 teachers, and a handful of staff who are helping in the day to day running of the activities in the school.
On a normal school day, the total population for both schools is 1032 students and 78 teaching and non-teaching staff. Most of our students are from the Kibagare slum and most of them have been home since March 18th this year when school was advised to close. We still do not have a way forward if all the students will be reporting back, this is attributed to the fact that there has been an increase in the numbers of cases of COVID 19, and students and teachers are contracting this virus while in the schools.
Here at school, we still count ourselves lucky that we are yet to have any cases to date and we hope this remains so. Of the 204 students back in school we have observed that the long layoff has had a negative impact, adjusting to the new norm of having to put on a mask every day is very hard on them, and in many instances, the teachers make it their role to remind them of the why things are as they are and advising them to ensure that they keep this masks on. Teachers also have a challenge teaching with the masks on.
The long layoff also has had a huge impact on the much progress that had been made prior to schools closing, and from the few assessments that have been done in the 2nd week after opening, we have observed that most of the students' performance has gone down to levels we have not seen in the last three years, this will have a huge impact in the long run given 828 students have missed out on learning for the better part of this year.
Life in the slums and generally in Kenya as is the case in many parts of Africa and developing countries, children and their families face a lot of challenges. To list just a few
No guarantees of having a meal especially during this time where most economies have shrunk and massive job losses
Child neglect and child abuse
Exposure to drugs, alcoholism, and domestic violence
Zero access to online learning and to help them learn from home
No space to play and experience what it to be a child
As a school, we do not have solutions to all the above problems, the much we guarantee our children is Education, Meals, space to play and learn, access to onsite medical care whilst in school, and teachers and staff who at times have to void the gap that is left by absentee parents.
Through the donations we have received in the last few weeks, we have been able to construct hand washing stations for the students in both schools and we have been able to provide masks, hand sanitizers, meals for the students in school.
We have had a challenge with washrooms in the school, of the 1032 students in the school, we only have 15 shared washrooms for both boys and girls in the school, the donations we have received will aid in helping us resolve this problem. Once this is complete we will have an extra 10 washrooms that will be used primarily by 306 girls in primary school. This will greatly improve their well being and dignity and create a conducive environment for them to be girls.
With your support, we have made it this far and we are glad to be back in session. The much that we are doing and hope to do cannot be possible without your help. We appreciate you for choosing and supporting our cause and we will update you on our progress going forward.
Kindly reach out to us with questions, concerns, and compliments. We value your feedback.

Thank you and best regards,

Sr Emmah Karanja, Directress St Martins Primary School.