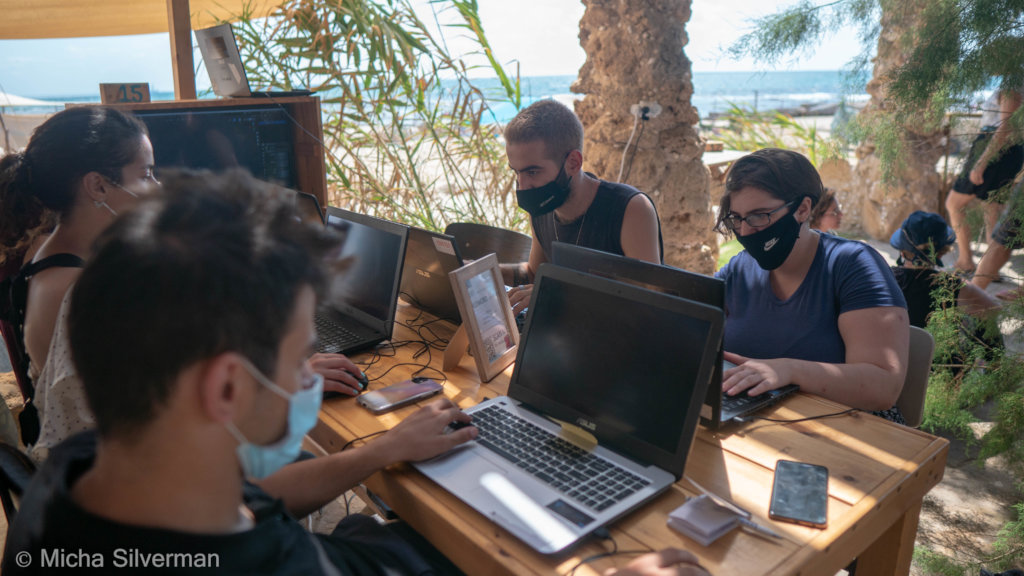 Seminars
Despite Covid-19, we have had a successful year at Tech2Peace. We brought together 60 new Israeli and Palestinian participants through two in-person summer seminars blending high-tech, entrepreneurship, and conflict dialogue, bringing the size of our community after three years to 150. We had plans for a third seminar that was canceled due to Covid lockdown. The 12-day seminars featured a range of learning opportunities, including courses in Python, App Development, 3D Design and Animation, Artificial Intelligence (AI), and Video Editing; public speaking workshops; two-day startup design and pitching workshops with Google for Startups; Hackathons; and lectures from industry professionals.
Alumni Program
We are growing our alumni program in order to maintain and strengthen the special bonds created amongst participants in our seminars, and in order to continue arming participants with the tools for professional impact. In the last year we've held a series of virtual and in-person courses and events in our core focus areas of conflict resolution, high-tech, professional development, and social gathering – 27 total alumni activities in 2020, averaging 36% attendance. Notable events have included two dialogues with Northern Irish youth, workshops with Microsoft and Google for Startups, and 1:1 mentoring with McKinsey & Co. Consultants. Recently, alumni have been forming smaller local communities and taking ownership of organizing events for themselves.
Spreading the Word
We have spread the word about Tech2Peace and our vision of technological peacebuilding and Israeli-Palestinian professional collaboration through a high-profile Friends Gathering with leading names in government and high-tech, and through an increasing media presence. The gathering featured panel discussions with the CEO of Mellanox (recently sold at $7B), the Global VP of Microsoft, the Dutch and Swiss Ambassadors, our close partners, and Tech2Peace alumni. The Israeli Minister of Science and Technology was slated to speak as well, but had to cancel due to an emergency Covid-19 Cabinet meeting.We have had a strong amount of recent media coverage, including two recent articles in the Times of Israel, a recent article on NoCamels, and televised coverage of our seminar from an Arabic-language local news channel.
Funding Updates
We secured a $150,000 grant from USAID to cover two seminars and six alumni activities in 2021. We are seeking private funding in order to double both our budget and activities from 2020 to 2021, increasing from two yearly seminars to four – reaching 120 direct new beneficiaries - and greatly expanding our alumni programming.
Links: