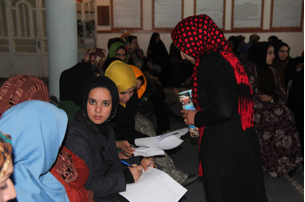 Afghanistan has an unacceptably high risk of maternal death and stillbirth. AIL has developed effective programs to address these issues, including workshops on reproductive health and general health education offerings. These opportunities to learn are always highly popular and the women go away knowing much more than they did before. In 2013, 12,687 women received reproductive health care at AIL clinics, 300 women (including 150 pregnant women) attended Expectant Mother Workshops and 832 attended Reproductive Health Workshops.
The Expectant Mother Workshops show remarkable results in that 100% of women who attend them choose a clinic based birth rather than the cultural norm of home delivery. Women attend for a few hours one afternoon learning about safe pregnancy, safe delivery and newborn care. In 2013, there were no recorded deaths, stillbirths or complications for the attendees who had given birth.
AIL's Health Workshops (RH) provide information over a few days covering issues in more depth such as: vaccinations, fetus and placenta, pre delivery preparations, normal delivery, post partum bleeding, breast feeding, family planning, child spacing, condoms, specifications of newborns, pre natal and post natal care and problems during pregnancy. Each workshop is tailor made for the community it serves and additional subjects are added as needed such as sanitation, nutrition, and clean water. The majority of attendees are married women but there are also unmarried women, the age range is from late teens to 50 years old. Mini workshops are also offered when needed and are a more condensed workshop experience specially suited to those with limited time available or issues of transport or childcare.
Here is a story form a RH workshop participant:
Fareshta on of the participants said, "Most of the people who live in our village are uneducated. They suffer many health problems. The women don't know about reproductive health and many of them lose their lives at the time of delivery. The mothers' mortality level is very high there. One woman died at the time of birth because her family didn't let any doctor check her. She and her baby both died. It is very painful for me when I think about them."
We are most grateful for your interest in and your support of this project. Reaching women of child bearing age with accurate information about pregnancy and child birth is truly a life saving effort.