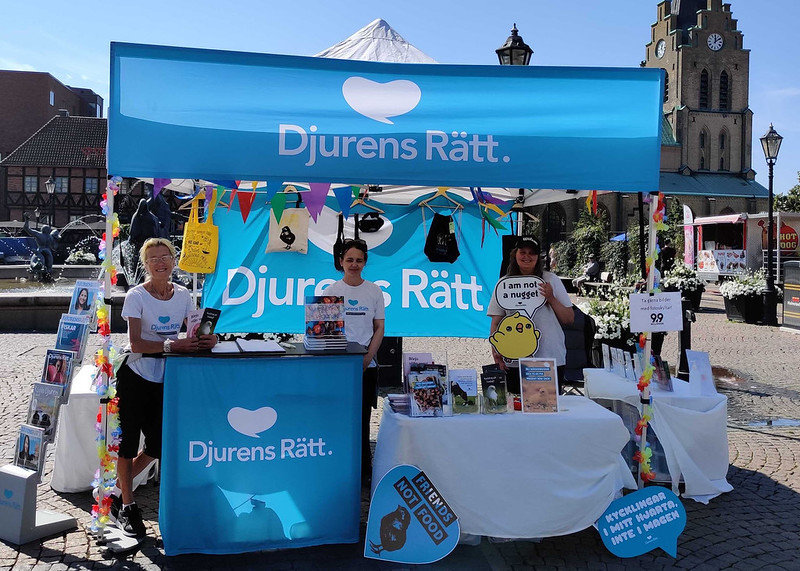 One more time we find ourselves looking back at the summer and concluding the summer tour campaign. This year we arranged a different tour adapting to the current situation caused by covid-19 and following the authorities' recommendations.
Here you can read how it went!
Take the chicken free pledge
During this summer we focused on inspiring people to leave chicken off their plates through a fun challenge: chicken free summer! From May to August, 2 280 people took the pledge and chose plant-based options instead of chicken for three weeks. Every participant received an email every other day with recipes, tips and inspiration to make the journey delicious and easy. We offered the option to order a free of charge inspirational package with recipe-flyers and a small calendar among other things which was actually quite popular. Many participants shared their pledge on social media as well and helped out reaching more people.
City tour around Sweden
Instead of participating in big festivals and markets, this summer we planned a smaller city tour and visited several places with an information tent. Luckily, it was possible to arrange this kind of event in Sweden and we organized 63 tour stops altogether.
Usually, around one hundred volunteers participate and make the summer tour possible. This time was no exception since 95 volunteers took part in it! Of course, we updated our routines and made sure to offer a safe environment for them to participate and help animals.
In total, we handed out almost 12 000 information pamphlets including magazines, flyers about the chickens' situation, recipes and similar. The most popular flyer was the one about the chicken free pledge that you can see in the pictures for this report.
Next summer tour
This winter we'll start planning next year's summer tour. At this time it is difficult to know how the situation will be due to the pandemic, but we'll do our best to adapt to the circumstances.
In the meantime I hope you enjoy these pictures of last summer (please note that the use of masks is not mandatory in Sweden and that's why the volunteers don't wear any).
Thank you for following and supporting this project and feel free to donate to help us continue with it!