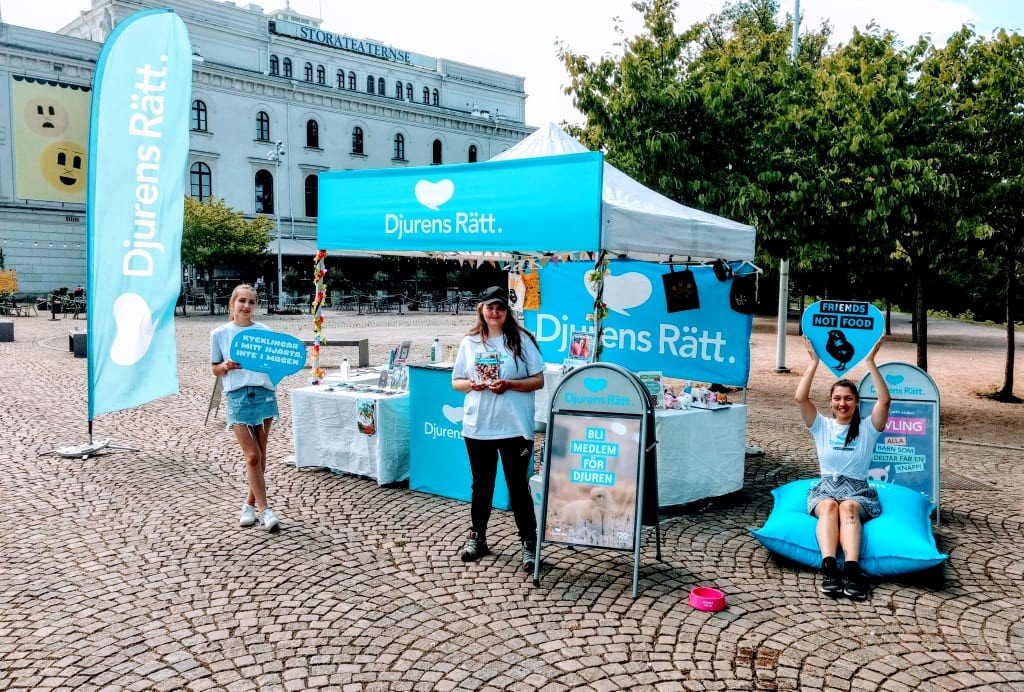 A lot has happened in the world since we published our last update. Each and every one of us is affected by the corona pandemic and Djurens Rätt's summer tour is no exception. Over the past months we have been working to run the campaign in a fitting way and in today's post I am going to tell you what we planned.
Our first digital kickoff
Every summer begins with a kickoff with volunteers. It usually is a weekend in May and we organize talks and workshops about effective ways to help animals. New volunteers get to know the experienced ones and learn more about the campaign that we focus on during summer.
If you read our last update, you will probably remember that the plan was to arrange a kickoff in three different big cities to make it easier and more accessible for people to participate. Due to the pandemic reaching Sweden this spring, we decided to readjust these events and set up our very first online kickoff.
It was a challenge to adapt some of the content and workshops to digital form and we managed to get a good result. We wanted the volunteers to have the opportunity to actively participate as they usually do, it was an interesting and fun experience. Many volunteers expressed that they were glad, ready and encouraged for the summer, which was our main goal.
New situation requires new approach
The covid-19 pandemic changed the way we carry out the summer tour. We usually participate in big festivals and markets that were cancelled this year. Instead we planned a smaller city tour and we are visiting several places with an information tent. The crowded events get replaced by tents in spacious parks and squares.
Also, we updated our routines and rules to make sure everyone keeps their distance and other preventive measures. We offer our volunteers a safe environment where they can still make a difference and raise awareness as long as it is possible. Of course, we follow the development of the current situation and the authorities' recommendations.
A chicken free summer!
Last summer we focused on the chicken industry and we continue working on this matter during summer. Previously, we aimed to inform society about the reality that the chicken industry does not want us to see. Now we inspire people to leave chicken off their plates through a fun challenge: chicken free summer! More than 1 500 people have already accepted the challenge and pledge to choose plant-based options instead of chicken for three weeks. The participants receive an email every other day with recipes, tips and inspiration to make the journey easy and delicious. Being a digital challenge, it works perfectly during this uunusual summer and we hope many more people will participate before the summer is over.