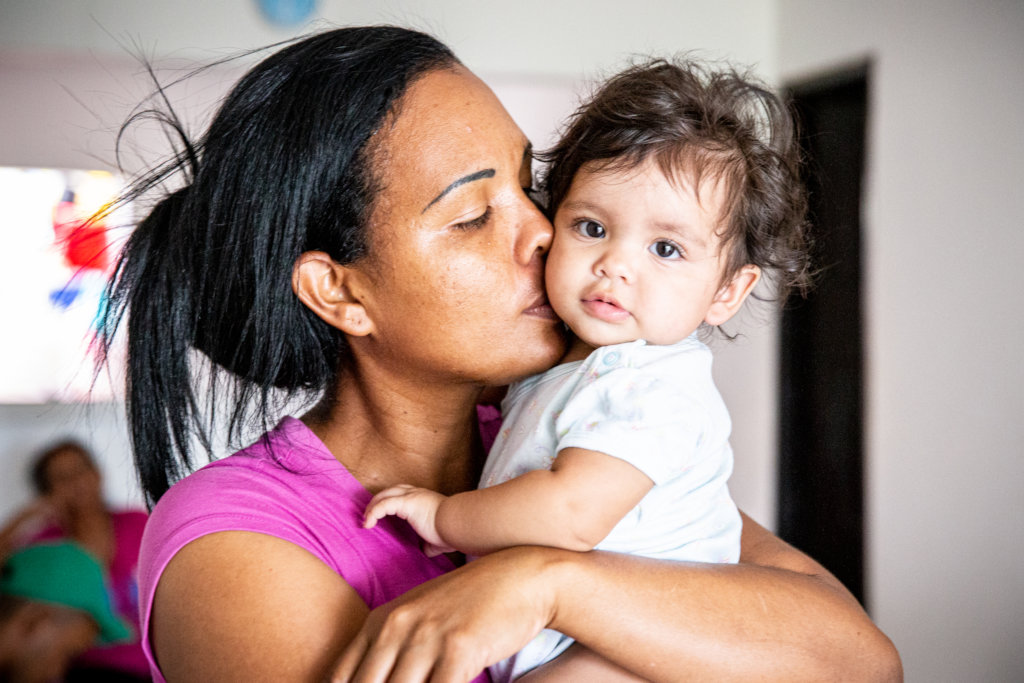 Families arriving at the United States border today have undertaken dangerous journeys to escape persecution and violence. They have the right to request safe haven in the U.S., and should not be criminalized, turned back to harm, or separated from their children as a result. But under President Trump, it has become drastically more difficult both to seek and to receive asylum.
The Trump Administration has put in place, or proposed, a dizzying number of policy changes that threaten the asylum system as it has existed for decades. They have taken steps to restrict who can be granted asylum, to drastically limit whether asylum seekers can stay in the U.S. while their claim is reviewed, and to remove minimum standards for the treatment of children.
Though the courts have stepped in to stop many of these new policies—at least temporarily—seeking and receiving safety in the U.S. has become next to impossible.
Cibel, 34, remembers the seven days she and her husband walked with their 2-month-old baby to reach Colombia. The Venezuelan economy had collapsed, food was scarce, and Cibel had lost her business selling cleaning supplies.
"People were eating from the garbage," she recalls. She could not find milk or diapers for her newborn. "We suffered through rain, sun, everything."
After a week living on the streets of Cúcuta, a city just across the border, the family found an apartment. Cibel started selling seeds and other snacks to bus passengers, putting in 12-hour days to make ends meet.
That was 18 months ago. Today Cibel and her son, Matías, are doing well, although her quest for a better life has taken a toll on the family. Cibel had made the painful decision to leave her elder son, 15-year-old Antony, with his grandmother so that he might continue his schooling. And when Cibel became pregnant again, her husband abandoned her.
Going back to Venezuela was out of the question—the situation there was getting worse every day—but starting over in Colombia was proving difficult.
"On the best days, I earned 30,000 Colombian pesos," equal to about $9.50, Cibel recalls. "And the worst days, 5,000 pesos." Often she failed to earn enough to adequately feed Matías.
Then a friend suggested that Cibel contact the International Rescue Committee.
The IRC provided Cibel with a cash card that enabled her to pay rent and feed herself and Matías. An IRC counselor helped her cope with the trauma she had experienced, and the organization provided her with prenatal care. Cibel was so grateful, she named her new daughter Diana after the IRC nurse who would visit her at home.
Cibel gave birth in a well-equipped hospital in Cúcuta, a far cry from the Venezuelan hospital where no beds—or doctors—were available. Diana, now a happy and healthy 9 month old, has milk and diapers. "I take her to the doctor and they check her, and that doesn't exist anymore in Venezuela."
Once-fussy Matías is thriving. The IRC helped to enroll him in a nearby preschool where he receives three meals a day. "School has changed him completely," Cibel says. "He is more calm and he behaves well. He already has many friends."
Cibel is still selling snacks and juice on buses, bringing Diana with her when her aunt, who lives with them, is unavailable to babysit. She earns a modest sum that helps cover her children's basic needs. More importantly, she can pick Matías up from school around 3pm and take him to play in the neighborhood park.
Cibel also managed to bring Antony to Cúcuta. "Thanks to the IRC, I am able to be with my three children," she says. "Now the family is all together."
In the meantime, Cibel continues to search for a regular job that will bring long-sought stability to her family, and Antony is trying to enroll in a new school. "I want them to be successful in life, and hopefully they can achieve that here in Colombia."