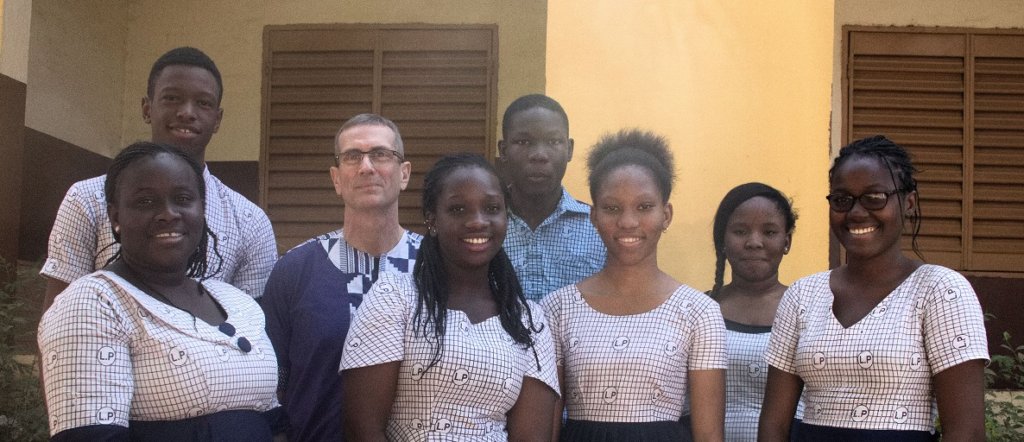 We have big news to share in this update. iNERDE is training Mali's first national high school robotics team and will bring them to Washington, DC in July to compete in the FIRST Global "Olympic's Games" of STEM. The travel expenses for our team is being entirely covered by a sponsor.
There is much more to this story. Ultimately, this news is about a movement that is gaining ground in Mali in which iNERDE is playing a very significant role and a movement gaining ground in the world which iNERDE has the honor to be part of. Since creating a permanent office and learning center in Bamako, iNERDE has been reaching out and building partnerships with the many organizations in Mali working on education, science and technology, and economic development. Our active participation in Mali's first Celebration of Science at the University of Bamako brought us together with partners who are now working with us not only to bring Mali's team to FIRST Global but to bring STEM and robotics to schools throughout Mali. This project, initiated and led by iNERDE, is now under the aegis of the Malian Ministry of Higher Education and Research, the governmental entity charged with the spread of scientific culture in all levels of education throughout the country.
Thanks to you, our supporters, iNERDE has run STEM summer camps for three years in Mali and we created CodeNERDE, the first robotics bootcamp in Mali. We've been running on pure faith for a lot of this time - the challenges and the financial worries have been endless - but we've seen the difference our program has made on hundreds of kids and we couldn't quit. We're going to keep doing what we've been doing, expanding our summer programs, training Malian teachers, and opening our center for afterschool classes. But we've now started our next phase where we can begin to realize our broader mission, to make a durable impact on education on a large scale in West Africa and to contribute through education to economic development and opportunity for youth on a national level.
We still need you! Our larger mission has not come with larger resources yet, though, as we've always done, we're know what we are going to do before we know how we will find the resources to do it. In December of 2017 we reached the funding goal we set for 2016! - yet we still ran our camp in 2016, albeit on a shoestring's shoestring, and we were even able to give full scholarships to 30 public school students. In 2017 we are going to initiate new funding campaigns with very specific objectives such as providing summer camp scholarships again this year and further developing our learning center to become a self-sustaining operation in the next year. We still need a leg up to reach financial independence and we will be asking you to help us if you can, but iNERDE's goal is to be in a position where our activites are supported by African resources. It will take us some more time, but we have made and will continue to make substantial progress on this front.
We also want to thank you for your openness to an African project, for your belief that the efforts of Africans to improve their part of the world matters in your part of the world. Mali is a secular, democratic, muslim-majority country which has been forced to deplete its resources fighting foreign islamist terrorists holed up in a remote region. As investors have steered away from Mali, the economic consequences on its population have been heavy. Yet Mai remains free, optimistic and open to the world. The Malian people know that if not everyone in the world is open to Mali, the majority in America and in the rest of the world are with them and they are grateful. As are all of us in iNERDE.
Links: