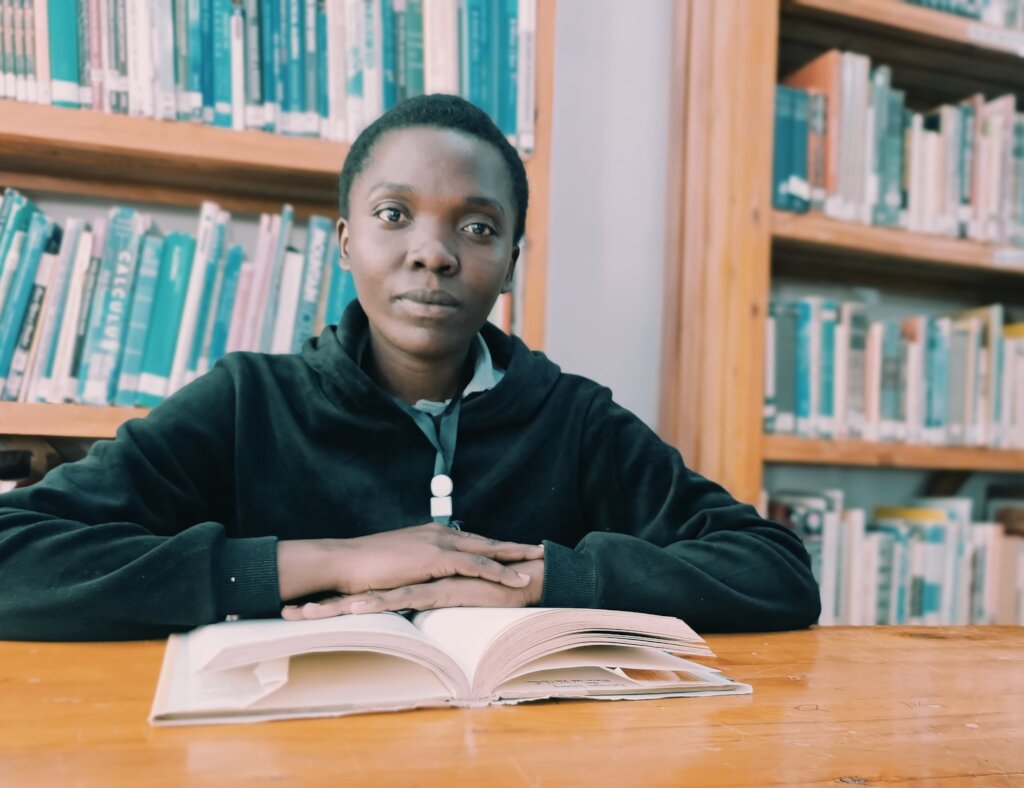 Edina, 24 Years old.
"My life is like a light covered in dark clouds".
I want to believe that I was the only child to my father – a father that I never met or heard from in my entire life. To my mother, certainly not the only child – there were more of us, but I can barely tell you where they are or who they are. My mom passed away when I was 10 years old, but she had given me away when I was only 12 months old. I can't say I truly know her either. My grandmother (from my father's side) was technically my mom and dad. We lived in Ukerewe – a remote island in Lake Victoria, Tanzania. I was not her only grandchild and definitely not her favorite. There was always a 'tag-of-war' in everything – food, clothes, bed, even the right to speak your opinion. But all I cared about was going to school. From a very young age, I knew education was my only way out, my get-out-of-jail card. Do not get me wrong, my grandma's house was the only home I had (actually the only home I knew I had) – and despite everything I went through, I will always be in her debt because she managed to put me through primary school and lower secondary school. The year 2013 was the last time I saw the inside of a classroom; for some unknown reason, my grandmother pulled me out of school a few months before I could sit for the form two national assessment.
Before I could figure out my life, I was sent miles away to Bukoba to go stay with my other grandmother (from my mother's side). I didn't even know she existed. Somehow, both of my grandmothers had planned to put me in a vocational training center in Bukoba to take a tailoring course. They had no time to at least pretend to ask me what I wanted. But again I was thankful – it was better than breaking my back with house chores from dawn to dusk since I was the only grandchild out of school. Life with my new grandmother didn't go the way I had imagined. Months turned into a year and a half as a house-help in my grandmother's house and my uncle's houses too. I was doing a lot of walking and working with no hope of ever going back to school. Nobody seemed to care. In late 2014, my grandmother attached me with a village tailor to observe. Before I finished 2 months of 'observation', my uncles started to talk about my marriage arrangements, and at the same time, my grandmother told me that her friend who lives in Dar es Salaam was urgently looking for a house-help. I was 16 years old and had to blindly make a quick choice – get married to someone I don't know or go to work for someone I don't know in a place I have never been. I chose the latter.
In April 2015, I officially started working as a house helper for a measly salary. At least I thought that was the arrangement - to work and get paid whatever salary they could. I was excited because, with enough savings, I could go back to school; I still wanted to study. It didn't take me long to realize that I had escaped being someone's wife in my village only to run towards the most inhumane employer in the name of a guardian. I have no words for what I went through in that family, but I had no choice but to stay some more while I plan my next move.
By late 2017, my hope to go back to school was fading away. I had no savings, I couldn't go back to my grandmother's village and the family I worked for didn't need my services anymore. I was about to be thrown out in the streets of Dar es Salaam. Luckily, a colleague of my 'employer' was looking for a maid. What a coincidence! I didn't hesitate to take the offer, I wanted out.
By 2018, I was in Tanga Region working for a new family. It was the best thing that had ever happened in my life. They were the nicest people I have ever met. For the first time, I felt like I belonged in a family. I felt valued – it was a new thing for me and it felt comforting. In December 2018, my boss was transferred to work in Moshi and she took me with her.
One Sunday while at church, during the news section: someone stood and talked about a project called Jifundishe found in Arusha. I got very interested in the Independent Study Program run by Jifundishe – at the back of my head I thought to myself, "I have finally found a ticket to complete secondary school education and maybe go to college, who knows!" I took contact information and immediately informed my boss about Jifundishe's I.S program. She was in favor and promised to support me follow my dream.
Mid-2019, I went to Arusha and moved in with a church friend. Registrations for the Independent Study program were already closed but I was allowed to enter into class but won't be able to take the national exam at the end of that year. I was finally back in a classroom. That was all that mattered at that point - it was the biggest most important achievement for me and at that moment I felt unstoppable. Studying at Jifundishe is free but students have to look for accommodation and food, so I had to look for a job to survive. After a year of struggling, I applied for the I.S program for the first time in early 2020 and got in. I was among 160+ students selected to join the I.S program that year. Even though I still had to continue to juggle work and classes but I never stopped smiling every time I remembered that Edina is now a registered private candidate and in the next 3 years I will be on my way to college or university. My dream was starting to take shape. That year ended well and I passed my form two national assessment, which felt awesome.
The following year (2021) I unfortunately missed the registration for the I.S program. I had no money and had to spend most of my time working for my church as a hawker selling religious books. I had to do something to support myself because everything was on me. I couldn't call my grandmothers or uncles for help – last time I checked, they insisted I MUST go back to Mwanza and move in with 'my husband' because apparently, they had already accepted dowry from an old village man. I cannot be a mother now – come rain come sunshine. By 2022, I had stashed some savings, and I applied for the I.S program again to take the Certificate of Secondary Education Examination (CSEE). Mid-2022, things got tough financially for me; I could go for days without real food and couldn't pay rent for almost 7 months in a row. I had no choice but to go back to church camps to sell religious books in Dar es Salaam. I missed classes, student group discussions, and a very cool workshop that is usually facilitated by the UP Group (volunteers from the United States). I had to make a hard choice to skip the final exam for that year – it was sad but necessary. I didn't want to fail that exam because of a lack of preparation.
This year (2023) I have registered again to take the CSEE at Jifundishe. I cleared all my accommodation debts for the previous year and have managed to pay 8 months of rent for this year. I also decided to make a couple of entrepreneurial decisions just to keep an extra coin coming – I looked for a roommate who gives me Tsh 7500 (a little over $2) a month. It helps with buying food and I also started to sell roasted groundnuts in my free time. With this plan, I think I'll spend more time at Jifundishe studying for my Form 4 national examinations.
Jifundishe is like a haven for me, a place that will groom me to be the best version of myself – a home for my dream to come true. When I get another chance, I'll tell you what I want to study when I get to university – for now, I just want to learn and study everything I can. My life is like a light covered in dark clouds, but one day yes. I will go back to my village and my light will inspire other girls to be more than domestic servants or more than 16 years old wives.
Thanks to every single donor and friend of the Jifundishe Organization.