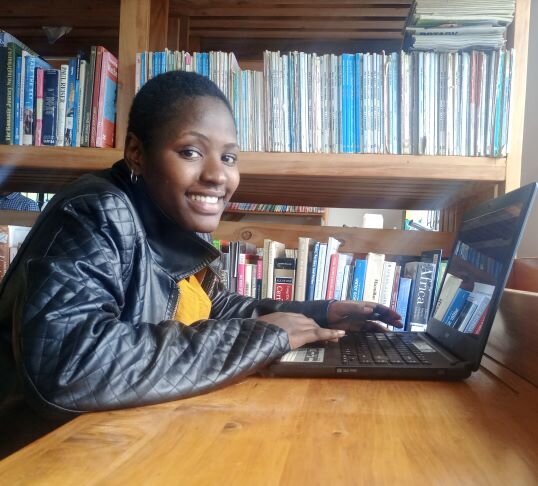 Witness, 22 years
"Seven years ago, my future was vague"
Witness is the 4th born in a family of 6 siblings. She has spent most of her life in the custody of her uncle because her father wasn't and still isn't in her life since she was a little girl. Her mother couldn't take care of 6 children on her own either. Despite the fact that Witness aced in all subjects at a local primary school that she joined in Ngordoto Village, Arusha Tanzania; life was tough and her dream pathway was murky. Growing up in a house with 10 children; sharing a plate of merger food and beddings was not the life Witness had hoped for when she started staying with her uncle.
After days of long-distance walking to and from school, she sat for her standard 7 primary school national exam in 2015 and passed with Grade B. She was selected to join a local secondary school. You would expect any child to be happy with this kind of results – but Witness was in a state of ambivalence because she was never sure if she would receive any support from family to join secondary school education.
Her primary school headmaster introduced her to the Houston Scholarship Fund at Jifundishe Organization. She immediately applied and got selected. Because of the potential Jifundishe saw in Witness, she was sent to SEGA Girls' Secondary School in 2016. SEGA is a girls secondary boarding school with extensive extracurricular activities - located in Morogoro Region (Eastern part of Tanzania). At SEGA, Witness did very well in science subjects and mathematics. She also learned incredible computer skills and got involved in the school's entrepreneurship program. Through this program, she learned entrepreneurship and hospitality skills through theoretical and practical lessons, worked in the school's poultry project and took sewing lesson after class hours. She also participated in an intensive 2-week training in business planning and technical skills training in sewing, dying batic fabric, soap-making and baking/decorating cakes. In December 2017, Witness travelled to Nairobi, Kenya to represent SEGA at a 1-week annual East African Girls' Leadership Summit. She was selected because of her drive to be a leader, her excellent behavior, academic performance and because she is a positive role model for others.
In 2019, Witness graduated at SEGA after her Form 4 National Examination which she passed with a strong Division I of 11points. She had applied for a scholarship with the United African Foundation Organization and was among the 12 girls selected out of 30 applicants. Witness joined Tabora Girls Secondary School for advanced level education majoring in one of the toughest science combinations - PCM (Physics, Chemistry and Mathematics)
Witness is currently volunteering at Jifundishe Free Library while waiting for her Form 6 national examination results to apply for University. She wants to pursue software engineering. With her excellent background in science and mathematics, she spends her time at the Jifundishe Library assisting students in the Independent Study program with subject matters and tips on how to study and tackle exam questions.
Witness says, "Seven years ago, my future was vague. But all the experiences in the past 6 years at SEGA, Tabora Girls and at Jifundishe; I feel more confident as a girl, more informed and self-aware and most importantly, my dream and carrier pathway is crystal clear. Nothing can stop me". "Thanks to Jifundishe Organization for picking me up after I completed my primary education and lightening my financial burden which helped me focus more on studies and personal development. I am inspired to want to help others and give back to my community"
On behalf of Witness's family, Jifundishe is grateful to all donors that make it possible for girls like Witness to realize their potential through the Houston Scholarship Fund.