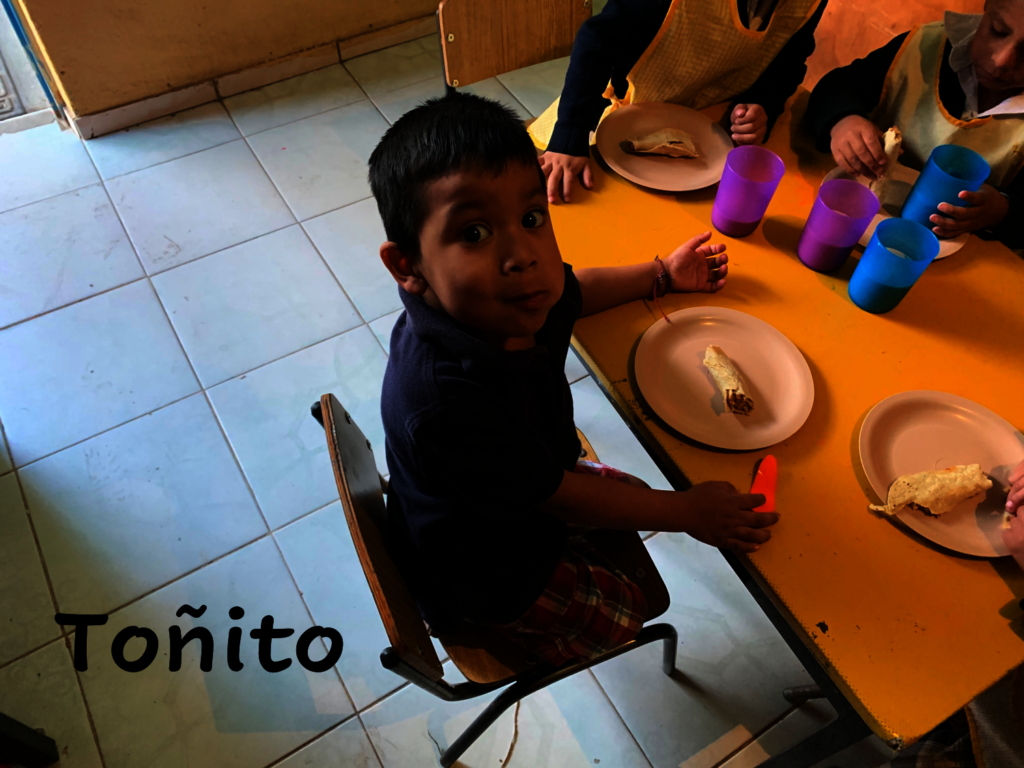 Testimonio de Toñito del jardín de niños Bertha Von Glumer
Extraño ir a la escuela, ver a mi maestra, a mis amiguitos y poder jugar con ellos. En los últimos meses no hemos podido ir al kínder, pero mis papás me explicaron que son tiempos en que nos tenemos que cuidar mucho.
Extraño los taquitos que nos daba Fundación Nutriendo todos los días, pero mi mamá me ha dado desayuno gracias a las despensas que nos han entregado. Mi familia y yo estamos muy contentos y agradecidos de que en nuestra mesa no nos ha faltado comida gracias a las despensas que nos ha entregado Fundación Nutriendo.
Necesitamos de tu apoyo para que Toñito y todos sus compañeros del jardín de niños Bertha Von Glumer, sigan recibiendo sus despensas y que nos les falte alimento en sus casas, con tan solo 25 dlls apoyas en la nutrición de un niño y su familia. ¡Súmate!
----------------------------------------------------------------------------------------------------
A letter from Toñito del jardín de niños Bertha Von Glumer,
For the past few months, I have missed going to school, seeing my teacher, and playing with my friends. We have not been able to go to kindergarten, but my parents explained that these steps are important for us to take to stay in good health during these times.
I miss the taquitos that Fundacion Nutriendo would give us every day, but I really enjoy the breakfast my mom has given me thanks to the food bags we have received. My family and I are very happy and grateful that there is no shortage of food on our table during meals thanks to the food bags that Fundacion Nutriendo has given us.
We need your support so that Toñito and all his classmates at Jardin de Ninos Bertha Von Glumer, can continue to receive their food bags and not miss these nutritious meals in their homes during these times, with only $25 you can help support the nutrition of a child and their family. ¡Join us!