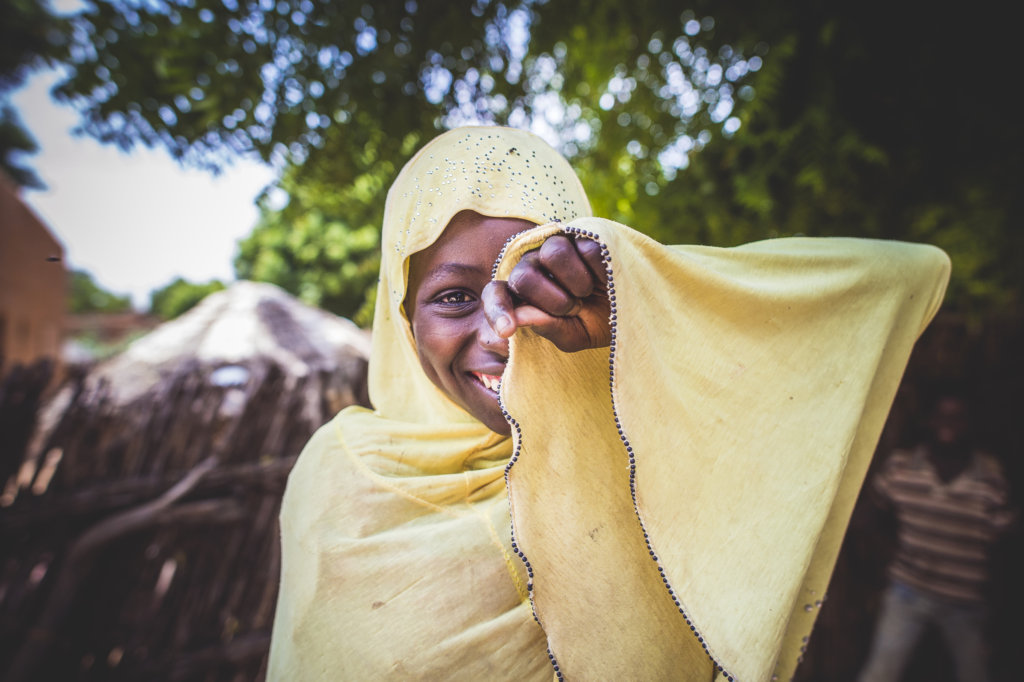 In Niger, 76 percent of girls are married by their 18th birthday. Mercy Corps is empowering girls like Dahara to change the narrative through safe spaces in their villages. All photos: Sean Sheridan for Mercy Corps.
When Dahara speaks, she speaks with a purpose: confident, eloquent hopes about her future and the things she wants out of life. She is young and driven, ready to claim her place in the world.
But not long ago, Dahara did something that put her entire future in jeopardy.
She turned 14.
Dahara lives in a small village in rural Niger. By almost any measure, it is one of the worst places in the world she could be an adolescent girl. In the 2014 United Nations Human Development Index, a list that measures basic human benchmarks like health, education and standard of living, Niger ranked last in the world.
To consider the weight of what Dahara is up against, imagine a group of 100 girls from Niger. Only 15 of them can read. Fewer than 10 of them have learned about HIV and AIDS. About half of them will have a baby before they are 18, and two-thirds of them will do it without a skilled attendant in the room. Four of them will die in childbirth.
And the majority of them will be married. Niger has the highest rate of child marriage in the world, in part because of its widespread poverty. Three out of every four girls in Niger are married by their 18th birthday, many of them years earlier.
For parents with large families, marrying their children off young brings the hope of prosperity and a higher social status. But the reality for girls like Dahara is often a life of hard work and childbearing that begins far too early.
The freedom of childhood is replaced by a life of labor. The opportunity for education is gone for the burden of caring for a family.
Dahara wants more: a chance to finish school, a few more years to grow up with the girls around her. But the math is against her. Next year, she will turn 15 — the legal marrying age in Niger.
A safe space for girls
Child marriage, like most social issues in Niger, disproportionately impacts girls. While 60 percent of all adolescent girls in Niger are married, the number shrinks to only 3 percent for adolescent males. It sets off a chain reaction of inequality: Girls go to school fewer years than boys, are less likely to be able to read, and earn far less over their lifetimes.
It's not only an issue of opportunity, but subordination: According to the 2016 UNICEF State of the World's Children report, 27 percent of men in Niger said they felt justified in using violence against their wives for reasons like burning their food or neglecting their children. Women were more than twice as likely to agree.
"Girls are considered the weak sex, and men are considered the strong sex," Dahara says. She is standing outside her home on a blistering Tuesday afternoon, discussing why she has decided to try to change the narrative.
Dahara is a member of one of three safe space groups for girls in her village, a place Mercy Corps provides where adolescent girls can be together to learn job skills, reading and writing, and hygiene and nutrition training.
The groups provide a protected place for girls to be together, but they also offer them something that's hard to find anywhere else: a sense of empowerment. In these meetings, girls are shown that it's possible for them to build a life for themselves.
They are encouraged to stay in school, to discover their own talents and abilities, and to not feel like they have to rush into marriage and start having children.
Since safe spaces started in this village, no girls have gotten engaged to be married before 18. "The girls are very happy. Even their parents are very happy about what we're doing," Hadiza says.
"When a girl is married early and when she is pregnant, there is a consequence," Dahara says. "The mother can die, or the baby can die."
There is a good chance she has seen it happen: Girls in this village have died in childbirth before. Others have lived, but lost their infants.
At a safe space meeting earlier today, Dahara listened as her mentor, Hadiza, shared these important health-related reasons why girls shouldn't get married so young. But she also heard something more powerful.
She heard another woman tell her it was OK for her to be herself.
"A man can have a farm, a car, a bicycle," Hadiza told the girls, gathered together beneath a tree. "But you? You have to try and earn your own money. This is why you have to manage to find something to do. Don't always depend on men."
Creating her own opportunity
In a shady corner of her yard, Dahara kneels next to an iron kettle. Inside it, water and groundnuts boil over an open flame. As the August breeze moves in, the thick smell of smoke gives way to the floating aroma of sugar.
In an hour, the nuts will be a caramelized golden brown. Dahara will cool them, bag them, pack them, and then walk alone across her village into a crowd of men, where she will sell each bag for 25 Central African Francs — about 5 cents — and return with an empty bucket and a tired smile.
The money, like the business, is all hers. When the girls in Dahara's safe space group were told to choose a skill, Dahara decided that she wanted to learn to start a business. She buys her supplies, does the labor, and manages the money, fitting it all around her schoolwork and housework.
Business these days is booming: she sells out in minutes.
"I feel very happy," she says, "because I was trained to do an activity, and now I perform the activity and it works. I get money, and I feel happy."
The money Dahara earns doesn't just impact her. Because she's able to save it, she can use it for things her mother no longer has to buy. Last year, Dahara was able to use savings from her business to buy her own new dress for a village feast.
That's money her mother can now use to buy food, clothes and household items for Dahara's seven brothers and sisters. This extra bit of help is critical during Niger's lean season, when food is not yet ready to harvest and it can be hard to find enough to eat.
With every plastic bag of caramelized nuts, Dahara helps spark a new chain reaction: By deciding to take control of her future, she eased the burden on her family.
"My mother feels happy because she doesn't have to buy me clothes," she says. "I buy my clothes with my own money. This is something that has helped our life."
Dahara is just one of many girls in this village who are learning to invest in their own futures. Saade, another girl in Dahara's group, has been a member for two years.
"Boys can go out of the village and look for money and whatever they want to do," she says. "But girls have to stay at home."
In the safe space group, Saade learned about the risks of early marriage, the importance of staying in school, and ways she can keep herself and her future kids healthy. Now she has a new goal: to keep the cycle going by becoming a health worker or a teacher.
"If I become a teacher," Saade says, "then I could teach my sisters and my brothers to break the barrier of illiteracy and ignorance."
'The will to learn'
It's easy to see how the group has affected the lives of individual girls. But the impact can also be seen on the community: Since the group started, it is now against village rules to take a fiancée younger than 18. No girls here have registered to get married early.
That's a huge difference, Hadiza says, and it's happened in part because her mentorship focuses on the outside forces that influence the girls — including, if necessary, their parents.
"If we hear about a girl who is getting married earlier, we go to the parents and talk to them and tell [them] to wait two or three years more before she gets married," Hadiza says. "They do not refuse. They accept."
"We want our village to develop," she says. "We want our village to have prosperity. All these young girls have the will to learn what I am teaching them."
Hadiza smiles as she looks on inside Dahara's yard. Almost as quickly as Dahara opens for business, it's over for the day. But there is still work to be done: millet to wash and pound, farm work to finish, siblings to care for. It will always be a life of work, but thanks to the support she's found through Mercy Corps, it's a life of her work.
With a sense of purpose comes the confidence to answer life's big questions. And there's one in particular that no longer weighs on her mind.
What would she say if a man asked her to marry him?
Dahara answers without a beat. "I would not accept," she says.
How you can help
Donate today. Every single contribution helps us empower women and girls like Dahara around the world.
Get your gift matched. Many companies match the gifts their employees make. Find details at mercycorps.org/match or talk to your HR representative about how you can double your impact.
Tell your friends. Share this story and spread the word about the millions of people who need us.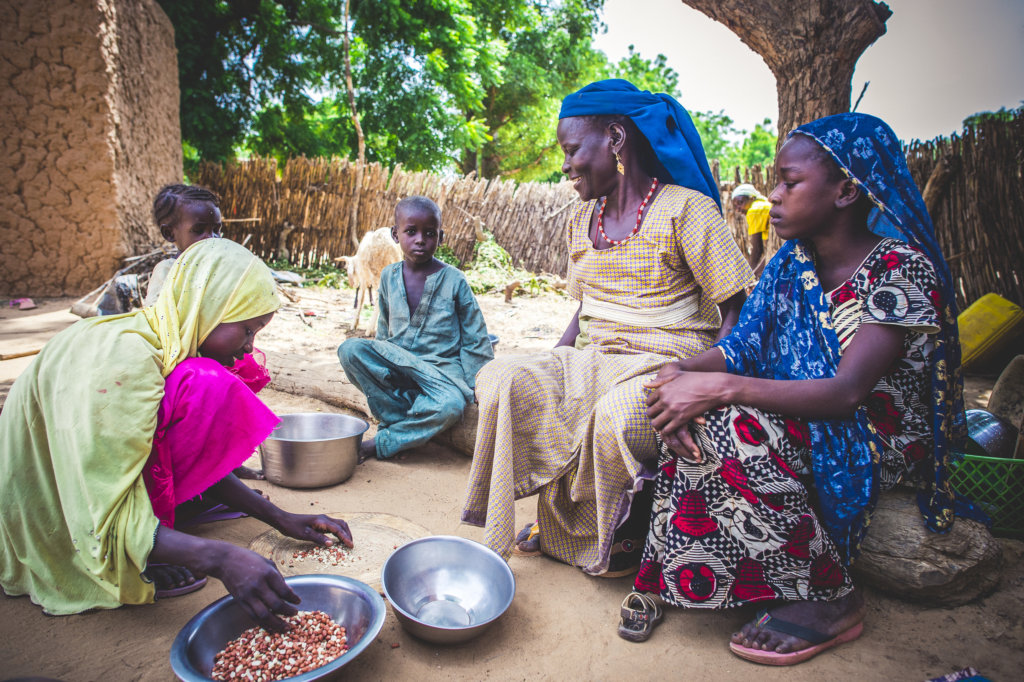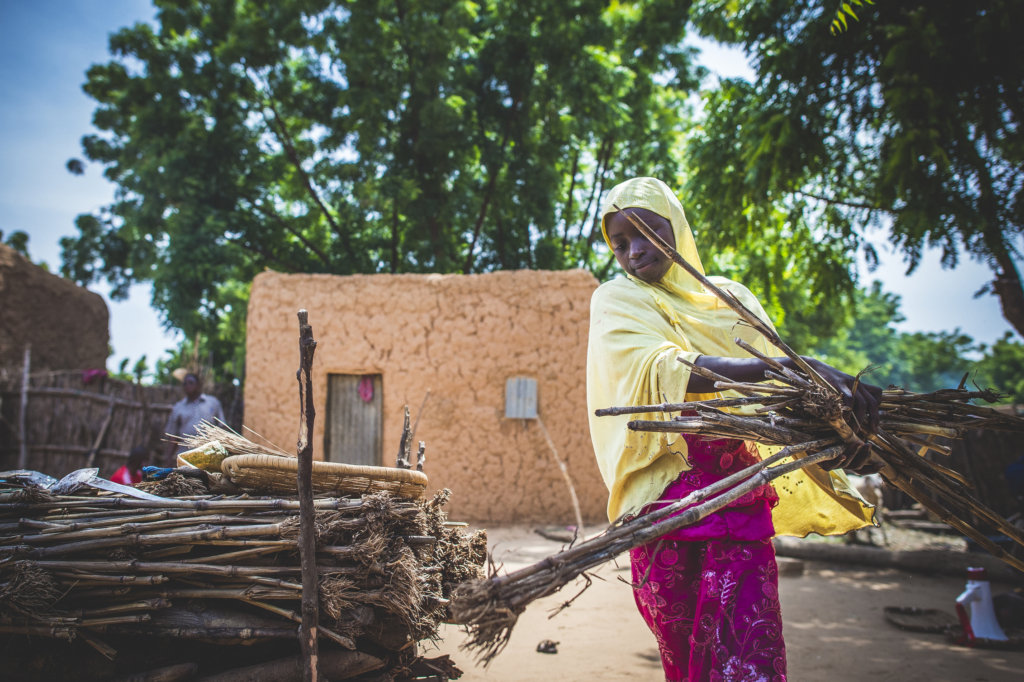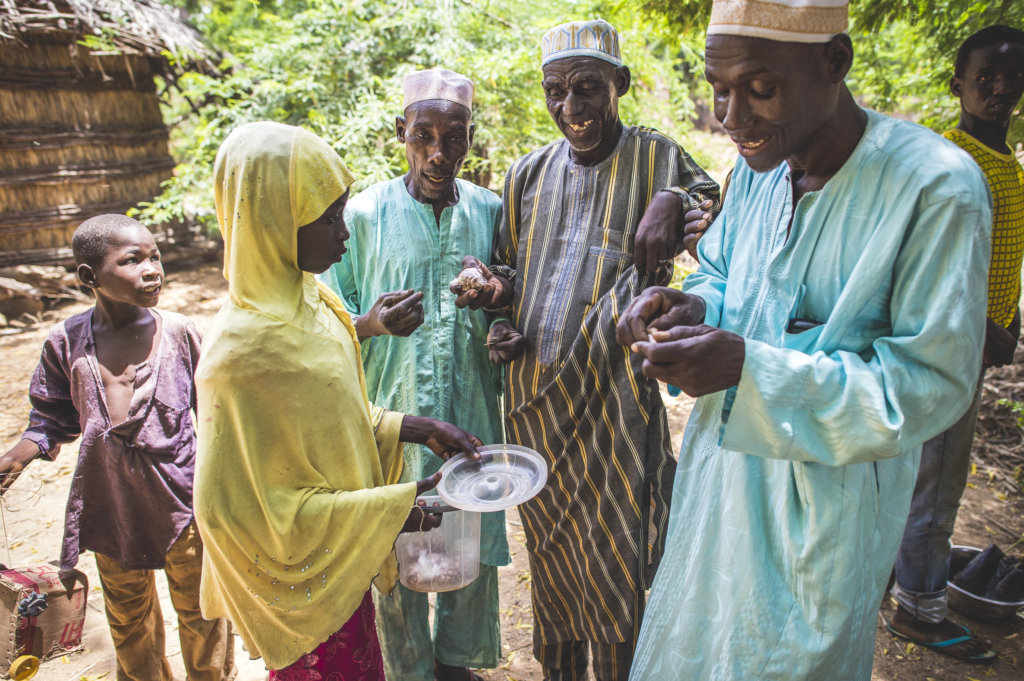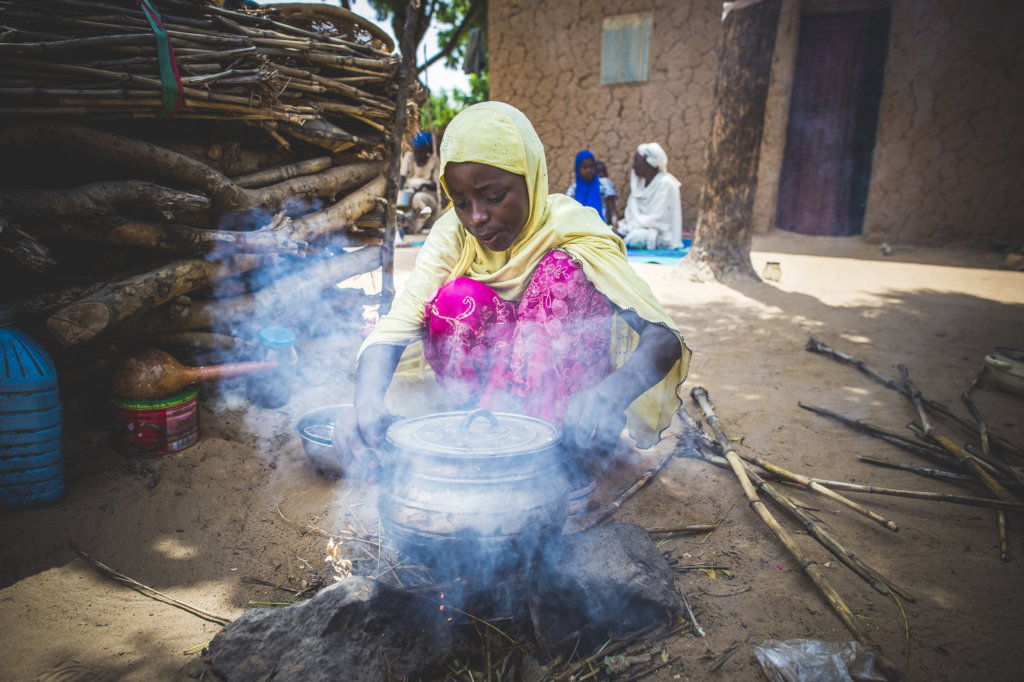 Links: