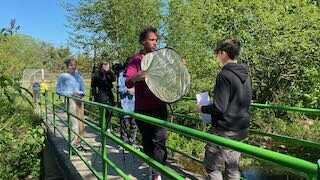 We recently launched a series of Oxford debates. We invited youth from four elementary schools to join us and held classes to prepare 40 young people to participate in Oxford debates. We started with intra-school debates to give some practice to young speakers and build debating teams.
In April, we organized the semifinal of the first Masuria League of Oxford Debates, in which 16 young speakers participated. The thesis of this debate was "Social media stupefies society." The young speakers brilliantly prepared their arguments to defend or refute the thesis. For most of them, this was the first public test of public speaking. The finals of the debates are scheduled for June 2023. We encourage you to support this event, as we need funds for transportation for the young people, as well as small refreshments and prizes for the speakers. The link to the project is here: http://goto.gg/57433.
We continue activities with young people in another 6 schools. This time we are working with them on creating videos about volunteering seen through their eyes. The trainer tells young people how to make films, and how to build a story, and then young people co-create the script and record their speeches. It is a real challenge for young people because most of them perform for the first time in front of the camera and overcome their stage fright before speaking to the camera.
Ready materials will be available in June 2023 at the summary of this year's activities.
In addition, we continue to work with two public libraries, where young people are actively engaged in volunteering. This is important for us because, in a situation where the Minister of Education will completely block NGOs from working with schools, we will have alternative places to work on developing young people's social skills to help them enter adulthood more safely. And such a threat that we will not be able to operate in schools is very real. Your support is very valuable to us because with less and less public funding going to civic education, donations from individuals allow us to continue our mission.
Another of our activities that are slowly coming to an end is the implementation of school participatory budgets. In eight schools in our region, the youth, with a little adult support, created the rules of the program and conducted educational activities to inform the entire school community about what a school participatory budget is. They encouraged students and staff to submit projects that could make the school more pleasant and nicer. Thanks to their efforts, more than 100 projects were submitted! By the end of April, voting had already taken place in most schools. Many projects were for relaxation areas with comfortable and colorful poufs. Thanks to such activities, young people not only have a sense of influence on what is happening at schools but also learn such social competencies that are important in adult life: organization and planning, communication skills, teamwork, and the ability to react quickly to changes.
We work with a total of over 330 young people who take over the activities in school volunteering clubs! It is quite an effort for our modest team, but thanks to your support, we can do it!
We really count on your support, and we encourage you to make regular payments because thanks to you we can work with young people without fear that we will run out of money for activities. Thank you for being with us!
Mlodzi wspaniale dzialaja!
W ostatnim czasie uruchomilismy cykl debat oksfordzkich. Zaprosilismy do wspolpracy cztery szkoly podstawowe i przeprowadzilismy zajecia sluzace przygotowaniu 40 mlodych ludzi do udzialu w debatach oksfordzkich. Zaczelismy od debat wewnatrzszkolnych, aby troche rozcwiczyc mlodych mowcow i zbudowac zespoly debatanckie.
W kwietniu zorganizowalismy polfinal pierwszej Mazurskiej Ligi Debat Oksfordzkich, w ktorej uczestniczylo 16 mlodych mowcow. Teza tej debaty byla nastepujaca "Social media oglupiaja spoleczenstwo". Mlodzi mowcy swietnie przygotowali swoje argumenty aby obronic lub obalic teze. Byl to dla nich pierwszy publiczny sprawdzian z wystapien publicznych. Final debat zaplanowany jest na czerwiec 2023. Zachecamy do wsparcia tego wydarzenia, bo potrzebujemy srodki na transport dla mlodziezy oraz drobny poczestunek i nagrody dla mowcow. Link do zbiorki jest tu: http://goto.gg/57433.
W kolejnych 6 szkolach kontynuujemy dzialania z mlodzieza. Tym razem pracujemy z nimi nad tworzeniem filmikow opowiadajacych o wolontariacie widzianym ich oczami. Trener opowiada mlodziezy o tym, jak tworzyc filmy, jak budowac opowiesc, a nastepnie mlodzi ludzie wspoltworza scenariusz i nagrywaja swoje wypowiedzi. Jest to nie lada wyzwanie dla mlodych osob, bo wiekszosc z nich wystepuje po raz pierwszy przed kamera i przelamuje treme przed mowieniem do kamery. Gotowe materialy bedzie mozna zobaczyc juz w czerwcu 2023 na podsumowaniu tegorocznych dzialan.
Oprocz tego kontynuujemy wspolprace z dwiema placowkami pozaszkolnymi, gdzie mlodzi ludzie aktywni angazuja sie w wolontariat. Jest to dla nas o tyle wazne, ze w sytuacji, kiedy minister edukacji calkowicie zablokuje organizacjom pozarzadowym wspolprace ze szkolami, bedziemy mieli alternatywne miejsca do pracy nad rozwijaniem kompetencji spolecznych mlodych ludzi, aby pomoc im bezpieczniej wchodzic w doroslosc. A takie zagrozenie, ze nie bedziemy mogli dzialac w szkolach, jest bardzo realne. Panstwa wsparcie jest dla nas bardzo cenne, poniewaz w sytuacji, gdy coraz mniej srodkow publicznych przekazywanych jest na edukacje obywatelska, darowizny od osob indywidualnych pozwalaja nam kontynuowac nasza misje.
Kolejnym naszym dzialaniem, ktore powoli dobiega konca jest realizacja szkolnych budzetow partycypacyjnych. W osmiu szkolach naszego regionu mlodziez przy niewielkim wsparciu doroslych stworzyla zasady programu, prowadzila dzialania edukacyjne, aby poinformowac cala spolecznosc szkolna o tym, czym jest szkolny budzet partycypacyjny. Zachecili uczniow i pracownikow do skladania projektow, ktore moga sprawic, ze szkola bedzie przyjemna i ladniejsza. Dzieki ich dzialaniom zgloszono ponad 100 projektow! Do konca kwietnia w wiekszosci szkol odbyly sie juz glosowania. Najwiecej projektow dotyczylo stref relaksu z wygodnymi i kolorowymi pufami. Dzieki takim dzialaniom mlodziez nie tylko ma poczucie wplywu na to, co sie dzieje w szkole, ale takze uczy sie takich kompetencji spolecznych, ktore sa bardzo potrzebne w doroslym zyciu: organizacja i planowanie, komunikatywnosc, praca w grupie czy umiejetnosc szybkiego reagowania na zmiany.
Pracujemy lacznie z ponad 330 mlodymi ludzmi, ktorzy przejmuja aktywnosc w szkolnych klubach wolontariatu! Jest to spory wysilek dla naszego skromnego zespolu, ale dzieki Twojemu wsparciu, dajemy rade
Bardzo liczymy na Wasze wsparcie, zachecamy do cyklicznych wplat, bo dzieki Wam mozemy pracowac z mlodzieza bez strachu, ze zabraknie nam pieniedzy na dzialania. Dziekujemy, ze jestescie z nami!