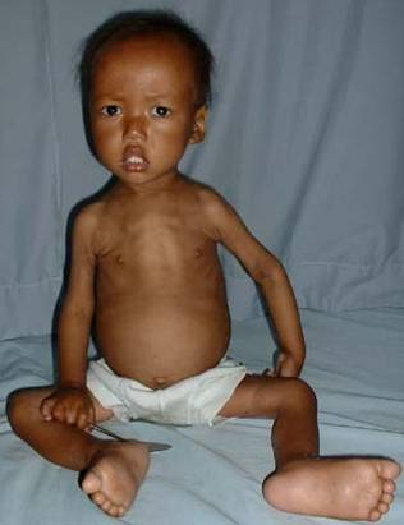 The boy in the photos is Shiva Rana (not his real name), and he was born in Kanchenpur, one of the nine districts where NYOF has established a Nutritional Rehabilitation Home ("NRH"). These are small hospitals dedicated to restoring the health of malnourished children. His mother gave birth to Shiva, her fourth child, at their hut in a shantytown settlement. Her health was fragile and her breast milk insufficient, so little Shiva started out life without adequate nourishment. When he grew old enough to consume solid foods, at times the family was so poor that they did not have food to offer him. His mother took him to a local shaman (a common practice in poor rural areas in Nepal where there are no doctors), but Shiva continued to deteriorate.
She finally took him to a hospital nearby, where he was diagnosed as suffering from acute malnutrition. The hospital referred him to the nearest NRH. At our doorstep appeared an exhausted, malnourished mother carrying a tiny 11 month old baby weighing only 10 pounds, his face distorted by constant crying, with no appetite, a dull complexion, and severe diarrhea.
Although all 10 beds at the NRH were occupied by children in similar condition, our staff found space and admitted him because of the severity of his condition, and went into action. As she does for all the children, our dietitian prepared a special diet tailored to his needs as well as a feeding and nursing schedule, and the doctor attended to his medical problems.
While Shiva was being restored to health, his mother was instructed daily in the preparation of nutritious food inexpensively and easily available in her village, and about all aspects of child care – the importance of hygiene, the symptoms of illness, etc. She stayed with Shiva at the NRH and was offered food that was nourishing and plentiful. Voila – after 34 days, a healthy, smiling baby and a happy, well-nourished and educated mother.
Shiva's mother kept repeating that it was hard to believe that her half-dead baby could be transformed so quickly into a bouncy, vigorous infant simply by proper diet and care, and she vowed that she would continue to follow the practices she learned at the NRH to keep him and her other children healthy. Our field worker has made several visits to their home, and he reports that Shiva is in the pink of health. And all this for an average cost of $340.
We are deeply grateful for your support. Please give as generously as you can, so that we can continue to help kids in Nepal to uncover and develop their full potential. We have a proven track record in making the most of your donations – you can do more good with a dollar in Nepal than almost anywhere else, and we spend a very small percentage of donations on administration (as evidenced by our four-star rating from Charity Navigator). We hope you will help us in our efforts to make a difference in these children's lives.
Please let us know your thoughts by providing feedback in our comments section! Also, please tell your friends, family and colleagues about NYOF's accomplishments!
Warm regards, Olga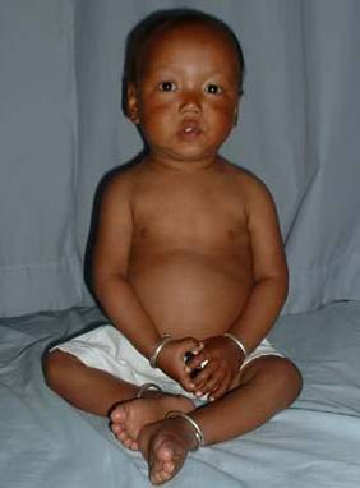 Links: