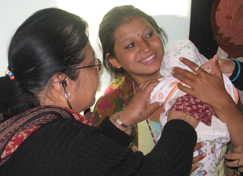 Although the government of Nepal is undergoing more tumultuous changes, including a new Prime Minister, NYOF's programs in Nepal are continuing to transform the lives of impoverished children, and provide them with unimagined opportunities.
NYOF's Nutritional Rehabilitation Homes are small hospitals where mother and child live while the child is built up to normal weight and health, and the mother is educated about nutrition and other matters relating to the health of her child. The mothers are also trained to pass on the knowledge they have gained to other mothers when they return to their villages. Field workers check up on the children after their discharge to be sure that their mothers are applying the principles they learned at the NRH to maintain the health of their children.
At the request of the Ministry of Health, we are building NRHs all over the country, and have just started construction of our ninth such facility in rural Nepal. The purpose is two-fold. First, we want to restore to health the thousands of children whose mothers cannot afford to bring their children to the city for treatment. The second goal is to establish throughout the country nutrition wards at government zonal hospitals with trained and dedicated staffs and ultimately to transfer responsibility for their financing and operation to the government.
Our plan, developed by our able and dedicated staff in Nepal, is to establish at least 14 NRHs, one on the grounds of the main government hospital in each of Nepal's administrative zones, to train the employees, and to operate and support the facility for five years. At the end of that period, the hospital itself will take over its operation and financing.
Skeptics told us the government would never accept responsibility. But guess what – it's happening! The first of these outlying NRHs, in Nepalgunj, reached its five year anniversary last December and the Ministry of Health in Kathmandu is providing funding for the local hospital to take it over. The second comes on line in July and we anticipate the same result. NYOF will continue to have a role in evaluation, monitoring, and continuing education, but the basic support will come from the government of Nepal.
Thank you for supporting some of the most disadvantaged children in Nepal.
Please let us know your thoughts about this project by providing feedback in our comments section!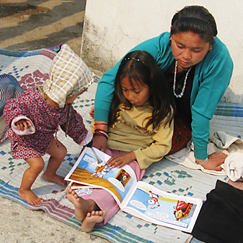 Links: