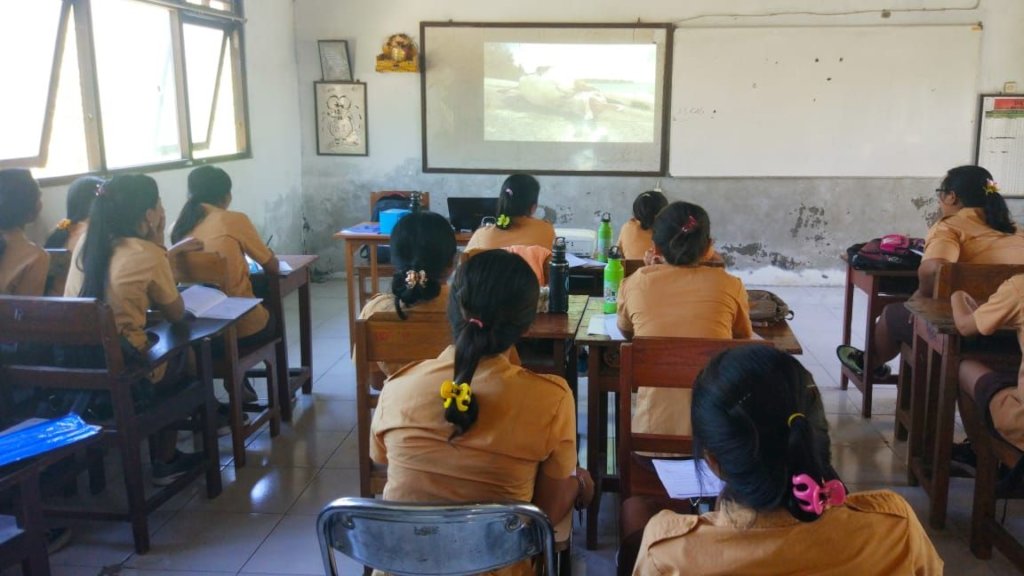 Happy New Year 2020 to all of our partners and donors, we hope there will be a lot of good things coming this year!
SMA Wisata Darma
This school has significant progress, many programs are running during the beginning of the year. In January-March, school did 1st lesson in grade 10, 1st lesson in grade 11 IPS and 1st lesson grade 12 IPS . Then grade 11 IPS continues 2nd and 3rd lesson. Mr. Ode is the teacher for all this lesson. He teach BfB students very well so they have more knowledge about single-use plastics and the dangers its will cause.
In 2nd lesson there is a part when students need to draw environtment condition in the past, now and future. He described the beautiful environmental conditions of the past with many coconut trees. The present is full of bottles and cans waste, especially in our ocean and the future is getting worse with the number of factories that stand. He realized that environment will geting worse if we don't make changes from now on. Let's start with ourselves! 3rd lesson is going really well, we cleaned magrove area near their school before the lesson started. We collect so many plastic bag, plastic rope and plastic bottles. Mangrove becomes a resting place for rubbish bins carried from the ocean, this causes the mangrove so dirty and full of waste. After we did clean up, all of waste is picked up by Lembongan Recycling.
We did a techer profile with Mr. Ode one of BfB teacher in SMA Wisata Darma. In his opinion Bottle for Bottle program is very concerned about single use plastic problem in Nusa Lembongan. Bottle for Bottles invites us to care more about the dangers of using plastic, each lesson teaches how we can educate children from an early age so that they love the surrounding environment moreover, especially we are in coastal areas where our knowledge is not as advanced as those of big cities. Mr. Ode is very happy with this program in their school.
SDN 2 Lembongan
Galungan and Kuningan are Balinese ceremony which are held twice a year. Students at the school will be off for 2 weeks so the children of SDN 2 Lembongan hold a cleaning event in their school area before going on a long holiday. On 12 February 2020 all students gathered at school at 7 am and the children were divided into two groups; cleaning to the west and the other to the east. Children have been assigned to carry gunny sack that will be used as garbage containers. They are very enthusiastic about doing this activity because there are a lot of rubbish that can be collected. Our School Suport Staff asked some children what waste they found the most and their answer was : plastic, epecially plastic bottles and food packaging. Ironically, it is very likely that this plastic waste comes from tourists who come and local residents who are not aware of the dangers of plastic to their environment. The collected garbage is brought by Lembongan Recycling to be sorted and reprocessed (only for certain types of plastic).
Based on Mrs. Murniani, one of our BfB teachers from SDN 2 Lembongan, tourism is indeed increasing and the village is advancing, but plastics and garbage are also increasing. In the past there was no plastic and garbage can still be burned because it is organic. And now, people in the household don't sort out their waste so everything are difficult to decompose. This becomes important to increase children awareness in school to make a better environment.
SDN 1 Lembongan & SDN 3 Lembongan
Schools and teachers have limited time to teach Bottle for Bottles because there are many events like Sports and Art Events (PORSENI) and Balinese ceremonies that are held. We are looking forward and always following the program at this school.
Since Covid 19 has been pandemic and increasing in Indonesia, the President of Indonesia directing all Regional Government to temporarily lay off learning in all schools in Indonesia. Because of this we will continue the program at school when Covid 19 eventually peter out. We pray the best for human being and our earth. Stay safe for you from us!