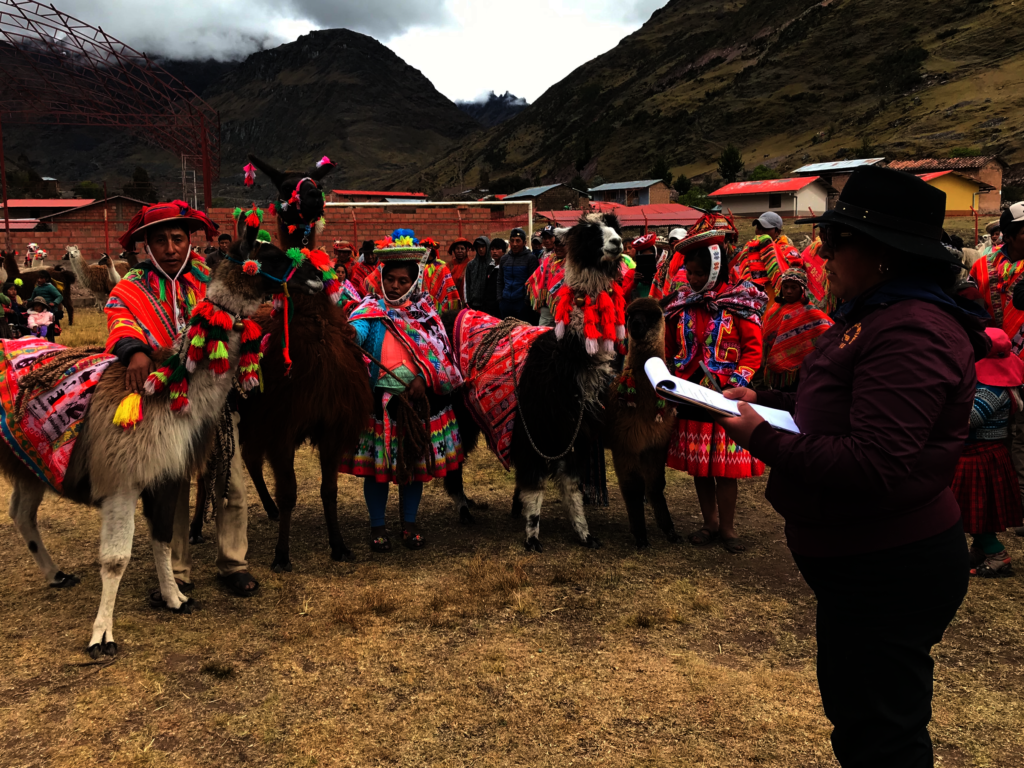 * You may view the full report on the PDF document attached at the bottom of the report with full size images.
Activities:
2-day intensive trainings for men and women llama farmers to gain necessary skills to provide a sustainable eco-friendly pack service with their llamas to tour operators in their area.
Progress:
Workshop implementation was temporarily paused upon request of community members who had several communal chores, however, some parallel activities were implemented thanks to the motivation generated from the previous training workshops which allowed for these activities to be possible.
Workshop Outcomes so far:
49 llama farmers from 7 high-Andean communities trained.
High participation and acceptance of workshop content.
Reinforcement of Llama Pack Project values and long-term goals.
Opportunity to discuss different challenges faced by llama farmers under current pandemic circumstances.
Training in tourism related skills.
Training in use of llamas for tourism.
Training in COVID-19 prevention under the tourism guidelines.
Co-creation of Llama Pack Community.
Creation of 4 new llama-trek routes.
Addition of new Guild of Llama Breeders of Huilloc community.
Quishuarani: Llama Pack Community
14-18 September 2021
Members of the Guild of Llama Breeders of Quishuarani community and international students collaborated in the infrastructure construction of a new project called the 'Llama Pack Community' which will serve as a training center for llama farmers from different communities and a place to generate global awareness on the impact of climate change in our mountains and the role of llamas as a tool for conservation. Guild members were enthusiastic about participating in this activity after the 2-day training received through the GlobalGiving project during which one of the activities was the co-creation of several aspects of the 'Llama Pack Community'.
Maucau: New Llama Trek Route
23-24 July 2021
After the 2-day training received through this GlobalGiving project, members of the Guild of Llama Breeders of Maucau community were motivated to implement their own llama trek route. With the participation of volunteer visitors, Maucau llama farmers were able to test their route, provide the llama trek service and reinforce the tourism service skills learned during the workshop, creating an amazing and authentic 2-day and 1-day llama trekking experience.
Huacahuasi: Llama Contest
19 June 2021
After the 2-day training received through this GlobalGiving project, members of the Guild of Llama Breeders of Huacahuasi community were motivated to host the second llama contest of the Urubamba Mountain Range which took place in June in a joined effort to celebrate International Llama Appreciation Day. The participation rate was a success: over 40 llama farmer families participated. The goal of this contest is to teach about optimal pack llama characteristics and motivate llama farmers to improve their animals while embracing their ancestral traditions.
Huilloc: New Partner and Llama Trek Route Design
10-18 June 2021
Llama farmers from the neighbor community of Huilloc reached out to the Llama Pack Project to request guidance in implementing two llama trek routes within their community and training of 32 of their tourism association members. Workshops were provided on llama packing, tourism services, llama health and pasture management. After the training they decided to form their own Guild of Llama Breeders and are now the newest partners of the Llama Pack Project.
Thank you!
Thanks to all our donors, we continue to work on our long-term goals to improve the livelihood of high-Andean families and protect our fragile mountain ecosystems by promoting the use of llamas as a sustainable, eco-friendly pack alternative. This work allows the Llama Pack Project to stay connected with our llama farmer partners despite the current challenges presented by the global pandemic. Llama farmers are looking forward to their turn to participate on the training course!
We will continue to update our progress on our next report. If you have not yet registered, please make sure to sign up for our newsletter to receive news on the Llama Pack Project here: https://mailchi.mp/c09d3cf9c0e0/llamapackproject
Alejandra Arias-Stella
Llama Pack Project Co-Founder