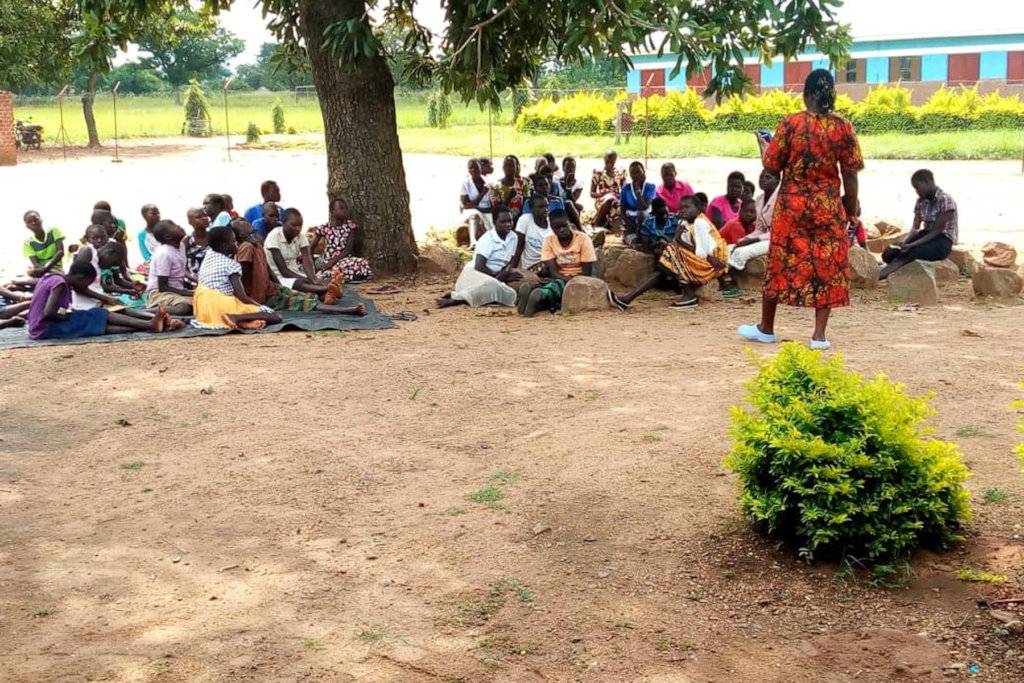 Uganda's lockdown, with no school in session, has continued longer than we had hoped. As of today, schools are still closed. The government still prohibits gatherings larger than 5 people. Students have received study materials in June and are supposed to be studying at home.
In light of these circumstances, our Uganda staff requested special permission from the district to conduct special occasional meetings with the girls in our parish (like a county). We began meeting with them in mid-July to stress the continued importance of school and studying while at home, to encourage them to focus on their goals, and to receive feedback from them on the issues they face at home during the lockdown.
Fifty--eight girls attended the first meeting. We've included a photo of that meeting in this report. The biggest issue they reported was being overworked at home doing farming as well as caring for younger siblings. In two cases, the mother had permanently left the home. The girls were excited about the meeting and all agreed the meetings should continue.
Our staff met the next week with the mothers to provide encouragement, and give feedback from the girls meeting. Staff also met with district education officials to brief them on the status of our girls and encourage the district to promote similar meetings throughout the district.
We are continuing to monitor the situation and have also scheduled our primary school's teachers to meet with 6th grade students individually at their homes to help with the students' home learning, answer questions etc.
We believe our girls are doing the best possible under the circumstances. In the next month, we will discuss more with district education officials to see if we can help with girls' meetings at other nearby schools in our district.
We thank you for your continued support of keeping girls motivated about their schooling and for giving us the means to assist especially those girls who do not yet have sponsors.
We would very much appreciate if you can share about this project with your friends, family and co-workers who feel strongly about girls' education.
Links: