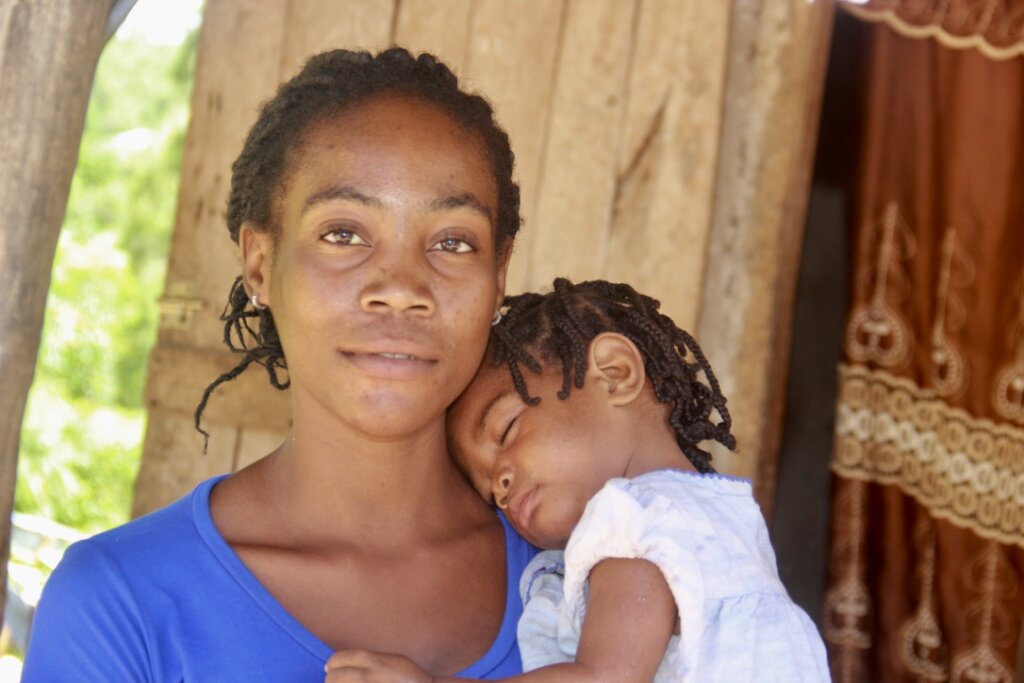 Families Keep the Faith During Tough Times - Thanks to You
Thank you for your generous support for Beyond Borders' Family Graduation Program. The 110 families who make up the fifth cohort continue to work at growing their income-generating assets, keeping their children healthy, fed, and in school, and repairing (or building new) homes and sanitary latrines. Thank you for your solidarity with families during this difficult time in Haiti.
A Growing Political Crisis Creates Financial Burdens for Families
As Haiti's growing political crisis drives up the cost of living and makes basic foodstuffs more difficult to afford, families are using what they've learned in the past 17 months of the program to navigate the increased financial burdens they face.
For many, this means reducing or cutting back altogether on deposits to their savings accounts, and trying not to deplete existing savings or sell income-generating assets like animals to mitigate the skyrocketing cost of living. It's proven to be a real challenge for families.
Your Generosity Provides Relief in Trying Times
To help families in these trying times, plans are being put in place to provide additional cash stipends, food kits, and support for home gardens. These measures – made possible by your generosity – are meant to strengthen each family's capacity to navigate this crisis.
In addition to these steps, we've also decided to extend the program by an extra two months, pushing graduation to July. This will allow families to continue to benefit from weekly caseworker visits and to take advantage of services provided by the staff nurse and veterinarian.
Thank you for standing in solidarity with these families and making this kind of relief possible.
Families are Making Gains … Even in Challenging Times
There's progress to share too, as families continue making their way through the program – even in the face of the profound challenges described above.
Here are some of the highlights shared by the team on Lagonav Island working with families:
Highlights (as reported in Feb. 2023, based on the period Oct.-Dec. 2022)
Assets are growing. Families have continued to grow their assets, even in the face of a national economic meltdown. A year after starting the program, 89% of all families (98/110) had doubled their assets compared to baseline, and 21% of these (21/98) had even doubled their assets since the six month evaluation. Despite economic pressures, 80% of all participants (88/110) have savings in either a village savings and loan or a more traditional community revolving loan fund.
Food security gains are being maintained. In the face of unprecedented food insecurity in Haiti, participant households have largely managed to maintain the gains they made earlier in the program in relation to food security and even to make some additional progress. Only two new cases of malnutrition were detected during the period, both of them under the age of five (12 months and 18 months respectively).
Housing and hygiene improvements are progressing. Five more families were able to complete their housing upgrades and, thanks to the collaboration of local authorities and Village Committee members, another 34 have now received support from qualified local builders to move them closer to finalizing their own upgrades. Positive sanitation and caretaking behaviors have improved significantly as indicated by case manager observations and evaluation data. Almost all participants have now completed their latrines. The percentage of households practicing open defecation has dropped from 93% to 2% with the final goal being 0%.
Your continued solidarity and generosity will allow families to maintain these kinds of gains despite the current crisis in Haiti. Thank you!
A Mom Shares How Life Has Transformed for Her Family – Thanks to You
Your generosity is making it possible for some of the very poorest families to change the trajectory of their lives. Here, in her own words, is a member of the current cohort sharing how life has changed for her family.
Josenika, a 19-year-old mother of two, shared first about being cast out by her family while pregnant with her second child. Then she explained her experience as part of the Family Graduation Program:
"I didn't have anything before this program. But regular visits from [caseworkers] started right after I joined the program. Through the program, I got one goat. Now I have three! And I have a donkey too. I also received a cash stipend. Thanks to the program, I have completely changed the way I live. Every time [my caseworker] comes for a visit, I feel there is reason to hope. [Caseworkers] don't talk down to me as though I know nothing. They simply say, 'This is how you can live. Even myself, this is what I always do.'
"They taught us how to always treat the water we drink and even the water I use to bathe the children because the children always had skin problems. When my child was sick, I didn't have enough money to take him to the hospital. The nurse came to my house and said he had an ear infection. She told me to come down to the office so [they] could give me money to go to the hospital. The ear was bleeding. At the hospital, they treated him and prescribed some medicine. The nurse purchased the medicine for me, I gave it to him and he hasn't been sick since. I didn't know what I was going to do but thanks to the program that my child can play now and he's healthy. Me too! I was sick - always dizzy. [Caseworkers] helped me find medicine and now I feel normal.
"I went to a training session to learn how to treat sick animals. I never knew how to do that before. Now I know what to do when one of my goats gets sick. The program showed me how to save money too. Out of every bit of money I make, I put some of it into my savings account. I have a plan to finish this house that the program helped me build. When it's time for the village savings and loan to pay out interest, I'll take the money and finish the house. I'll also spend part of the money to send my oldest child to school.
"Before I never really left the house or went to any community activities. Thanks to the program, I am now part of society. I have livestock. I have a house. I have hope that even if something bad happens, I can solve the problem. I would love for others to benefit from the same support that I did."
Thank You Again
Your generosity and solidarity are making all the difference for families in a difficult moment for Haiti. Thank you for continuing to stand with families and ensure the gains they've made through hard work and perseverance can be maintained, even in times of crisis.
If you have any questions about what you read here, please contact Brian Stevens, Engagement Director, at (305) 450-2561 or b.stevens@beyondborders.net.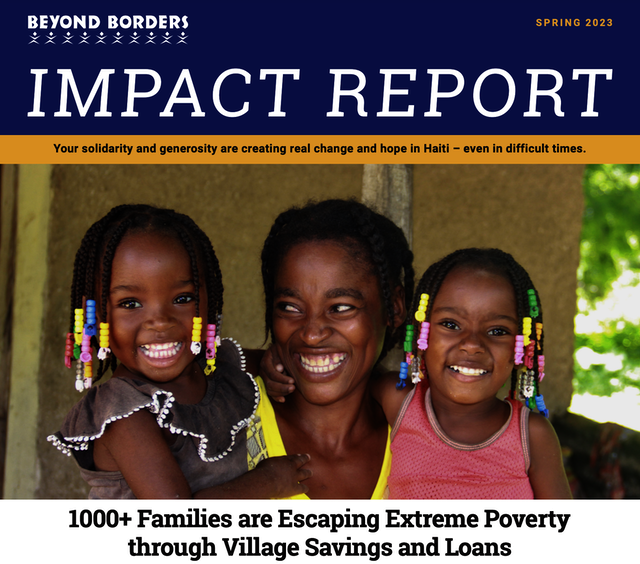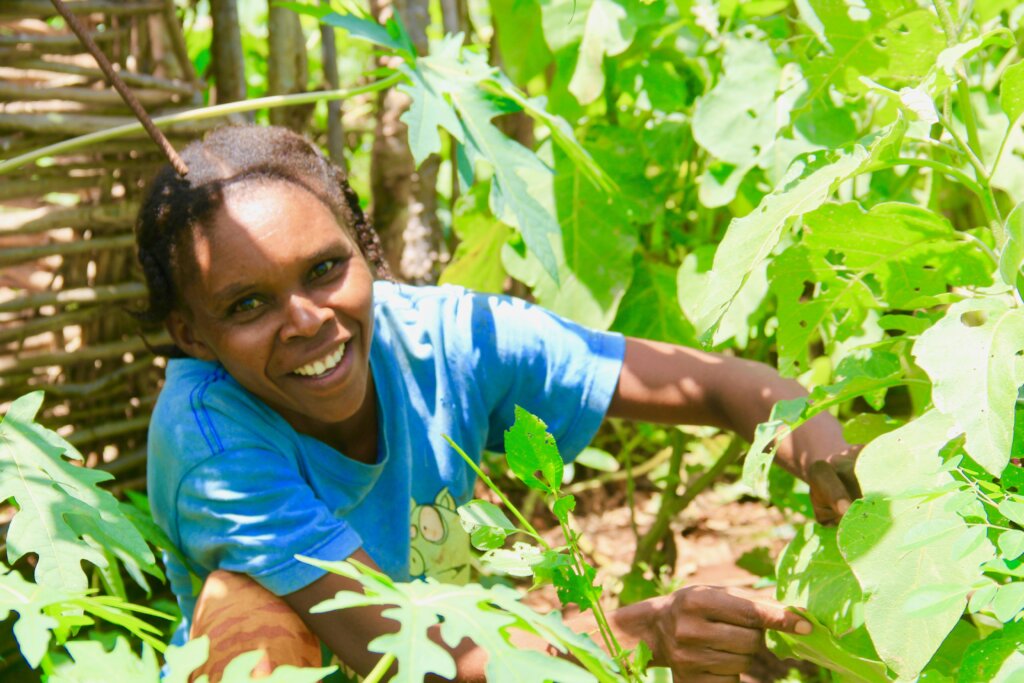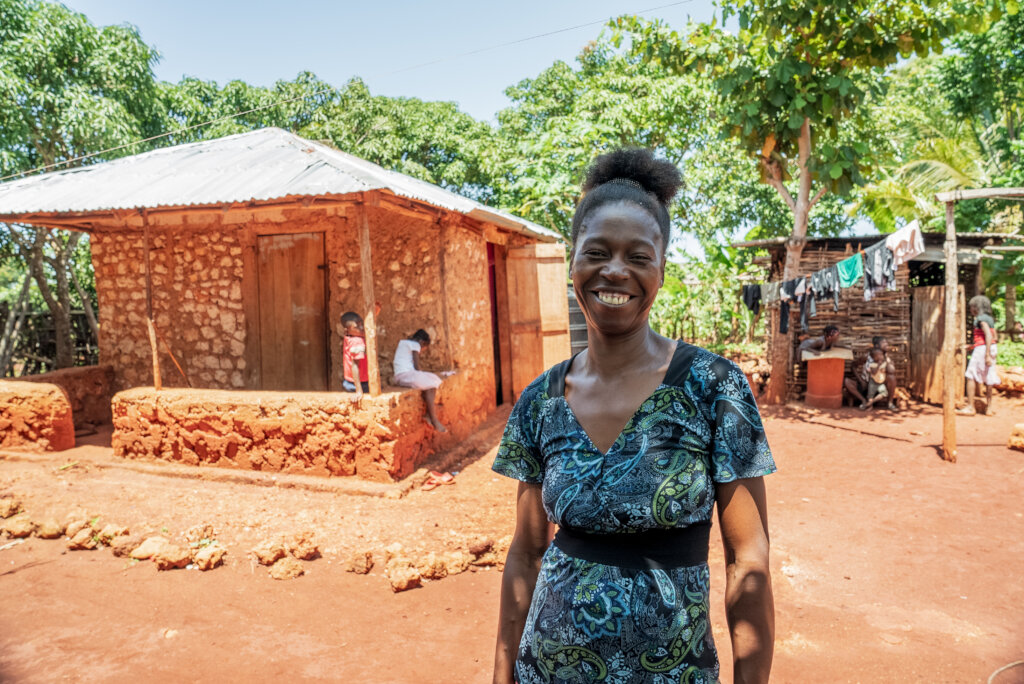 Links: