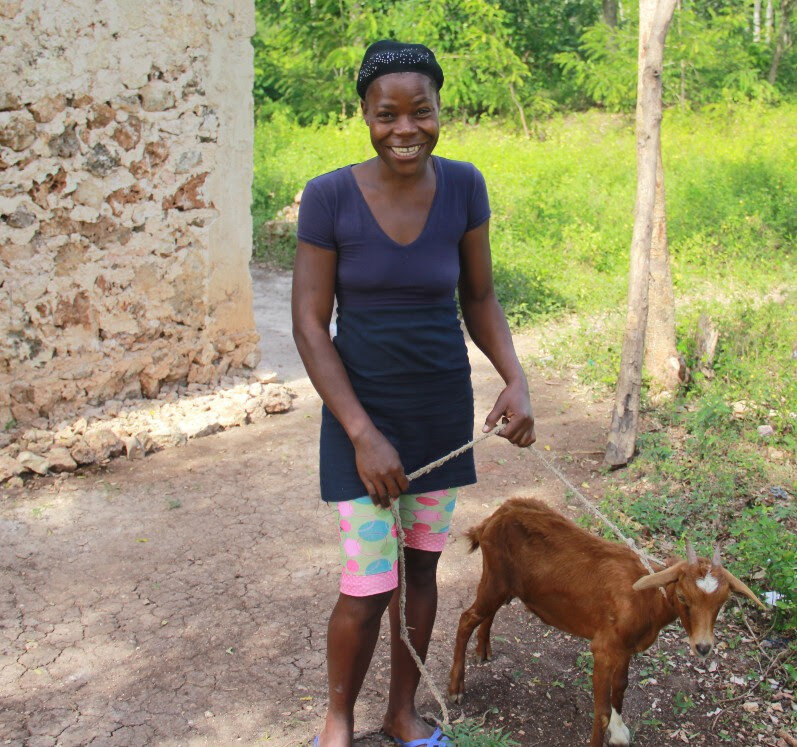 Thank You for Your Support for the Fifth Cohort of 110 Families in Haiti
Your generous support for the fifth cohort of 110 families in Beyond Borders' Family Graduation Program means that they will overcome extreme poverty for good -- and for that I can never thank you enough!
You probably know by now that as families enter the program your support provides animals like goats, pigs, chickens, and donkeys that families will raise and breed to begin earning a reliable income.
Your Support Makes it Possible to Distribute 216 Goats, 42 Pigs, and Nine Donkeys
I'm happy to share that the distribution of animals for families in the fifth cohort – which launched last fall – is complete! Thanks to you and your generosity, 216 goats, 42 pigs, and nine donkeys were distributed to families between January 5th and March 31st of this year. Fourteen more families also selected goods like pasta, cooking oil, water, flour, and other staple items to start a small store.
Your support also made it possible for a vet to examine every animal before the distribution, to ensure that families were getting healthy animals to raise and breed. The vet has also made follow-up visits to families to ensure that their animals are healthy.
These animals and goods are the cornerstone of economic independence for these families. Thank you for making this distribution possible!
You Make So Much More Than Just Goats Possible
Your support is providing so much more than just goats, though! Education and close accompaniment are at the heart of what your gift makes possible for families in the program.
You make it possible for a trained, dedicated caseworker to make weekly visits to families throughout the 18-months of the program, providing coaching, intensive education and training in how to care for and produce income from their new animals, and ongoing classes in life-skills like how to start a savings account, and how to set goals and plan for the future.
Your support also makes it possible for families to have access to free veterinary care for their new animals and free health care for themselves. Home repairs -- or building an entirely new home -- latrine construction, and a small cash subsidy of just over $6 U.S. per week during the period before they are bringing in income are also part of what your support makes possible.
Water Filters, Savings Accounts, and Support to Bring Home Children Previously Sent Away
One hundred water filters were distributed to families – 10 families already had filters provided by the local government – to ensure that every family has safe, clean water for drinking and cooking.
Thanks to you, families are also getting help to bring home any children they've sent away and enroll them in a quality school close to home.
And all 110 families now have been trained in how to start and maintain a savings account too.
What is Most Special About Your Support: The Close Accompaniment of Families
But perhaps what is most special about your support is the close accompaniment of families that it makes possible -- something we believe is absolutely essential for success.
Many of the families selected for the program are isolated from their community, in part because of their extreme poverty. They really feel alone and need close accompaniment and relationship building. This emphasis on accompaniment and building relationships among families in the program fits well with Beyond Borders' ethic and the way we work in communities. It's an approach rooted in the dignity, solidarity, and grassroots empowerment of families -- and it's made possible by you.
Your Support is Keeping Parents and Children like Sonson Healthy
One of the ways you are making a difference is by keeping parents and children in the program healthy. Here's the story of a mom in the program whose infant son got the care he needed thanks to you.
During the baseline health screenings that happen when families first join the program -- screenings that are made possible by you -- program nurse Cassandre saw that 8-month-old Sonson* was likely suffering from malnutrition. He could not sit up, his skin showed signs of serious dehydration, and his body was covered with a rash. Cassandre made a referral to the island's only hospital and organized for Jeanèse, Sonson's mom, to make the hour-long journey with her son.
The pediatrician at the hospital diagnosed Sonson with severe acute malnutrition. He weighed not quite eight pounds -- less than half that of a healthy 8-month-old boy. The hospital gave Sonson some medicine, but they did not have the ready-to-use therapeutic food that he needed to overcome his severe malnutrition. Cassandre however was able to locate it at another clinic, and she also purchased a stock of fortified milk for Jeanèse to give to Sonson as a supplement.
Supporters like you make this kind of care for children like Sonson possible. One month after he began his nutritional therapy, Sonson weighed almost 12 pounds and his health was much improved. He will continue to receive the therapeutic food, fortified milk and follow-up visits from Cassandre until he has fully recovered.
His mom Jeanèse told us that she is determined to take advantage of her participation in the Family Graduation Program to pull her family out of poverty. And thanks to supporters like you, she's already gotten training in how to manage the two goats and one pig that she received and will use to launch her livestock business.
She's also taken part in training on the importance of growing and eating vegetables for better nutrition. Using a portion of her weekly program stipend that sponsors make possible, she has already been able to put aside 3,500 Gourdes (about $35 USD) in savings. As of today she reports that her family is eating more often and her case manager has observed that she is taking better care of her children.
It's this kind of care, concern, and close accompaniment -- made possible for all 110 families in this cohort thanks to supporters like you -- that's behind the 97 percent graduation rate at the end of the 18-month program.
*Not his real name
Thank You Again
Your generosity and solidarity with these families is transforming the trajectory of their lives, giving them the opportunity to earn a dignified living and provide for their children and themselves long after they graduate. If you have any questions about this report, please call or write to me anytime at (305) 450-2561 or b.stevens@beyondborders.net. Thank you again for your generosity, your care, and your concern for these families. I am grateful!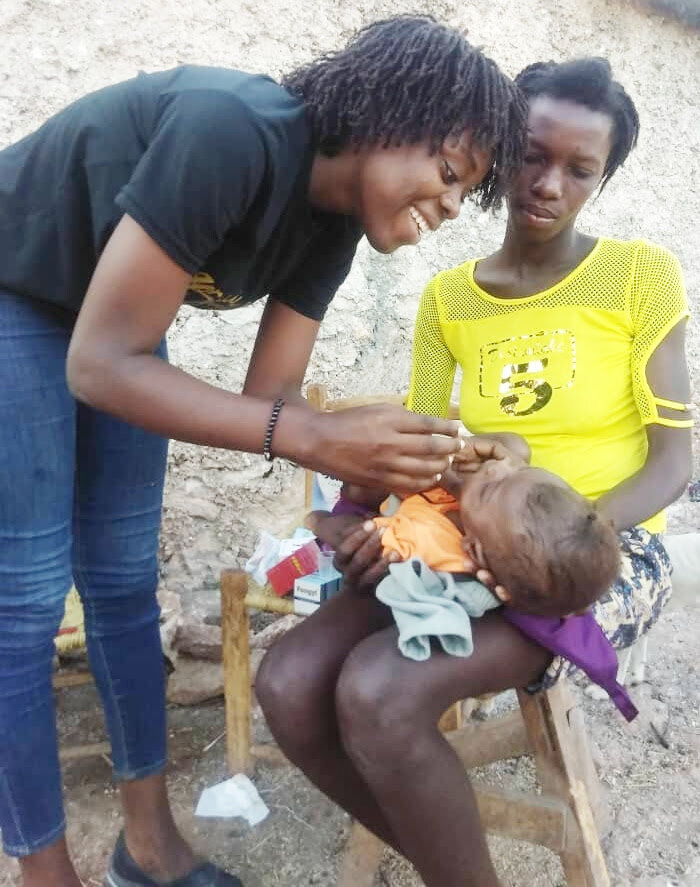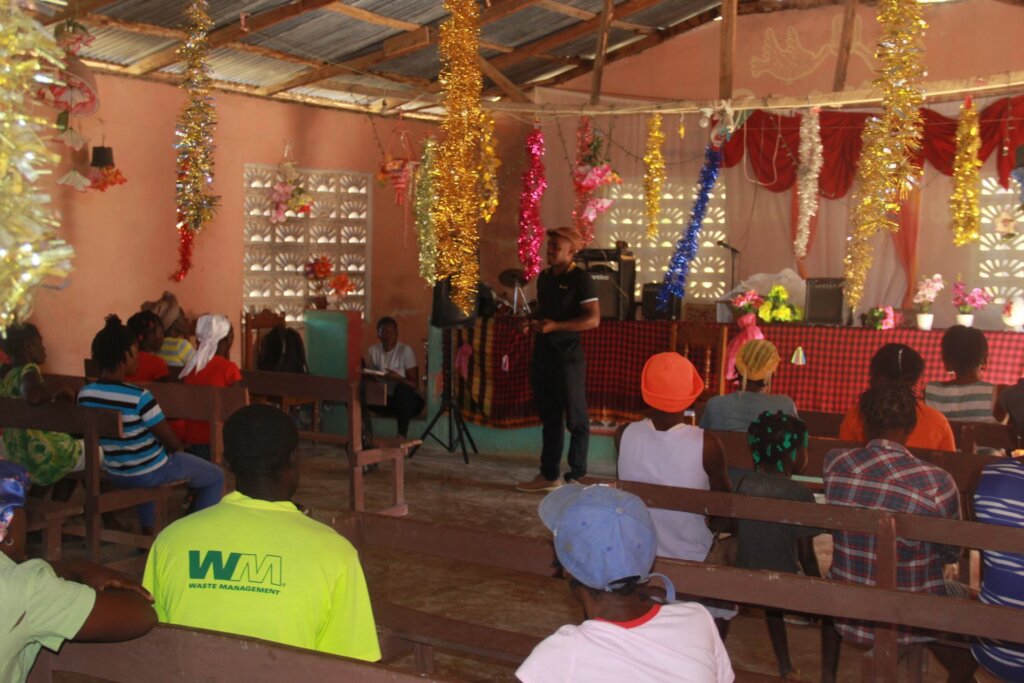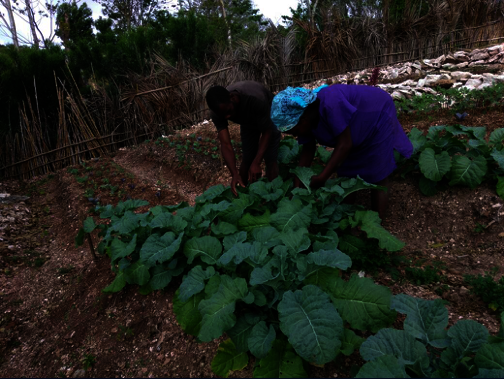 Links: